One Day at a Time Episode Rating Graph
Dec 1975 - Feb 2005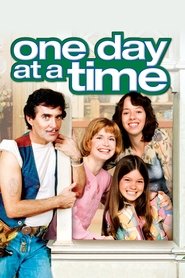 Browse episode ratings trends for One Day at a Time. Simply click on the interactive rating graph to explore the best and worst of One Day at a Time's 210 episodes.
The best rated episodes of One Day at a Time are:
Bringing in the Clowns S9E17 rated 10.0
Honeymoon II S8E26 rated 10.0
Pride and Privacy (3) S8E13 rated 10.0
Dinner at Seven (2) S7E7 rated 10.0
Dinner at Seven (1) S7E6 rated 10.0
Airport S7E2 rated 10.0
Farewell, My Suite S6E5 rated 10.0
Back to School S5E1 rated 10.0
Mad for Each Other S4E22 rated 10.0
The Married Man (1) S4E14 rated 10.0
The lowest rated episodes of One Day at a Time are:
Five Fingered Discount S6E12 rated 4.0
Retrospective (1) S5E18 rated 5.0
Retrospective (2) S5E19 rated 5.0
The Second Mrs. Cooper S3E7 rated 6.0
Barbara's Friend (1) S3E9 rated 6.0
Ann's Crisis S3E12 rated 6.0
The Race Driver (1) S3E13 rated 6.0
Yes, Sir, That's My Baby S4E6 rated 6.0
Small Wonder II S6E19 rated 6.0
Alex Moves In S7E1 rated 6.0
The first episode of One Day at a Time aired on December 16, 1975.
The last episode of One Day at a Time aired on February 22, 2005.
There are 210 episodes of One Day at a Time.
There are 9 seasons of One Day at a Time.
One Day at a Time has ended.
Best Episodes of One Day at a Time
Bringing in the Clowns

Mark's jokester friends are visiting and taking their jokes too far to the point where everyone gets sick of them. Barbara gets so fed up that she tries to teach them a lesson by ""getting hurt.""

Honeymoon II

Ann and Sam's ski honeymoon quickly goes downhill when Ann loses her luggage and Sam injures his back on the ski lift.

Pride and Privacy (3)

Unable to cope with the pandemonium at her house, Ann takes refuge at Sam's place, until he offers her a solution for which she's completely unprepared.

Dinner at Seven (2)

Barbara hatches a plan to repay Mark for their disastrous first date.

Dinner at Seven (1)

Barbara schedules back to back dates with two guys but the first won't take her home.

Airport

Awaiting Ann's overdue flight, everyone passes time in fleeting encounters with the opposite sex.

Farewell, My Suite

Ann and Barbara return from a weekend trip to find they've been robbed with Schneider's assistance.

Back to School

Barbara has begun her college education and feels very independent, balancing school work with social activities. Meanwhile, Ann begins to feel undereducated as she hears Barbara's experiences and makes a decision to go to college. The big surprise comes when she is taking the same course as Barbara.

Mad for Each Other

Julie falls for an egotistical filmmaker whose temperament exactly matches her own.

The Married Man (1)

In the first of a three-part story, Ann and a sportswriter begin a promising romance.

Father, Dear Father (1)

Ann's ex-husband tells her that he can no longer pay her child support for his daughters.

The Girls Alone (a.k.a.) Where's Mama?

""Barbera""and ""Julie""want to sneak out to a party on a school night.This occurs,while""Ms.Romano""is away on a business trip to Las Vegas.But the girls are fearful that their mother might find out that they're heading to the party and their beaus(Especially ""Cliff Randell"").So they try to reach their mother via a phone call.But they find out that ""Ms.Romano""didn't reach her hotel.This is one episode.Where both Ms.Philips and Ms.Bertinelli's characters show another side to their characters and to the characters'relationship.That there is a warm and caring friendship to these two young women and not an angry rivelry.

Miracle of Birth (1)

Julie's announcement that her baby will be born underwater may be more than Ann can bear.

Teacher's Pet

Barbara went all out on a paper for a government class and ends up with a D. When she goes in to see her professor, she soon discovers, that she certainly can get a higher grade on her paper, that is if she accepts her professor's advances. Later, Barbara determines to bring him to justice and files a complaint against him.

Schneider Gets Fired

Schneider quits because the landlord refuses his raise request.

The Dating Game (a.k.a.) Ann's Dating Game

Ann is interested in a business associate but isn't quite sure how to convey her romantic interest to him. Barbara and Julie suggest that she just make the first move and call him, which she does. However, he isn't quite getting the hints and assumes that when she asks him out the dinner is business instead of pleasure.

Father David

The girls cajole David into chaperoning a party while Ann is away.

David Loves Ann

One evening after a date, David and Ann get cozy on the couch, but Barbara and Julie decide to put the kibosh on any intimacy. However, David makes the decision that it is the perfect time to ask Ann to marry him and gives her one week to come up with the answer. After two hours go by, he changes his mind and tries to get her to decide right away.

Julie's Best Friend

Julie's new best friend is a stuck up rich girl and Julie quickly demands more expensive things like clothes and she also demands that Ann send her to a prestigious school. Ann refuses to give in to Julie simply because she can't afford it but that's when David steps in offering to kick in some financial aid for the Romano/Cooper household.

The College Man

Julie has a date with a college man—who discovers a decided preference for Ann.

Pressure

Barbara's latest boyfriend, Brad is putting the pressure on her big time to have sex. Barbara honestly does not know what to do and isn't quite sure she wants to accommodate his sexual demands but at the same time doesn't want to lose him. So, she decides that perhaps she should and goes out and buys some contraceptives.

Julie's Big Move (2)

Conclusion. Ann thinks Julie's new roommate is a bad influence on her.

Julie's Big Move (1)

Julie plans to move out, but Ann doubts her daughter can make it financially. First of two parts.

Schneider's Kid

Julie runs into an attractive young man in the lobby who is looking for Schneider. However, his visit to see Schneider is anything but a social call when he reveals that he is Schneider's son, from a brief marriage 20 years earlier. Ann, Barbara and Julie quickly do their best to prepare Schneider for the news.

The Older Man (3)

Julie is startled by her boss's proposal. Third of four parts.

Barbara Plus Two

Barbara accepts an invitation to a school dance, then can't turn another one down.

Schneider's Pride and Joy

Schneider touts his visiting nephew as a model gentleman, unaware that the youth is a thief.
Worst Episodes of One Day at a Time
Five Fingered Discount

An old family secret surfaces when Grandma Romano gets pinched for shoplifting.

Retrospective (1)

The topsy-turvy years in Schneider's building are fondly remembered (in clips from past shows) when condominium conversion threatens to disperse the tenants.

Retrospective (2)

Schneider, Ann and the girls continue to reminisce about the past as the construction of condominiums seems to be a sure thing.

The Second Mrs. Cooper

After Julie and Barbara return home from a weekend visit with their dad complaining that Dad's new wife is trying to cut them out of his life, Ann initiates her first face to face meeting with the new Mrs. Cooper - only to learn that the girls haven't exactly been fair or kind to their new step-mother.

Barbara's Friend (1)

While agonizes over whether Cliff Randall will invite her to the Grateful Dead concert, she has to contend with a over-eager girl trying to be her friend. When reality sinks in, she reaches out to Barbara at the last moment.

Ann's Crisis

Ann sees her 36th birthday as a crisis, not a cause for celebration.

The Race Driver (1)

Schneider makes the grand announcement that a celebrity has just moved into the building, a race car driver named Cam Randolph. Meanwhile, Julie and Barbara have devised a meeting between their mother and Cam, but Ann is anything but excited about meeting him, at first that is. Things start to change however, once she gets to know him and she invites him over for dinner.

Yes, Sir, That's My Baby

Sally, an old school friend of Barbara's shows up for a visit with some news, she's now a mother. Originally, she agreed with the father to give the baby up for adoption but after one look at the baby, decided to keep it. However, the big bombshell is dropped when she mentions that the father is Cliff Randall, Barbara's boyfriend.

Small Wonder II

A child who once tutored Barbara has graduated from college, but can't find a job, at age 14.

Alex Moves In

After the recent death of Nick, Alex is left feeling lonely and unwanted by his recently married mother. So, he hops a bus from Chicago and head straight to Ann and Barbara.

Shake Hands

Ann's old nemesis Francine insists that she would make a perfect partner, a prospect Ann finds revolting.

Ann's Failure

Ann is sorely troubled by intimations of her own mortality that are triggered by Barbara's engagement.

Grandma's Nest Egg

Francine's father and Grandma Romano are a hot item until she learns his line of work.

Barbara's Crisis

Barbara fears that her marriage plans will dissolve after she learns that she can't conceive a child.

Mrs. O'Leary's Kid

Alex doesn't feel like the hero he's hailed after saving lives in an apartment blaze because he caused the fire in the first place.

Diamonds Are Forever

The men go fishing and the women await their return, but all have one thing in common, they're talking about marriage.

The Defector

A Russian women's basketball team visits Ann's home and one of the stars decides to defect and marry Schneider.

Meow, Meow

Ann and Francine battle over the same man.

Pride and Privacy (2)

With Julie, Max and the new baby also needing a place to live, Ann may be forced to leave her own home to preserve her sanity and her relationship with Sam.

The Nearness of You

Working side by side at the travel agency spawns a growing attraction between Max and Barbara, that becomes impossible to ignore.

Off We Go

Ann gets a job offer in London and ponders taking it. Despite getting nagged by her mother, she decides to accept the job. This leads her to wonder how she's going to tell the rest of her family that she's leaving.

Julie's Job

Julie gets a waitress job in a grubby diner on the rough side of town.

J.C. and Julie (2)

Julie applies her religious zeal to a drunken derelict, whom she found in a garbage can. Conclusion.

The Butterfields

Julie writes Chuck a Dear John letter, while Ann finds herself in the middle of a feud between Chuck's parents.

Julie's Operation

With the family doctor away and Julie down with possible appendicitis, Ann accepts the services of a young resident.

The Traveling Salesperson

Ann's boss has second thoughts about a woman's ability to handle the job he just gave to Ann.

Dad Comes Back (1)

Ann's ex-husband announces his plans to remarry. First of two parts.
One Day at a Time Episode Guide
Ann's Decision

Newly devorced and scared Ann Romono is up for her first decision. Her older daughter Julie wants to go on a camping trip with her friend and a couple of boys. Julie threatens to leave her mother and live with her Dad unless Ann says she can go.

Chicago Rendezvous

Ann's new boyfriend invites her to spend the weekend with him.

Jealousy

Ann fears the girls are rejecting her in favor of their father's steady girlfriend.

How to Succeed Without Trying

Ann scolds Julie for flirting with her teacher at exam time.

David Loves Ann

One evening after a date, David and Ann get cozy on the couch, but Barbara and Julie decide to put the kibosh on any intimacy. However, David makes the decision that it is the perfect time to ask Ann to marry him and gives her one week to come up with the answer. After two hours go by, he changes his mind and tries to get her to decide right away.

Julie's Best Friend

Julie's new best friend is a stuck up rich girl and Julie quickly demands more expensive things like clothes and she also demands that Ann send her to a prestigious school. Ann refuses to give in to Julie simply because she can't afford it but that's when David steps in offering to kick in some financial aid for the Romano/Cooper household.

Super Blues

Ann is throwing a party in her apartment and has invited other tenants in the building. She begins to go through pre-party panic and it doesn't help when Schneider drops in with whistles, joy buzzers and whoopee cushions, expecting an invitation but soon discovers he is not wanted.

All the Way

Julie's boyfriend wants to stay out all night.

Fighting City Hall

Angry over her phone bill, Ann writes a protest to the President and gets in hot water with the Secret Service.

David Plus Two

Ann discovers David and a young woman in a state of dishabille.

Julie's Job

Julie gets a waitress job in a grubby diner on the rough side of town.

The College Man

Julie has a date with a college man—who discovers a decided preference for Ann.

Father David

The girls cajole David into chaperoning a party while Ann is away.

Dad Comes Back (1)

Ann's ex-husband announces his plans to remarry. First of two parts.

Dad Comes Back (2)

Barbara naively announces the reconciliation of her father and her mother. (Part 2 of 2)
Shows for Fans of One Day at a Time