Homicide: Life on the Street Episode Rating Graph
Jan 1993 - May 1999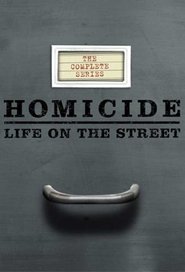 An American police procedural chronicling the work of a fictional version of the Baltimore Police Department's Homicide Unit.
The best rated episodes of Homicide: Life on the Street are:
Three Men and Adena S1E5 rated 8.6
Subway S6E7 rated 8.4
Fallen Heroes, Part 1 S6E22 rated 8.4
Fallen Heroes, Part 2 S6E23 rated 8.3
Partners and Other Strangers (1) S5E21 rated 8.3
The City That Bleeds (1) S3E12 rated 8.3
Strangers and Other Partners (2) S5E22 rated 8.2
The Documentary S5E11 rated 8.2
The Wedding S4E21 rated 8.2
Sniper, Part 1 S4E8 rated 8.2
The lowest rated episodes of Homicide: Life on the Street are:
Zen and the Art of Murder S7E17 rated 7.2
Homicide.com S7E13 rated 7.3
Full Moon S4E17 rated 7.4
A Case of Do or Die S7E14 rated 7.4
A Doll's Eyes S4E6 rated 7.4
Gone for Goode S1E1 rated 7.4
Truth Will Out S7E16 rated 7.5
Wanted Dead or Alive, Part 2 S7E7 rated 7.5
All Through the House S3E8 rated 7.5
The Twenty Percent Solution S7E4 rated 7.5
The first episode of Homicide: Life on the Street aired on January 31, 1993.
The last episode of Homicide: Life on the Street aired on May 21, 1999.
There are 122 episodes of Homicide: Life on the Street.
There are 7 seasons of Homicide: Life on the Street.
Homicide: Life on the Street has ended.
Best Episodes of Homicide: Life on the Street
Three Men and Adena

Pembleton and Bayliss have only twelve hours to grill their prime suspect in the Adena Watson case before they must let him go.

Subway

A man falls between the cars of a subway train in front of horrified witnesses. Was he pushed? While the man is still alive, the prognosis is he will be dead the moment they extract from the position he currently occupies: pinned between the train and platform. Homicide is called in light of this condition and the fact he may have been pushed. Pembleton questions the victim, and Bayliss questions the witnesses, especially a strange one named Larry Biedron. The victim has no relatives in the Baltimore area. He does have a girlfriend who is supposed to be jogging in the area; Lewis and Falsone try to find her to bring her to the scene.

Fallen Heroes, Part 1

Judge Gibbons has been stabbed. On their way to the crime scene, Bayliss and Pembleton talk about a book that Bayliss is reading, then Pembleton wonders if anyone would ever write a book about their Homicide unit. A probation officer is murdered in a drive-by shooting. The FBI gets involved with investigation of the Gibbons death. Agent Bauer mentions to Bayliss that Kellerman's confrontation with Gibbons probably got the judge killed. He wants Kellerman clear of the case. A fingerprint lifted from the Gibbons' crime scene points to Georgia Rae's son, Junior Bunk. Falsone and Stivers get a lead on their probation officer shooting case. As Junior Bunk is brought in for questioning, he eyeballs a handgun being put in a drawer. Pembleton and Bayliss get Junior in the box and he is no longer able to be intimidated. While waiting to be transferred to central booking, Kellerman, Lewis & Gharty harass Junior. Slightly freed up to make a phone call, Junior gets the gun out of the desk and begi

Fallen Heroes, Part 2

The search for Georgia Rae and the war against her organization begin. Stivers, uncomfortable with the whole situation tells Gee about the Luther Mahoney shooting. Ballard and Gharty begin to deal with their recovery. A lead on Georgia Rae's whereabouts is uncovered. During the assault on the building, Georgia Rae's body is found and Bayliss takes a bullet that would have hit Pembleton. Gee asks Pembleton to get to heart of the Luther Mahoney shooting that started it all. Pembleton and Falsone start with Lewis and then they move onto Kellerman. The truth about the shooting comes out and Kellerman claims sole responsibility, Pembleton asks him for his badge. To protect Stivers and Lewis from prosecution, Kellerman resigns. Feeling remorse for the hesitation that caused Bayliss to take a bullet for him and with Gee's plans to cover-up the truth about the Luther Mahoney shooting, Pembleton decides it is time to resign.

Partners and Other Strangers (1)

Bayliss has disappeared again as Pembleton and Brodie make their way to the scene of a shotgun suicide. The victim appears to be Beau Felton. Gee's letter, including information gained in the ""Burundi"" case, begins to make an impact at the highest levels of the department. Frank returns to the department with the news about his case. Lewis goes off, wondering who is going to be next. Det. Falsone comes to the squad with news about why he thinks Beau Felton killed himself. Lewis and Stivers discuss the Mahoney shooting. Cox finds something interesting about the Felton case; she digs in deeper and the results change the case to a murder. Bayliss turns up the next day and disappears again to his Uncle George's place. Pembleton and Howard try to work with Falsone to find Beau's killer. Gee finds out that Beau had been working undercover for the past six months on the Cantwell auto-theft ring. Megan Russert returns from France.

The City That Bleeds (1)

Bolander, Munch, Howard and Felton all meet to serve a warrant, but Bolander, Howard and Felton are shot in an ambush. Pembleton becomes the primary in the investigation and is partnered with a detective who specializes in the psychology of their prime suspect: a pedophile. Stan's ex-partner Mitch Drummond offers his help. Kay's father and Beau's wife and the kids come to the hospital. A clerical error is discovered to be the cause of why the detectives went to the door marked 201, instead of 210.

Strangers and Other Partners (2)

Mike and Julianna wake up the morning after a night of drinking and passion. The investigation into Beau's death continues; Howard wants to be the primary while Frank tries to maintain control. Gee asks her to step aside and let him do the job with a more unbiased approach. The investigation creates some unlikely pairings: Pembleton with Gharty and Bayliss with Falsone and Munch on his own. Meanwhile, Howard and Russert make arrangements for Beau's funeral. Lewis and Kellerman's investigation into a homicide is stalled; when Kellerman's hangover laden police work is shoddy. When it appears as thought the investigation is going nowhere; Kay demands to be put on the case. Gee refuses. Because of his bad day and finding Julianna drinking with someone at the Waterfront Bar, Kellerman suggests that they should stop drinking. Frank tries to call Mary; eventually they connect and reconcile; with Frank saying that he is willing to give it all up. They find out who killed Beau, but when they go

The Documentary

On New Year's Eve, the detectives sit back in the quiet of the evening and watch a documentary that Brodie has made about them and their work. In this documentary, entitled ""BACK PAGE NEWS: Life and Homicide On The Mean Streets Of Baltimore"", one of Frank and Tim's cases is covered where some ""lies and hidden truths"" are revealed. During a sequence about one of Mike and Meldrick's cases, they chase a suspect right into the filming of something called ""Homicide"" by director Barry Levinson and his crew. Mike and Julianna agree to try a date. Also, the identity of the ""lunch bandit"" is revealed to be Gaffney. Brodie reveals that the documentary has been sent to PBS and gives his reasons why. As the new year rolls in, things return to normal as the phones start ringing.

The Wedding

A trash-talking radio talk-show host makes a proposal to his listening audience. Lewis announces to Kellerman that he is getting married today, then he throws up. He motivates the rest of the squad to help him with the final details as he is getting married ""tonight after the shift ends."" Kay brings her sister with her to the station. Since the whole squad is busy with Lewis' wedding, Gee takes Howard out to work the homicide of the radio talk-show host. One of his listeners took him up on his proposal. Munch is skeptical about the Lewis wedding; he thinks it's an elaborate practical joke. Bayliss and Kellerman vie for the attention of Kay's sister. Gee shoots and kills a potential suspect, but the suspect was in jail at the time of the talk show host's murder. The guy who fingered him admits that he did it as a joke. The wedding is no hoax. During the festivities Pembleton's wife goes into labor.

Sniper, Part 1

Jay Leno stops by the Waterfront Bar while in town visiting his cousin Mary; Munch and Bayliss don't want to bother him. A new year starts out with a clean board and Brodie begins his work taping with the detectives. A sniper takes the city hostage, threatening to and executing people every 8 hours. The sniper uses Hangman as a way to leave clues for the detectives. Bayliss is the primary and his back is giving him trouble as he worries about surgery his doctor wants him to have. To combat the pain, he keeps taking muscle relaxants. A suspect is found and cornered and he shoots himself before they can take him into custody. Russert gets demoted when Barnfather doesn't like the way she handled the investigation.

Shaggy Dog, City Goat

Julianna wins the recognition of her peers. At dinner, Julianna and her colleagues swap stories about how they've cracked cases. Julianna relates a story that happened a few weeks earlier, a suicide might actually be turn out to be murder, when it is determined that the victim was shot in mid-jump. A bickering elderly couple proves to be the key to the crime. Meanwhile, Falsone investigates the legal possibilities of obtaining custody of his son. Ballard and Gharty investigate the death of a drug dealer, which takes them up into the hills of western Maryland in search of their suspects. Georgia Rae Mahoney sues Stivers, Lewis, Kellerman, Giardello, Cox, the department and the city for the wrongful death of her brother, to the tune of $60 million. Lewis confronts Georgia Rae and winds up with a suspension for his trouble.

See No Evil

Gee informs the detectives that they must meet with a sensitivity consultant. Felton protects a friend who's going to help his terminally ill father commit suicide. Pembleton investigates a routine murder that escalates into a case of possible police brutality. Bolander has no intention of meeting with the consultant to the point where he takes a suspension without pay. Lewis investigates the death of the father of Felton's friend and discovers the truth and confronts Beau.

Forgive Us Our Trespasses

Sheppard and Bayliss await the trial of Luke Ryland, the Internet killer. A number of delays keep the hearing from being held; the last time it is because Danvers can't make it due to being held up in another trial. Because of a technicality in the law, Ryland is set free. Bayliss is outraged and winds up pushing Danvers, who later threatens to put Bayliss up on charges. Gee's daughter Teresa arrives, to help with the celebration of her father's promotion. Gee asks Bayliss to apologize to Danvers and Bayliss declines. Lewis and Falsone look into the murder of a drug addict whose husband looks like the most probable suspect. The victim's mother-in-law isn't very cooperative and her sister is a nun who thinks her brother-in-law is an architect. Gee worries about whether or not he will be able to perform in his new role as Captain of the property crimes division, later he turns down the promotion. Bayliss and Lewis have words about the way each other handle their memories of the past.

Sniper, Part 2

The sniper continues the shootings and everyone returns to duty lacking sleep. The media starts to make their presence felt. Munch begins to worry about Howard's safety, fearing she'll be wounded again. Frank makes his wife wear a bulletproof vest. Gee asks for Russert's help even though Barnfather had ordered her to stand down during the rest of this investigation. A man at the scene of both of the day's shootings is put into the box for questioning. Russert has a talk with the suspect with the subject being keeping people's attention and respect.

Cradle to Grave

The deputy commissioner invites Pembleton to lunch and gets him to investigate a case involving a congressman. Beau hires a private detective to find Beth and the kids when his clue that they are in Wilmington falls through. Howard and Felton investigate a case of a dead homeless man. Their job is made more difficult when they can't find the body. Lewis and Munch investigate the death of a motorcycle gang member. Pembleton finds out the truth, participates in the cover-up and then resigns when the media gets hold of the real story and the deputy commissioner doesn't back him up.

Black and Blue

Things begin to heat up between Pembleton and Gee over the alleged police brutality case and one of the suspects is an ex-lover of Kay's. Bolander meets a waitress who encourages him to resume his cello playing. Munch's girlfriend is less than enthusiastic when he surprises her with a new fish for her tank. Frank, in the box, gets the confession that Gee is looking for. Unfortunately, the suspect is anything but guilty of that crime.

Colors

Tim's cousin shoots a Turkish exchange student and his partnership with Pembleton may be in jeopardy when they both stand on opposite sides of the case. Lewis hires his grandmother to cook at the bar.

Work Related

Mary gave birth to a girl named Olivia; Tim is more excited about it than Frank. Their latest case involves a multiple shooting a restaurant. Lewis is back from his honeymoon, but while working a case with Kellerman, he confesses that they have yet to consummate their marriage. Later he tells him that they've separated. Tim stops by to see Frank and Mary's baby. They get a suspect for their case in the box. Frank collapses in the box while interrogating a suspect. Frank is put under the knife to release the pressure built up in his head from the stroke he had. After the surgery the doctor tells them that he doesn't know if Frank will recover.

Narcissus

There is a major police chase after an armed suspect, as he holes himself up in a row house that is the headquarters of ARM (African Revival Movement). The head of that house, a former cop, calls in a favor, high in the police department. Munch and Pembleton try to work the case as Bayliss seems to be missing. Their investigation seems to be thwarted every step of the way. Stivers' has second thoughts about what she saw at the Mahoney shooting. An attempt to serve ""Burundi"" Robinson an arrest warrant breaks out into a war between the police and ARM. Gee goes into the house to confront Robinson and finds out who and what he knows.

Dead End (2)

The detectives continue chasing their only lead, the child molester. Munch is teamed with Stan's old partner. Beau has no feeling in his foot, but feels guilt about Kay's condition. Stan's ex-wife arrives in town, but has a hard time going to see him at the hospital. Barnfather and Granger want Russert to review Gee and see if he was negligent in his duties regarding the paperwork that led to the shooting. The pedophile is located and it is discovered he was responsible for the strangulation of a young boy, but not the shooting of the three detectives.

Blood Ties, Part 1

Their rotation in robbery is up, Frank and Tim return to the homicide unit. They find that citations are being handed out to the unit and a delighted Gee, whose clearance rate is the highest it has been in five years. Kellerman and Lewis are also scheduled to return. Howard is still on assignment with the fugitive squad. Additions to the unit through rotated assignment include Det. Ballard who actually comes from a Seattle homicide unit, Det. Falsone and Det. Gharty. Falsone and Gharty worked with the unit on the Felton case last spring; however, nothing is mentioned about the status of that case. (Sharp-eyed viewers note that Felton's name is still in red under Pembleton's name on the board.) Meanwhile, Gee attends a black tie function honoring Felix Wilson, a respected member of the community. Because he grew up with them, Gee sits at a table with Felix, his wife and their family. Everyone attending the function at the hotel is kept late because the body of a woman is found dead in t

Betrayal

Frank and Tim investigate the death of a young girl whose abused body was found by the side of the interstate. Brodie goes to an interview with a new potential roommate. Kellerman finally gets his day in court, where he is supposed to take the 5th amendment. Frank and Tim disagree with their pursuit of the investigation. Frank tries a different approach with the mother and she tells him the story-- only they won't be able to get a murder one conviction. Julianna comes down to the courthouse to offer Mike some moral support. He sees Connelly come out of the courtroom and thinks things are going bad, so he prepares to give it all up. However, his appearance before the grand jury doesn't go quite as he expected. Brodie walks out of the building with his new roommate. The detectives try to celebrate Kellerman's freedom, though he has different thoughts about the situation. Tim tries to come to grips with the child abuse he experienced in his past and also tells Frank he doesn't want to be

Crosetti

Crosetti's body is found and Bolander is the primary and he thinks the evidence points to suicide. If it is a suicide, there will be no honor guard for the funeral. Refusing to accept the death as a suicide, Meldrick launches his own investigation and tries to thwart Bolander's investigation. Bayliss and Pembleton make arrangements for the funeral reception. Pembleton has reservations about going into the church for the services. Munch works with his brother, an undertaker, to arrange for a coffin. The preliminary ME report shows Crosetti had a blood alcohol level of .25 and wide variety of anti-depressants, The verdict: suicide.

Blood Wedding

Frank gets his first case as a primary-- unfortunately it is a case that involves the shooting of Danver's fiancée. Danvers is concerned about Frank being the primary and keeps throwing his opinions into the investigation. Danvers changes his perspective on the death penalty and also reflects on his past performance in many of the cases he's tried. Brodie continues to look for housing; the latest place he tried staying was the morgue. Kellerman is discouraged when it appears as though Cox may have only been looking for a one-night stand and nothing more-- so he takes a sick day. Gee takes some time out of his day to have a talk with Kellerman's former partners to see where they stand with him in regard to their testimonies to the grand jury. He also sees the Deputy Commissioner to see what can be done for Kellerman; what he learns instead are some truths about the Gaffney promotion.

Thrill of the Kill

The squad returns to the station. The FBI joins with the detectives to stop a ""thrill killer"" who's working his way north on I-95. Gee tries to reconcile with his daughter. The killer smells a rat at a roadblock so he bails out of his pickup. Everyone mobilizes to find him and when they do, the suspect in custody, while identical to the killer, claims he is innocent.

Partners

Russert's old partner joins the homicide unit, but she suspects that he is taking his work frustrations out on his wife. Pembleton struggles with his pride and domestic life as Gee and Bayliss try to convince him to return. Bayliss is partnered with Lewis and on the way to the crime scene gets the ride of his life. Bayliss tangles with a reporter. Beau is in Philadelphia with his kids. The bar has its grand opening.

Deception

A man transporting 72 condoms filled with heroin bound for Luther Mahoney is found dead in hotel. The department takes this opportunity to set up ""Operation Get Luther."" The operation almost goes off as planned, except Luther Mahoney gets Lewis' gun and is holding it on him as Kellerman and Stivers enter. Frank and Tim agree to become partners again. Tim stops by to see his uncle. Munch takes a call from a convict who was looking to talk to Bolander. He has information on an old murder case that should be a done deal. That involves the digging up of section C of the parking lot at a racetrack. Munch discovers that the supposed victim is alive; however, he isn't that way for long.

Kaddish

A woman that Munch had a crush on in high school is found murdered. He struggles with his faith as he works with Kellerman on the case. Meanwhile, Frank also struggles with his faith and the fact that Mary has left him.

Finnegan's Wake

Bayliss suffers from a recurring dream about the Adena Watson, his first homicide case and one that remains unsolved. An elderly man comes to the Homicide unit to confess to Bayliss that his father had committed a murder 66 years ago. Falsone is assigned to the case, only the case file is missing and found to be in the possession of retired homicide detective, Thomas Finnegan. Gee allows Finnegan's request to participate in the reopened investigation. Questioning the elderly man leads to the recovery of the gun that might close the case. Falsone, Finnegan, Lewis and Kellerman celebrate their potential victory as Bayliss recontemplates the Watson case.

Blood Ties, Part 3

The Wilsons go on television to offer a reward. The newspapers are making the Homicide unit look bad and Barnfather wants quick resolution to the case. The man (and his wife) who gave up Junior Bunk are murdered; Falsone and Lewis investigate. The only survivor, their young son, is brought in to find out what he remembers. His memories-- and a recorded phone message-- lead Stivers to believe a former member of the Narcotics unit is involved. The officer cops to a deal that implicates Georgia Rae Mahoney, though Giardella doesn't want to pursue that yet. Falsone's questioning of the Mahoney shooting leads Cox to doubt her actions at the time of the investigation. Incriminating evidence leads the detectives to Hal Wilson being their prime suspect. Frank goes to interview Felix and Hal Wilson; son and father confront some long-standing issues. Hal's confession is inadmissible in court, the Wilsons leave the Baltimore area, and the case remains officially open.

Pit Bull Sessions

Pembleton and Falsone look into the death of an elderly man who might have been killed by the pit bulls owned by his grandson. The other detectives hang out at the Waterfront and tell stories about stupid criminals they have met. The judge in the wrongful death suit of Luther Mahoney decides there is enough evidence to turn the suit into a jury trial. Kellerman suspects there might be something up, so he tries to go and see the judge.

Sins of the Father

A white man is found lynched in a historic black section of the city; Falsone and Lewis investigate. The day after Tim's dinner date with the male restaurant owner that Tim was positive about, Frank is perplexed by Tim's interest in Laura Ballard. The autopsy reveals that the hanged man was also whipped. Gharty worries about Ballard getting involved with ""switch-hitter"" Bayliss. Lewis is convinced the lynching is related back to the victim's Civil War ancestor, infamous runaway-slave catcher and free-blacks abductress. Tim and Laura attend an art show.

End Game (3)

Bolander has a relapse. The detectives sound off to the local news about the shooting. Apartment 201 is opened up and the occupant, Gordon Pratt, is a gun freak who once tried to be a cop. Russert and Howard declare a truce. They find the shooter, but lack of a weapon gets him released; later he is found with a bullet in his head.

Every Mother's Son

Pembleton and Bayliss investigate the shooting of a young boy. During the investigation, the mother of the victim meets the mother of the shooter in the aquarium. The shooter shows no remorse for the killing, although he shot the wrong kid. Munch, Bayliss and Lewis can't remodel the bar when they discover it's been classified a historical landmark. Then when they find out back taxes are due on the building, which shuts them down before they open. Beau finds out his kids are in Upper Darby, Pennsylvania, so he goes to find them.

Fire, Part 2

The fire investigation continues. Bayliss' back is acting up and Kellerman is paired with Pembleton. Kellerman shows Gee something, so he is offered a transfer into the department that he first rejects. Kay takes the sergeant's exam, Munch misses it due a ""comedy of errors.""

Requiem for Adena

A young girl is murdered, in a style similar to Adena Watson's murder. Frank demands to work the case alone as Bayliss begins to think that the two crimes might be related. Bayliss' obsession with trying to get this case solved and linked to Adena's murder causes the two of them to clash. Howard learns that Brodie has a crush on her and tells him she doesn't like the joke that's being pulled-- only problem there is that it's the truth.

Prison Riot

A riot breaks out at the prison, where two inmates are killed. The squad goes to the scene, but Frank must still stay behind. Bayliss, Lewis, Kellerman and Howard interview the inmates; many of them have familiar faces. Frank works on his target practice. Bayliss thinks that one inmate really wanted to tell him something, so he puts together a deal to get the information. The inmate confesses to the murder and Bayliss doesn't believe him. Another riot breaks out and the truth is finally discovered.
Worst Episodes of Homicide: Life on the Street
Zen and the Art of Murder

Lewis and Munch begin to investigate the death of a Buddhist monk beaten to death. Lewis isn't interested in working the case with Bayliss, whom he feels, may become too emotionally involved. Ballard and Falsone agree to call their relationship quits. Ballard and Gharty's case involves a man who was shot down in the street; the three witnesses that saw the shooter all have different recollections of his appearance. As a result, their prime suspect cannot be charged. Gee asks for Bayliss's assistance in the Buddhist murder and to Lewis's dismay, Munch abdicates his position in the investigation to Bayliss. Lewis and Bayliss take different approaches to the investigation. Bayliss's approach leads him to the man who committed the crime, but cornering his suspect leads to a showdown with guns and Bayliss fires a fatal shot. Later Bayliss tries to reconcile the shooting with his own feelings about being a Buddhist and being a cop.

Homicide.com

The Internet is stage for a ritual murder, which was staged -- which was staged, or was it? The body is found the following morning and Sheppard takes the call, her first since the beating. Since Lewis can't be found, she partners with Bayliss. Second shift detectives Bonaventura and Austin catch word of the day shift's case. It seems the victim in Sheppard's case was a witness they had interviewed the day before about an online murder hoax. The detectives are informed about another murder that is scheduled for midnight. It's a red ball. The detectives try to put the clues together, but come up with nothing and must wait until the netcast begins before they can trace the killer. The trace is successful, but when they arrive at the scene, the killer has left them a computer with the words ""Ha Ha Fooled You."" Barnfather wants Bayliss reassigned as primary if something doesn't turn up soon. Sheppard goes online to flush out the killer. He advertises another murder will take place at www.i

Full Moon

Kellerman and Lewis (with Brodie) investigate a shooting at the New Moon motel, where everyone there has a motive for the crime. They split up and canvass the denizens of the motel; Lewis also searches for the victim's missing boot. The murder is just one of the many crimes that has occurred or is occurring at this establishment.

A Case of Do or Die

Ballard and Bayliss are called to the scene of the mysterious death of a woman, whose body is found at the bottom of a forty-foot cliff. This victim was to be married the following morning. The two detectives work to determine whether the death was accidental or intentional (via murder or suicide). Meanwhile Sheppard and MGee begin investigating the death of a movie patron, whose body was discovered after the show ended and the theater cleared out. MGee mentions to Sheppard that his sister is about to have a baby, which means Gee is about to become a grandfather. Their investigation reveals that the movie patron was regularly loud and obnoxious and thus bad for business. When an overdose of a sedative is found in his bloodstream, the detectives question the theater owner, who was currently in litigation with the victim. Unfortunately for Ballard and Bayliss, their case remains unsolved.

A Doll's Eyes

Technically it's not a homicide; however, Pembleton and Bayliss investigate the ""murder"" of a small boy who's the victim of a stray bullet, which makes him brain dead. The parents must choose what to do with their son. The Pope is in town.

Gone for Goode

Lewis and Crosetti uncover a woman who's been killing her husbands for insurance money. Howard tries to keep her cases-solved record perfect, but she is reassigned with Felton as her partner. Bolander convinces Munch to help him finish up an unsolved case. A new guy, Tim Bayliss, from the mayor's office gets his first case in homicide, the murder of an 11-year-old girl. His partner Pembleton, we find out, is less than enthusiastic to work with him or anyone else in the unit.

Truth Will Out

A woman comes looking for Falsone, knowing that he solved a real old case, wants him to look into a case for her from 1972. Her parents told her that she was responsible for her younger brother's death. Despite being three years old at the time, the woman has doubts about her parents' story. So Falsone and Stivers reopen this case, which was closed by Gee when he was a new detective. The reopening of the case makes Gee think that he may not have been totally focused on the case at the time. Their investigation reveals the woman's mother used her as a scapegoat for the mother's crime. Bayliss and Ballard's case involves a body that was shot, but the victim was already dead from a drug overdose. The male sergeant at the scene piques Bayliss's interest, so they get together for drinks. Their relationship doesn't develop, because word is spreading about Bayliss being the owner of the ""In Plain Site"" web site. Bayliss begins feeling pressure about his being different and considers celibacy.

Wanted Dead or Alive, Part 2

Lewis is transported to the hospital, as is the passenger of the car that MGee hit. Gharty is worked up about women and finances, because he and Flora and their lawyers are going to be working out the financial details of their divorce. Gee & MGee are not interested in cooperating with the bounty hunters; however, Knoll is the only one who can get any information on the whereabouts of Errico from Errico's mother. She has promised to page Knoll when her son calls. (Joe Errico has gone south to Miami.) Knoll offers to pay the expenses of having homicide detectives go to Miami and work with him, but Gee declines that generous offer and sends his detectives separately. In Miami, Bayliss and MGee work with Knoll to capture Errico. Knoll offers to split the huge bounty with the homicide detectives, which they of course refuse. MGee decides that the best use for the bounty might be for the man whose wife had died from the injuries she sustained in the car accident.

All Through the House

Munch spreads his usual Christmas cheer. Russert, who misses detective work, joins Meldrick on an investigation into the murder of a material witness, when she discovers she knows something about the victim's case. Munch and Bolander investigate the death of a man in a Santa Claus suit and Munch spends the evening with whom they believe is the victim's son. Beau buys Christmas presents for the kids, although he still doesn't know where Beth and the kids are. Bayliss searches the station in search of a game of hearts.

The Twenty Percent Solution

A woman brings to the homicide unit her mystery-writer husband's videotaped declaration that his literary agent is responsible for his murder. Ballard and Gharty catch the case -- only there is no body or crime scene. Meanwhile, Munch and Bayliss investigate the death of an elderly woman that occurred during a break-in -- was it a homicide? Munch would rather leave for his weekend rendezvous with Billie Lou. Ballard and Gharty's investigation becomes a red-ball as they find evidence in the writer's office that a crime was committed. A break leads to the arrest of the literary agent and his accomplice, although Danvers can't guarantee a conviction. Falsone asks Ballard if she would like to go out Saturday night; just then the jury comes back. And a sharp-eyed juror insures that justice is done.

The Why Chromosome

When the men are nowhere to be found, Sheppard and Ballard team up to investigate the death of young girl, who's a teenage gang member. With the wedding one week away, Billie Lou asks for Munch's help with her neighbor's abusive boyfriend. After Munch approaches him strongly, the boyfriend retaliates by coming to the Waterfront and slamming Billie Lou's head on the bar. Munch claims he came on strong with the guy, because his ""testosterone riddled behavior"" was due to the celibacy Billie Lou imposed on him, to make their wedding night more special. Billie Lou wants to delay the wedding until the welt on her forehead goes away in about 3 weeks. After Sheppard and Ballard solve their case, Sheppard reminds Lewis that his problem with her is not going to keep her from doing her job.

Baby, It's You (II)

Brittany's stalker in Baltimore is interviewed and says that he saw her being attacked by someone. When going to question the parents, the detectives discover that the Janaways have returned to Baltimore, so they make the trip to Charm City. They get the father in the box and he demands that they prove he did it. The attorneys fight over jurisdiction but the judge rules in favor of Baltimore and the two teams of prosecutors must work together. This crossover starts on Law and Order S08E06 Baby, It's You (I).

Bones of Contention

A body buried for 6 - 20 years is uncovered at a construction site. Munch and Lewis begin the process of trying to solve this old crime. Falsone and Ballard's relationship has heated up, and that fact becomes apparent to their fellow detectives. Sheppard returns to work, but is discouraged when Gee assigns her to desk duty. Gharty tells Billie Lou that he'll attend her bass-playing concert. Munch & Lewis with help from the ME and MGee, identify the body and then begin to piece together what happened to her. Gee lays down the law to Ballard & Falsone: they have to knock it off if they want to stay working on the same shift; they agree.

Map of the Heart

A prominent attorney is murdered and the murderer presents himself to Pembleton and Bayliss with a videotape that implicates him. Brodie works on increasing his self-image. Kellerman is determined to find out who's the ""lunch bandit."" The NSA steps in on Pembleton's murder investigation and provides him with a guilty party, even though they know he didn't do it. Bayliss' disgust with the interference doesn't sit well with Gaffney who wants to charge him with insubordination.

Sideshow (II)

Danvers brings news of his appointment to the District Court bench as the investigation of a government official named Janine McBride continues in New York. Their prime suspect Chesley Purcell is dead and her shooter is in the hands of the Feds. The Baltimore detectives investigate the background of Chesley Purcell and it turns up the name of a man in prison who still appears to be running his organization. This crossover starts on Law and Order S09E14 Sideshow (I).

Red, Red Wine

Ballard is annoyed when she finds out that the fact that she had a date with Falsone is around the squad room. Munch has a doctor's appointment and he's not talking about it. Dr. Griscom calls on the homicide unit when he sees a number of deaths that are related by a poison named phosphozine. The FBI steps in on the poisonings and they put MGee in charge of a task force; they consider it an act of domestic terrorism. One of the victims was a priest; two others were his parishioners. Gharty suspects the communion wine. Following this idea, wine bottles are collected from churches around the city. A needle hole is found through one of the corks. A citywide canvassing of all places where wine can be purchased is launched. Gee disagrees with the bureau's policy of keep information from the public. One possible suspect is captured; however, strange as he is, he's not the one. Through an internal leak, the media is alerted and warns the public, sparking chaos. MGee suspects the source of the

Happy to Be Here

Bayliss continues his relationship with the artist, but she's told her boyfriend. When she tells Bayliss that her boyfriend hit her upon hearing the news, it makes Bayliss so mad he confronts him. Pembleton and Bayliss investigate the death of a woman who's received a delivery of fresh flowers, although she's been dead over two weeks. Bolander and Munch investigate the shooting of Thorne's source, who's linked to a cocaine cartel, then Thorne is shot. Gee tries to get the department to get him a replacement for Crosetti. Thorne's daughter decides to keep his newspaper going. Beau tries to find out where his wife has moved the family. With Meldrick and Bayliss' disagreement over the artist, Munch is left without partners for the bar. Bayliss goes over the edge when the artist dumps him, so he holds up a liquor store for 11 cents; Pembleton gets him out of it.

Self Defense

In Stivers and Falsone's case, a man is found shot dead in his bed, with no signs of a struggle. Gee lobbies Barnfather to find a way to get them the ability to have some control over their FBI liaison, so they don't experience the same problems they had with the Janine McBride case. Barnfather lets Gee know that there is Captain's position opening up and he should be inline for it with no catches. Lewis lets Ballard accompany him on a bar stabbing, when she accuses him of being afraid to work with a female, since the incident with Sheppard. While she does get to help him with the initial investigation, Lewis manages to work the rest of the case on his own, leaving her to handle the details. Meanwhile, Ballard's usual partner Gharty spends a ""mental health day"" at the Waterfront Bar, drinking and proposing to Billie Lou. Stivers and Falsone discover their victim had a bad breakup with his ex-wife Eleanor Burke, and she admits to committing the crime; however, as an assistant US attorne

A Shot in the Dark

Crosetti focuses his investigation into the shooting of Officer Thormann on one suspect, while Lewis continues to investigate. Meanwhile, Pembleton and Bayliss pursue different leads in the murder case of eleven-year-old Adena Watson.

Double Blind

A girl complains to the desk sergeant about her father's abuse of her mother. Meldrick spends the night remembering Crosetti with the Chris and Eva Thormann. Chris reflects on his own memories of the shooting incident that blinded him, the shooter is now up for parole. Bayliss with Pembleton investigate the homicide of a man shot to death in his own house. The shooter, the murdered man's wife will testify, is their daughter. The case triggers a painful memory for Tim who goes to visit his Uncle George.

Wanted Dead or Alive, Part 1

Bounty hunters shoot, killing the wrong man, as they enter a building where their fugitive---a man named Joe Errico---has shot at them (and subsequently gotten away). Gharty has vague memories of a drinking binge from the night before. Falsone and Stivers catch the bounty-hunter case. Sheppard, during her days with the fugitive squad, had dealings with the head bounty hunter. Gaffney stops Gee and MGee on their way in, Baltimore magazine wants to do a father and son piece, using the wine case as a focal point. Gee is not interested, especially about the use of the wine case. Gharty struggles as he tries to reconstruct the events of the night before. Munch is bothered by Gharty's stories of Vietnam and each grows to dislike the other - perhaps some competitiveness over Billie Lou is beginning to brew here. Bounty hunter P.J. Johnson, who was identified as the triggerman, is charged and placed in one of the holding cells, near some of his previously captured quarry. Within an hour his ba

Ghost of a Chance

Bayliss and Pembleton continue to struggle with the Watson case. Bolander and Munch discuss ""iguana style"" and are called to check out the homicide of a victim that isn't dead, at least the first time they're called. While checking out some leads for the Watson case, Crosetti gives his theory on the conspiracy to kill Abraham Lincoln. Lewis wants to flood Memorial Stadium. Bolander expresses an interest in Dr. Blythe; Munch advises and sends flower's in Stan's name. Danvers needs a stronger case; however, Howard is frustrated with a dead end. Then the ghost of the victim leads her to the undiscovered proof. Tim attends Adena's funeral.

Identity Crisis

Falsone and Lewis investigate the murder of a man in his own backyard. The victim's nose was removed from his body. Ballard and Gharty investigate the murder of a bartender at a strip club. Canvassing the neighbors, Falsone feels that one of the neighbors isn't what she appears to be. Later when they interview her husband, he gets the same feeling. The MEs complete a record setting day of completing autopsies, but find themselves with one unidentified extra body. Munch and Bayliss get the call, but insist that until they can get a crime scene to go to, the problem isn't theirs. Griscom finds the crime scene in the morgue freezer. Ballard mentions to Gharty that he might want to consider stopping his drinking. Falsone's theory about the victim's neighbors proves true when MGee checks into the Witness Protection program. MGee's phone call puts the wheels in motion to get the family moved. Falsone and Lewis arrive just in time to take their suspect into custody and away from the Feds. The

Justice, Part 2

Jake Rodzinski has trouble dealing with the verdict of the trial and takes justice into his own hands. Kellerman is back from a family wedding in Wisconsin picks up the case of the murder of Kenny Damon. Lewis is not allowed to know all the details of Kellerman's investigation, because of his past relationship with Rodzinski, their chief suspect. Bayliss is at odds with Pembleton over the disposition of a grilled cheese sandwich.

Kellerman, P.I., Part 1

Mike Kellerman's new vocation is private investigation, where the majority of the work involves catching cheating spouses. Falsone and Stivers catch a case where a newborn baby's body is found buried behind a motel. A young couple had checked into the room where the baby was delivered. The room was paid for using the girl's credit card. When they locate the girl (Debbie at home with her parents), she collapses and is brought to the hospital. The boy, Craig, is also located. Both say that the baby was stillborn; however, the autopsy reveals that the baby took a breath after it was born, so the death is ruled a homicide. Falsone notes that of the two, only the boy Craig seems to show any compassion for the baby. Kellerman meets Sheppard for a beer and tries to ask her about Falsone's baby case, later he asks around the squad room. Kellerman is hired to conduct his own investigation by the girl's defense team. Gee demands that Falsone and Stivers find convicting evidence before Kellerman

Wu's on First?

A new Baltimore Sun reporter gets into the middle of Frank's investigation of the death of a county cop who was shot because of drugs. Gee likes her style. Mike's brothers, Drew and Greg, come to town, who want to take him and his boat to Miami to set up a charter service. Mike learns that they are on the run from a bookie that Drew owes $18,000. To pay that debt, they've stolen Babe Ruth's Baltimore uniform from another bookie with the intent of selling it. Lewis and Cox go in search of the Kellerman boys. They find them in jail where they spent the night after trying to return the uniform.

Hostage, Part 1

Gaffney and Barnfather give Gee a hassle about the return of Frank to duty and the sudden departure of Russert to Europe. Bayliss and Munch are called to the scene of a homicide, where the victim, Mrs. Uba, was cooking breakfast and the only witness may be a male pig named Angie. Frank returns to work and Gee tells him what his limited duties are going to be and that he's called in all his favors and both their asses are on the line. The squad is called out for a hostage situation at a middle school.

The True Test

Lewis and Bayliss investigate a homicide at a boarding school. Gee goes to Frank's house to pick him up for a trip to the gun range. Kellerman wants the investigation into corruption in his old arson unit to move along, but he finds out that all the real guilty parties have made plea bargains. Frank's firearm test looked promising. The tiny little voice in Bayliss' head tells him that McPhee Broadman might be their suspect despite the fact that his mother is a powerful judge in Baltimore. A student comes forward and confesses to the student's killing; however, the detectives aren't convinced he alone was responsible. Frank passes the exam and can return to active duty, but as far as he is concerned the real test is in the box.

Brotherly Love

Sheppard and Lewis investigate the death of a man who has a twin brother. Gharty talks about wanting to live his life; he and Ballard go to the hospital to investigate the death of a teenager. Bayliss has interest in Sheppard; later he seeks advice from Stivers, who tells him to get in line behind Lewis and Falsone. Lewis and Sheppard interview the remaining twin and his mother; she confirms his story and they try to point to the dead twin's girlfriend. Meanwhile the friend of the teenage victim in Ballard and Gharty's case confesses that his friend wasn't shot in Baltimore, but rather D.C.; he drove his friend back to Baltimore so their parent's wouldn't ""kill them"" for buying drugs in D.C. Gee hopes to get the case moved to D.C. Mike Giardello puts in for his FBI transfer, but the only openings they have in the area are for liaisons to local police departments. He interviews with Gaffney, who is so open to the idea, he can't wait to tell Gee. That's something Mike was going to wait f

Fire, Part 1

Bolander and Felton are suspended for 22 weeks without pay for incidents related to activities at a police convention in Washington, DC. Howard plans to take the sergeant's exam. Pembleton and Bayliss are assigned to investigate the death of a body found at an arson. At the scene they meet an arson detective that clashes with Frank's working style. Frank hesitates chasing a suspect, and later we learn that his wife is pregnant. Munch also decides to take the exam, and when the wagering begins on who is going to pass, everyone favors Howard. While the detectives are debating whether the fire was set to cover the murder, another fire is started.

For God and Country (II)

Continuing the investigation in New York City, Egan's wife is questioned by Frank and Tim. Just a few hours later, Egan's wife is killed and Egan's son is seen running. Kendall is taken into protective custody until he gives up the suspect's name. Lennie Briscoe and Rey Curtis come to Baltimore. The suspect tried to escape in a seaplane but is caught. This crossover started on Law and Order S06E13 Charm City (I).

Just an Old Fashioned Love Song

MGee (Mike Giardello) and Ballard investigate a double shooting at the home of a prominent sports doctor and his wife, a dermatologist. The doctor (who was wounded) did not realize the deceased (thought to be a prowler) was his sister-in-law. Munch contends with the IRS; his Waterfront partners want him to make sure that his cousin, their accountant, has been paying their taxes. The Waterfront needs a loan to pay for some improvements. Gharty has taken the day off, to take care of personal matters, like his recent separation from Flora. Munch has his hearing with the IRS; he owes $30,000 in back taxes. Bayliss and Sheppard discuss his sexuality and the possibility of a date. Falsone takes MGee and Ballard to meet an old fight man who knew their doctor. Ballard becomes excited while watching Falsone spar in the ring. MGee and Ballard's investigation lead them right back to the doctor's house, where his wife may be guilty of conspiracy to commit homicide. Gharty stops by the Waterfront t

Son of a Gun

Crosetti and Lewis investigate the shooting of a fellow police officer whom Crosetti regards as a son, Howard suspects a rabid Spiro Agnew fan of murder but ends up solving the Calpurnia Church case meanwhile Bolander makes a friend whose death interrupts his date with Dr. Blythe.

Secrets

Ballard and Munch catch a case involving the death of a prominent businesswoman. Pembleton and Bayliss catch a similar case. Both deaths might be the suicides they appear to be, but as the detectives begin their investigations the facts reveal otherwise. Lewis attends his disciplinary hearing and receives his punishment and is allowed to return to duty in the Homicide unit. Falsone and Lewis investigate another Mahoney related death. The situation within the Mahoney organization may be getting out of control as jury selection begins in the civil suit. The judge dismisses the civil suit, just as he told Kellerman tbat he would. Kellerman confronts him after the trial about the FBI's investigation in front of several witnesses. Bayliss joins Ballard for dinner and he reveals some of his secrets.

Kellerman, P.I., Part 2

Debbie Straub signs the plea agreement, pointing to Craig as the killer of the baby. Falsone wants more time to work on the case. Danvers reminds Kellerman there was a time when the truth mattered more than his paycheck. Gharty goes off when Sheppard and MGee ask to many questions about Kellerman's leaving of the homicide unit. Kellerman appears to begin doing the right thing, but doesn't pass anything on to anyone who might be able to do anything with it. Craig believes that Debbie isn't going to let him down and he has no plans to testify on his own behalf. Ballard searches for a dinner date when Falsone leaves a message he won't be joining her. When she sees him in the Waterfront later, she lets him know how she feels about his method of communication. The case goes to trial, Debbie testifies that Craig killed the baby; with no evidence to the contrary, the jury finds Craig guilty. Falsone talks with Craig about what really happened; however, it is all to no avail as the following m

Stakeout

The entire squad is put on 24-hour surveillance when a mass murderer has been identified, isn't at home and doesn't know that they know. Gee debates leaving the squad in the midst of the stakeout, so he can attend his daughter's wedding in California. As the detectives rotate through shifts on the stakeout, the main topics of discussion are the homeowners and Bayliss' plans to leave the unit.

The Last of the Watermen

After uncovering the fact that an elderly woman's tongue was cut out, Kay decides it is time to take a vacation. She returns home and while she is there she looks into the murder of an environmentalist. The suspects include her brother, an ex-beau and their co-worker. Pembleton reluctantly becomes Felton's partner and they finish investigating the murder of the elderly woman. Munch is against having a television put in their bar.
Homicide: Life on the Street Episode Guide
Gone for Goode

Lewis and Crosetti uncover a woman who's been killing her husbands for insurance money. Howard tries to keep her cases-solved record perfect, but she is reassigned with Felton as her partner. Bolander convinces Munch to help him finish up an unsolved case. A new guy, Tim Bayliss, from the mayor's office gets his first case in homicide, the murder of an 11-year-old girl. His partner Pembleton, we find out, is less than enthusiastic to work with him or anyone else in the unit.

Ghost of a Chance

Bayliss and Pembleton continue to struggle with the Watson case. Bolander and Munch discuss ""iguana style"" and are called to check out the homicide of a victim that isn't dead, at least the first time they're called. While checking out some leads for the Watson case, Crosetti gives his theory on the conspiracy to kill Abraham Lincoln. Lewis wants to flood Memorial Stadium. Bolander expresses an interest in Dr. Blythe; Munch advises and sends flower's in Stan's name. Danvers needs a stronger case; however, Howard is frustrated with a dead end. Then the ghost of the victim leads her to the undiscovered proof. Tim attends Adena's funeral.

Son of a Gun

Crosetti and Lewis investigate the shooting of a fellow police officer whom Crosetti regards as a son, Howard suspects a rabid Spiro Agnew fan of murder but ends up solving the Calpurnia Church case meanwhile Bolander makes a friend whose death interrupts his date with Dr. Blythe.

A Shot in the Dark

Crosetti focuses his investigation into the shooting of Officer Thormann on one suspect, while Lewis continues to investigate. Meanwhile, Pembleton and Bayliss pursue different leads in the murder case of eleven-year-old Adena Watson.

Three Men and Adena

Pembleton and Bayliss have only twelve hours to grill their prime suspect in the Adena Watson case before they must let him go.

A Dog and Pony Show

While Giardello is busy sending off an old friend to retirement Pembleton and Bayliss investigate the murder of a dog, Howard and Felton argue over whether Felton finds Howard attractive while dealing with a drug-related homicide and Bolander and Munch take Dr. Blythe's son on a ride along. Meanwhile, Crosetti takes care of the bed-ridden and blind Thormann.

And the Rockets' Dead Glare

Howard and Felton are in court over the Pony Johnson case, Crosetti and Lewis go head to head with the Secret Service and Bolander and Munch argue over drug legalization. Meanwhile, Pembleton gets an unexpected job offer.

Smoke Gets in Your Eyes

Quitting smoking dominates the conversation ad behavior of the homicide detectives even as they solve what may be a gang-related killing of a 14-year-old boy. Lt. Giardello discovers a secret asbestos removal project on the third floor and confronts his superiors on behalf of his squad.

Night of the Dead Living

The homicide team pulls the graveyard shift on the hottest night of the year. Bayliss is consumed by the Adena Watson case, driving a bigger wedge between him and partner Pembleton. Giardello finds a baby in a cage. A renegade Santa Claus runs loose in the building and the whole squad tries to figure out who's responsible for a candle that keeps getting lit.
Shows for Fans of Homicide: Life on the Street