Good Eats Episode Rating Graph
Jul 1999 - Mar 2021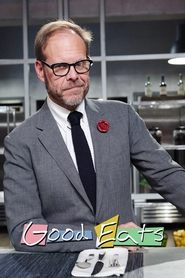 Browse episode ratings trends for Good Eats. Simply click on the interactive rating graph to explore the best and worst of Good Eats's 265 episodes.
The best rated episodes of Good Eats are:
Pickled Pink/Corn the Beef S10E18 rated 8.8
Tender Is the Loin 2 S9E17 rated 8.8
The Proof is in the Bread Pudding S14E19 rated 8.7
Honey, I Shrunk the Cake S11E19 rated 8.7
This Spud's for You Too S5E13 rated 8.7
For Whom the Cheese Melts II S5E11 rated 8.6
The Icing Man Cometh S6E15 rated 8.6
Celebrity Roast S5E4 rated 8.6
Peanut Gallery S11E9 rated 8.6
Fit to Be Tied S6E17 rated 8.6
The lowest rated episodes of Good Eats are:
Marrow Minded S16E1 rated 7.2
Date Tripper S15E9 rated 7.2
Crustacean Nation III: Feeling Crabby S7E1 rated 7.4
Potato, My Sweet S7E11 rated 7.4
Behind the Bird S3E5 rated 7.5
Tortillas Again S10E14 rated 7.5
School of Hard Nogs S9E13 rated 7.5
Holiday Spirits S15E12 rated 7.6
Deep Sea Green S16E6 rated 7.6
The Turkey Strikes Back S15E11 rated 7.6
The first episode of Good Eats aired on July 07, 1999.
The last episode of Good Eats aired on March 25, 2021.
There are 265 episodes of Good Eats.
There are 16 seasons of Good Eats.
Best Episodes of Good Eats
Pickled Pink/Corn the Beef

Inspired by a trip to New York City, the capital of corned beef, Alton decides to make his own, since good corned beef is hard to find outside of the Big Apple and certainly south of the Mason-Dixon. Along the way, the history of the succulent meat and the myth of the St. Patrick's Day traditional meal. Recipes - Corned beef brisket - Corned beef and cabbage - Corned beef hash

Tender Is the Loin 2

Alton takes another look at the one of the single best (and most expensive) cuts of meat, the tenderloin. Recipes featured in this episode: Center Cut Tenderloin Roast, Chain of Bull Cheese Steaks. Beef Carpaccio, and Stuffed Tenderloin.

The Proof is in the Bread Pudding

Host Alton Brown uses a scientific secret formula in an attempt to devise the definitive bread pudding.

Honey, I Shrunk the Cake

Join host Alton Brown as he breaks the trend toward an overly sweet and fussy pastry and gets us back to the original chiffon cupcake that will make you feel like a kid again. Recipes: Chiffon Cupcakes Chocolate Chiffon Cupcake

This Spud's for You Too

Alton, ever the Spud Stud, cooks up homey Potato Soup, creamy Potato Salad and a spectacular Swiss Rosti. Recipes: Leftover Baked Potato Soup Cold-Fashioned Potato Salad Potato Roesti

For Whom the Cheese Melts II

Learn what you can do to return Macaroni & Cheese to a table near you. Evaluate bakeware, noodle noodles, look into evaporated milk and of course?cheddar cheese. Recipes: Baked Macaroni and Cheese Stove Top Mac-n-Cheese Next Day Mac and Cheese "Toast"

The Icing Man Cometh

Cake is dandy but let's face it, without frosting it's just sweet bread (not sweetbreads). Host Alton Brown builds a better butter cream then builds a layer cake from ground up...with tools from his local hardware. Recipes: Buttercream Ganache Writing Chocolate

Celebrity Roast

As the holidays approach Alton Brown ponders the perfect roast beast, meets with a butcher, comes to terms with aging, learns about ovens & radiant heat, discovers new ways to have fun with flower pots, and produces the ultimate carnivores delight. Recipes: Dry-Aged Standing Rib Roast with Sage Jus

Peanut Gallery

A little ghostly inspiration is all Alton Brown needs to turn a handful of peanuts into some seriously good eats. Recipes: Boiled Peanuts Boiled Peanut Soup Roasted Peanuts Homemade Peanut Butter Peanut Butter Pie

Fit to Be Tied

Since childhood, host Alton Brown's had a soft spot in his appetite for roulades, savory rolls of meaty goodness that look hard... but aren't...as long as you've got science on your side. Recipes: Braciole Fish Roll with Compound Butter

Art of Darkness II: Cocoa

Alton gets the dirt on Dutch processing and the dead Dutch guy who invented it, choose a few powders then apply them to hot chocolate, brownies, sorbet and homemade chocolate syrup. Recipes: Cocoa Brownies Hot Cocoa Cocoa Syrup

I Pie

Alton Brown goes undercover for an in depth look at lemon meringue pie. Recipes: Lemon Meringue Pie Pie Crust

A Cake on Every Plate

Host Alton Brown finds a challenge in his mail box: decipher a deceased family baker's famous yellow cake. Recipes: Cocoa Whipped Cream Gold Cake

Myth Smashers

Join host Alton Brown as he sears meat, washes mushrooms, oils the pasta water and tries to blow-up water.

Q

Host Alton Brown thinks he's cracked the code to true 'cue: brined pork, a flower pot, a trashcan, hardwood smoke and a lot of patience. Recipes : Pulled Pork

Pantry Raid X: Dark Side of the Cane

Alton cooks with molasses.

Urban Preservation II: The Jerky

Alton Brown takes us on a tour of beef jerky from its ancient beginnings to shopping for it, making it, and cooking with it. Recipes featured in this episode: Beef Jerky. Jerky Tomato Sauce

Top Banana

There's a lot more under that peel than most folks think. Learn more about the many varieties available in the US and how they like to be handled. Take a side trip through plantains, learn how to make an amazingly fast banana bread and classic Bananas Foster... with fire and everything. Recipes: Banana Ice Cream Banana's Foster Fried Plantains

Strawberry Sky

Join Host Alton Brown to learn how to make the most of strawberry season. You can macerate them, glaze them, freeze them with dry ice, and even build a summer pudding in a tin can. AB even holds a quick lesson on the power of antioxidants. Recipes: Clotted Cream Macerated Strawberries Strawberry Pudding Frozen Strawberries Clotted Cream Macerated Strawberries Strawberry Pudding Frozen Strawberries

Raising the Bar Again

Join Alton Brown as he deconstructs the Margarita and Bloody Mary and reconstructs them with a classic formula Good Eats style.

Apple of My Pie

An American classic is revisited when host Alton Brown makes everybody's favorite, apple pie. Recipes: Super Apple Pie

The Wing and I

The Wing's the thing as Alton Brown prepares America's most ubiquitous of bar foods: Buffalo chicken wings. Recipes: Orange Glazed Chicken Wings Buffalo Wings

Do The Rice Thing

To most Americans rice means long grain, white grains. But we're missing out on the marvels of short, medium and brown grains. Join host Alton Brown as he stirs up a risotto, makes a rice salad and delves deep into a mixed bag of starch. Recipes: Baked Brown Rice Brown Rice Salad Wild Mushroom and Asparagus Risotto

Egg Files V: Quantum Foam

The word "souffle" has instilled fear in cooks for ages. Host Alton Brown believes a strong dose of science is all that's needed to get control of your egg foam. Learn the ins and outs of the cheese souffle, and how to manage the heat in your oven. Recipes: Cheese Souffle

Oat Cuisine

Following a heart attack and near death experience, Alton takes Gods advice and gets seriously into oatmeal. Examine crock pots, make honest granola, learn about fiber & nutrition and make the universal baked dessert topping. Recipes: Granola Overnight Oatmeal Steel Cut Oatmeal Haggis

The Case for Butter

AB goes to court to defend butter against its bad wrap.

Squid Pro Quo

Alton finds himself catering a tailgate party for a group of folks out to catch a glimpse of a mythical sea monster.To commemorate the event, Alton prepares a menu featuring his favorite tailgateable sea monster: squid. Recipes: Squid Vicious

American Slicer

Alton dedicates a show to the tools of the trade, cutlery. In it he discusses the three types of cutting techniques and the blade that best suits each. He also show the similarity between salsa and gazpacho.

True Brew II: Mr Tea

Tea is the second most popular beverage, so let's brew some.

The Big Chili

Join Host and cowpoke Gerald P Hobbs (Alton Brown) and his sidekick Rusty as they rustle up a good, honest bowl of red. Along the way, they'll ponder the chili mythology, grind up their own chili powder (that's chili with an ""i"") and do some serious work under pressure. Recipes: AB's Chili Powder Pressure Cooker Chili

Stew Romance

If great stew, like great music, is a commingling of ingredients to create culinary harmony, why do so many stews taste less like beautiful music and more like a murky dirge? Recipes: Good Eats Beef Stew

Dr. Strangeloaf

Tune in as Alton shows us how to create a great loaf of bread. Recipes: Very Basic Bread

The Man Food Show

Just in time for the big game, a show all about food best consumed in a lazy-boy: real, honest to goodness corn dogs and basket burgers (those little single bite burgers that are so darned good). Recipes: Corn Dogs Mini Man Burgers

Pantry Raid IV: Comb Alone

The most mentioned food in the Bible; The only food produced for us by animals. It's a sweetener, it's an antiseptic, it's amazing.

The Cookie Clause

Santa Claus is coming to town, and unless Alton Brown can bake up the perfect holiday cookie he's going to find himself on the wrong end of the big guy's list. Join AB for an evening of cookie baking basics, frosting food science, and maybe a little reindeer wrangling. Recipes: Sugar Cookies Royal Icing Chocolate Peppermint Pinwheel Cookies

Puddin' Head Blues

In an effort to pay off the IRS, host Alton Brown decides to enter a pudding recipe contest being held by the TV pudding queen: Auntie Pudding. Recipes: Indian Rice Pudding Tapioca Pudding Instant Chocolate Pudding Mix Chocolate Pudding

Espress Yourself

Put down the Venti mocha soy latte and step away from the Starbucks slowly. Alton gets back to basics with the tiny cup of brew that started it all. From the perfect bean to buying a grinder and an espresso machine, learn where you should spend your money. Recipes featured in this episode: - Espresso - Macchiato - Cappuccino - Latte

Tender is the Loin 1

Alton looks at the one of the single best (and most expensive) cuts of meat, the tenderloin. Recipes featured in this episode: Steak au Poivre

Squid Pro Quo II

Alton takes to the sea on a research ship to learn more about squid and demonstrate recipes for squid appetizers. Recipes in this episode: - Dry Fried Calamari - Wet Fried Calamari - Seaside Squid Salad - Squid Stuffed Squid

Grill Seekers

Watch as AB shows the grill can be a great tool in making a great meal.

Behind The Eats

If you're a Good Eats fan, you've seen Alton do it all. Although hard to believe, he does have some help when it comes to creating each episode. Join us "Behind the Eats" as the Good Eats crew reveal their thrilling, compelling and sometimes hard to believe behind the scenes secrets.

Casserole Over

When a Sunday drive goes bad, host Alton Brown finds himself pushing the limits of his casserole knowledge to free his dog from angry church ladies. Recipes: Broccoli Casserole Curry Chicken Pot Pie Garlic Shrimp Casserole

Chile's Angels

Alton investigates the fruity heat of chilies and that ubiquitous condiment: salsa.

The Trouble with Cheesecake

Alton helps discover the secrets of cream cheese and its alter-ego marscapone. Conquer crumb crusts, buy into some pans, and produce both savory and sweet cheesecakes without a crack in site. Recipes: Savory Cheesecake Sour Cream Cheesecake

Steak Your Claim

Host Alton Brown journeys from field to market to hardware store in search of the perfect steak and the perfect pan to sear it in . Recipes featured on episode: Pan Seared Rib Eye.

True Brew

Watch as Alton leads us through the history and prep of our favorite bean.

Churn Baby Churn, 2

AB sets out to figure out how to make ice cream himself. After a visit from some federal ice cream agents and a little investigation of ingredients, AB cracks the code. Recipes include: Chocolate Ice Cream, Vanilla Ice Cream, Mint Chip Ice Cream.

The Egg Files VI: French Flop

Alternative name: Zen and the Art of Omelet Maintenance Host Alton Brown gets Zen with the simply delicious yet simply misunderstood king of egg applications. Recipes: Omelet Omelet for a Crowd Frittata

Three Chips for Sister Marsha

Alton uses time travel to explain the mystery behind cookies with three kinds: the thin, the puffy and the chewy.

Choux Shine

The easiest pastry dough to make also happens to be the most versatile and delicious. Trouble is, Americans won's make it because it's got a scary name:pate a choux. Join host Alton Brown as he takes the steamy dough from cream puff to eclair and beyond. Recipes: Funnel Cake Sweet or Savory Pate a Choux

A Chuck for Chuck

From ordinary chuck to sublime, melt in your mouth flavor: how to make the perfect pot roast without the pot.

Ham I Am

Country and city hams: cured, smoked, raw, brined or fresh, get your juices going for some good old American ham.

The Muffin Man

America's favorite breakfast bread moved out of the home kitchen long ago. With the help of some sound science and an incarcerated brother, host Alton Brown plans to change all that. Recipes: Blueberry Muffins English Muffins

Head Games

Alton Brown gets inside a cabbage's head and comes out with a better understanding of what makes this potentially troublesome vegetable tick.

True Brew IV: Take Stock

Some folks may think of home made stocks as culinary anachronisms, but host Alton Brown thinks they're the best edible investment in town. Follow him as he buys the perfect stock pot and brews up some chickeney goodness spiced up with a tasty jolt of science and major dose of practical advice. Recipes: Chicken Stock Chicken Noodle Soup

If It Ain't Broccoli, Don't Fix It

It may be the bane of children and presidents but broccoli is a nutritional superfood. Join host Alton Brown as he transforms broccoli from limp and bitter to crisp and delicious. Recipes: Fresh Broccoli Salad Pan Steamed Broccoli Oven Roasted Broccoli

Oat Cuisine II

Host Alton Brown helps you get more oats in your diet with some very surprising culinary incarnations.

Spice Capades

A primer for buying, storing, mixing and matching, cooking and eating spices. Find the best tools for grinding them, learn what they are, where they come from and how they shaped the modern world. Recipes : Broiled Salmon with AB's Spice Pomade Vegetable Curry Curry Powder Blend Dried Pear and Fig Compote

Devil Of A Cake

Do you have to tangle with dark forces in order to create a quality Devil's Food Cake or its crimson kin, Red Velvet? Yes you do. And it's called cocoa powder. Join host Alton Brown as he reinvents the classics.

Peachy Keen

Good Southern boy Alton takes on the South's favorite fruit, featuring its history, varieties and how to preserve the famously perishable flesh. Recipes in this episode: - Grilled Peach Melba - Individual Peach Upside-Down Cake

Curious Yet Tasty Avocado Experiment

Alton studies the avocado and discovers some surprising avocado treats. Recipes featured: Avocado Compound Butter, Avocado Ice Cream, Avocado Buttercream Frosting

Sprung a Leek

Host Alton Brown ponders the leek, the lesser-known member of the Allium family which it turns, can do anything its siblings can do, only better. Don't believe it? Try these onion rings. Recipes: Grilled Braised Leeks Leek Rings Leek Potato Soup

Pantry Raid I: Use Your Noodle

Part one of an ongoing series looks at the king of pantry essentials: Dried pasta. Alton Brown explores pasta styles, the best cooking method (water is key), the tools you really need (big), and a different way of saucing. Recipes: Pasta

Salad Daze II: The Long Arm of the Slaw

Alton Brown's slaw-centric guest slot on a popular morning talk show turns into a strange and wonderful half hour of good eats. Recipes: Marinated Slaw Asian Slaw Beet Slaw Coleslaw

Pantry Raid III: Cool Beans

AB takes us through what it takes to turn beans into a great meal.

Crustacean Nation IV: Crawfish

Host Alton Brown explores a bayou staple, the delicious and sustainable alternative to lobster, the crawfish.

Major Pepper

Alton turns the spotlight on the king of spices, pepper, which has seen its once lofty stature reduced to being a companion for table salt. Included: A historical lesson tracing the spice empires of the 17th century and how to select pepper grinders. Recipes in this episode: - Pepper Deviled Eggs - Black Pepper Mango Sorbet - Slow Cooker Pepper Pork Chops - Pepper Vodka

Fry Turkey Fry

Deep-frying a turkey is a cooking method growing in popularity by leaps and bounds. But it can also be one of the most dangerous, with potential for serious oil burns or even fire. Alton spotlights the essential steps for ultimate safety, including how to select the best frying kit and making the Alton Brown Turkey Derrick®, his recommended way to get the bird in and out of the pot without putting yourself at risk. Featured recipes in this episode:- Deep-fried Turkey

Pretzel Logic

The pretzel, once a delicious treat, has sadly been twisted into the edible equivalent of cardboard. Alton Brown recreates the traditional soft pretzel in all its crisp, chewy, golden brown glory. Recipes: Homemade Soft Pretzels Homemade Hard Pretzels Best Mustard Ever

American Classic IX: Pumpkin Pie

Host Alton Brown delves into the Fall Classic taking it back to Plymouth and forward to the future.

Tamale Never Dies

Quite possibly the original convenience food, tamales are ancient and delicious. Join host Alton Brown on an historical and tasty exploration of these tempting treats.

Dill-icious

Join host Alton Brown as he helps a humble cucumber fulfill its culinary destiny of becoming a pickle. Recipes: Deep-Fried Pickles Dill Pickles

The Once and Future Fish

Concerned about the impact of over-fishing, host Alton Brown explores tasty and extremely sustainable farm-raised trout.

Cubing a Round

Alton examines the history of the cube steak and tries to bring country cooking home again. Recipes featured in this episode: Country Style Steak, Swiss Steak, Chicken Fried Steak.

Roll Call

Host Alton Brown harnesses the power of yeast to put classic rolls back onto the American dinner table.

Amber Waves

Join Host Alton Brown and learn everything you need to know about yeast, barley, hops and the hardware you need to bring them together to produce that most American of foods, Beer. Recipes: Good Brew

Herbal Preservation

Where ""Spice Trade"" took on the seeds, bark, berries and fruits we grind onto our foods, this show focuses on the wide range of greenery that can add depth and dimension that make Good Eats better. Plus, learn how to set up your own container herb garden. Recipes: Tarragon Chive Vinegar Parsley Salad

Tort(illa) Reform

With so few Americans making their own tortillas, AB hopes to provide some simple tips and recipes to make a great tortilla, replacing the mediocre store-bought ones we have in our pantry. Recipes featured in this episode: Corn Tortillas, Lime Tortilla Chips.

Orange Aid

Alton uses oranges to create a classic drink, a topping, and a creamy cold dessert.

Tricks for Treats

Despite the fact that Americans spend billions a year on manufactured treats, truth is, great candy starts in the home. Join host Alton Brown as he explains the trick to treats like taffy, brittles, and jellies. Recipes: Chocolate Taffy Acid Jellies Peanut Brittle
Worst Episodes of Good Eats
Marrow Minded

Alton tackles bone marrow and delivers everything you need to know to enjoy "God's butter" at home.

Date Tripper

Alton Brown tells everything you need to know to get dates into your culinary life, including three recipes for the 1960s classic "Devils on Horseback" and a very "scrummy" Sticky Toffee Pudding.

Crustacean Nation III: Feeling Crabby

What do you do when your live crab runs away from home? If you're Alton Brown you turn to frozen legs and other packaged products. A cop out? Nope, good eats. Recipes: Steamed Alaskan King Crab Claws Ghee Crab Cakes or Fritters Marinated Crab Salad

Potato, My Sweet

Long typecast as a character actor on the culinary stage, this longsuffering root is finally ready for a star role, and it's not in Silence of the Yams. Recipes : Sweet Potato Waffles Sweet Potato Pie Chipotle Smashed Sweet Potatoes

Behind the Bird

AB is out to show you can make a great meal with Thanksgiving leftovers.

Tortillas Again

Alton is under siege. His kitchen is being picketed by Cooks Against Wasted Left-Overs. Alone and abandoned by his film crew, Alton is visited by the Mother of Culinary Invention, who gives the desperate cook inspiration. Recipes in this episode: - Enchilada Lasagna - Masa Tots - Ultimate Nachos

School of Hard Nogs

Alton Brown reviews the history of egg nog, and comes up with several variations on the theme. He also investigates how bourbon is made. Recipes: Eggnog Eggnog Ice Cream

Holiday Spirits

Alton shares the low-alcohol, flavorful secret to handling the holidays

Deep Sea Green

Alton delves into dried seaweeds and why they should be in your pantry.

The Turkey Strikes Back

Alton Brown shares three turkey recipes to make year-round.

Beet It

Long feared by baby boomers accustomed to being accosted by noxious red wedges, beets are good eats, or so says host Alton Brown who suggests one approach the ruby roots with an open mind and a good pair of gloves. Recipes: Beet Green Gratin Glazed Baby Beets Pickled Beets

Bibimbap 'Till Ya Drop

Alton takes on bibimbap, the famed "mixed rice" dish of Korea.

My Shakshuka

Alton Brown takes a deep dive on one of the most internet-famous dishes of the decade by way of a famous film from the 1940s. Along the way, Alton talks through preserved lemons and homemade harissa.

Oh My, Meat Pie

Join host Alton Brown as he tells the tale of an ancestor's journey to the New World by way of a curious meat pie shop. He explores the origins and preparation of Shepherd's Pie and Mincemeat Pie.

Fudge Factor

It turns out the secret to producing the archetypal American candy doesn't lie in the power of chocolate but in the power of crystals. Host Alton Brown helps you to grow your own. Recipes: Chocolate Fudge Peanut Butter Fudge

Switched on Baklava

Phyllo dough can be finicky but host Alton Brown tames this difficult pastry to create that wonderfully layered dessert known as baklava.

Power to the Pilaf

Alton brown heads to LA for a sack of rice, evaluates rice cookers, unlocks saffron and rewrites the rules for the most versatile of all rice dishes: pilaf. Recipes: Rice Pilaf

Water Works I

Alton explains the sources of drinking water, its properties and dangers, and the popularity of bottled water.

Et Tu, Mame

Alton uses the soy bean in a various recipes.

Coconut Cake Revival

Is it possible to make great cake with coconut from a can? Should you even try? Host Alton Brown wants to know and he's willing to crack open as many nuts as it takes to make a slice of paradise on a plate. Recipes: Coconut Cake with 7-Minute Frosting Coconut Milk and Cream Coconut Extract

Water Works II

Alton continues his exploration of water, explaining how home water filters remove contaminants, how water softeners work, and describes the attributes of water's other forms -- steam and ice.

In Cold Brew

Alton opens all-new dimensions of coffee enjoyment with an exploration of cold brew – and no, iced coffee isn't the same thing

Fry Bread, Fry

Not all great breads come from the oven. Host Alton Brown takes on two very different fried breads, each with a twist.

American Pickle

There is no good reason that people do not make their own pickles. They are easy and delicious. Let Alton show you simple joys of pickling.

Egg Files VII: Meringue

Alton takes an in-depth look at three classic meringue-based desserts, including Baked Alaska, a time-honored favorite in households across the United States.

Whole Latke Love

Alton Brown delves into the history and techniques of making latkes.

Carrots: A Taproot Orange

They're long, they're orange and they're everywhere, but do we ever really think about carrots? Host Alton Brown does?a lot. Join him as he concocts everything from salads to cakes and explains the whole carrot/vision thing. Recipes: Carrot Slaw Glazed Carrots Carrot Cake

Wake Up Little Sushi

AB investigates the ins and outs of ordering, eating, shopping for and even making basic sushi. Plenty of history thrown in for good measure. Remember, in Sushiworld nothing can go wrong! Recipes Sushi Rice California Roll

Hittin' the Sauce II

No matter how good of a cook you are, sooner or later your seafood is going to let you down. Alton Brown has the sauces that will save your dinner every time.

Cran Opening

Host Alton Brown takes us from the bog to the bar as he explores the many uses of that all-American super fruit, the cranberry. Note: The episode was taped during the Cranberry season (September - October) of 2007. By the time it was edited in 2008, Food Network decided to hold it until the Thanksgiving season in the US even though it was the last episode of Season 11 and Season 12 was already beginning to air. It did, however air in Canada on 5-26-2008.

The Bulb of the Night

Meet the Count and discover the miraculous properties of Garlic.

Pork Fiction

Just how difficult is it to create finger-licking ribs?

Raw Ambition

Alton Brown journeys through the history and science of the greatest of all raw meat dishes: steak tartare. But first, you have to promise to never make it. Right? Right. Oh, and there's poke too!

True Grits

Whether you're cooking up a mess of grits or a pot of polenta cornmeal may just be the most powerful player in the pantry. Join host Alton Brown as he battles with cultural claims, doses up some science and cranks out an upside-down cake with a twist. Recipes: Cheese Grits Savory Polenta Pineapple Upside-Down Cornmeal Cake

American Classics VII: Don't Be Chicken of Dumplings

Host Alton Brown takes on the classic American soup that divides the country, and his family.

Shell Games

Oysters are a mystery to many and downright spooky to some. Join host Alton Brown as he unravels the secrets of this bivalve, cracks a safe or two and reinvents classic applications like oysters ""Rock-A-Fella."" Recipes: Baked Oysters Brownefeller Horseradish Cream Sauce Oyster Soup

Flat is Beautiful III - Flounder

Join Alton as he creates dishes suited specifically for the flounder Recipes featured in this episode: Baked Stuffed Flounder, Oil Poached Flounder Flounder Fish Salad.

Undercover Veggies I

In an effort to tempt his niece into eating her vegetables, host Alton Brown manages to sneak them into several tasty treats.

Sandwich-craft

To some it's a couple of pieces of bread with something shoved between. To others, a sandwich is a sublime balance of flavor and texture born as much of technique as ingredient. Alton Brown and his nephew Elton dose up a little Sandwich-craft. Recipes: Cuban Sandwich Pan Bagnat Roasted Vegetable Spread

Your Pad or Mine (Thai)

AB sets out to try to make some great Thai stir fry with common ingredients. Recipes featured in this episode: Pad Thai

Puff the Magic Pastry

Don't be afraid, the store stuff can deliver the puff.

American Classics I: Spinach Salad

Alton begins a new series focusing on the basic but often neglected simple fare of America. First up is the spinach salad. Popeye's favorite vegetable needs only a few additions to become a top-notch salad. Also, salad spinners to make your head spin. Recipes in this episode: - Wilted spinach salad with bacon dressing - Cold spinach salad with bacon and egg dressing

The Curious Case of Curry

Alton Brown attempts to set the record straight on the English dish that made India famous.

Sub Standards

Whether filling in for your French teacher or your favorite spice, substitutes can be every bit as successful as the original. Join host Alton Brown and a handful of substitute chefs as they take on a few good recipes with one ingredient tied behind their backs. Recipes: The Chewy Gluten Free Southern Biscuits Faux Peanut Sauce

Rich Little Poor Boy

One of America's most storied sandwiches gets a historic rethink and a technical do-over, from the oysters to the bread and everything in between. Alton Brown also makes an argument for shucking.

The Dough Also Rises

Searching for the perfect southern-style biscuit, Alton Brown investigates flour and leaveners and turns to his Grandmother for a pointer or two...not to mention a few pointed comments. Recipes: Scones Shortcake Southern Biscuits

Circle of Life

Everybody loves donuts but nobody seems to make their own...until now. Join host Alton Brown as he delves into this country's favorite pastry. Not only will you learn how to make your own you'll find out how the donut really got its hole. Recipes: Yeast Doughnuts Doughnut Glaze Chocolate Doughnut Glaze

Okraphobia

Sid the Edibles Agent returns, asking Alton to help redeem his latest problem client, the infamously slimy seedpod known as okra. Recipes featured in this episode: - Okra and Tomatoes - Pickled Okra - Wet Fried Okra - Dry Fried Okra

Fermentation Man

When civilization crumbles, who ya gonna call to help get good eats on the table? Lactic acid bacteria, of course.

Crust Never Sleeps

Watch as Alton Brown creats the pie crust of his dreams.

Popover Sometime

Armed with one simple yet versatile recipe, host Alton Brown creates a variety of dishes from a breakfast treat to that dinner classic, Yorkshire pudding. Recipes: Dutch Baby, Yorkshire Pudding with Roast, Basic Popover

Fry Hard III: Fry, Tempura, Fry!

Host Alton Brown takes on the most mythic, magical, but often times monstrous form of frying known to modern man.

Olive Me

Although small, olives pack a whallop in the taste department. Alton tries to prove martinis aren't the place olives can be used. Recipes: Citrus Marinated Olives Tapenade Olive Loaf

American Classics X: Chicken Parm

Alton Brown makes the argument that Italian food was actually invented in America, and that Chicken Parmesan is the dish where it all began. Yet, an Italian canned tomato makes it all possible.

The Pouch Principle

Living fast often means getting your food from a bag. Host Alton Brown doesn't see anything wrong with that as long as the bag comes out of your oven or microwave. Pouch cookery may have ancient origins but it may just be the key to your future food. Recipes : Ramen Shrimp Pouch Red Snapper en Papillote Salmon Fillet en Papillote with Julienne Vegetable Stone Fruit Pouches Vanilla Sugar

Stuff It

AB's gone on record as saying the stuff is evil and yet, hundreds of protest letters have him rethinking his position. Can a stuffing be designed that's good for diner and bird alike? Recipes Stuffed Squash Turkey with Stuffing

Field of Greens

Was your childhood eating plagued with plate-loads of slimy, foul-smelling leaves? Host Alton Brown shows how to turn fiend to friend when he takes on dark leafy greens. Tune in and you might learn a thing or two about nutrition too. Recipes: Mustard Green Gratin Pot O'Greens Lemon Sesame Glazed Greens

Bagel Attraction

Host Alton Brown dives into the history, science and technique of making "real" bagels at home.

Wonton Ways

The humble wonton skin may look exotic but it's also the most versatile pasta you can invite into your kitchen. Join Alton Brown as he stuffs and folds and fries and steams and bakes up a mess of good eats out of this Chinese restaurant standard. Recipes : Perfect Potstickers Vegetarian Steamed Dumplings Pear Walnut Wontons

Immersion: Gone Fishing

The best way to cook fish: Put it back in the water ... in a bag!

A Pie in Every Pocket

Join host Alton Brown as he looks into the past, future and present of the very handy ""pocket"" pie. Recipes featured in this episode: Pocket Pie

The Waffle Truth

Alton Brown dresses up as the ""Waffler"" and rids the neighborhood of pathetic commercial frozen waffles, and then shows how to make your very own. Recipes Basic Waffle Chocolate Waffle

Frozen Cache

Alton shows how the freezer can be used for proper food preservation.

American Classics IV: Spaghetti With Meat Sauce

Although usually considered an Italian dish, spaghetti with meat sauce proves to be an American classic as host Alton Brown explores its origins.

Cuckoo for Coq Au Vin

Can a fussy French fricassee fit a modern American lifestyle? Sure. All it takes is a chicken, a couple bottles of wine and a little know-how. The fussy French part is purely optional. Recipes: Coq au Vin

A Cabbage Sprouts in Brussels

Alton deals with the dreaded Brussells Sprout.

Every Grain Old Is New Again

Ancient American grains like amaranth, chia and quinoa are making a comeback due to their versatility and nutritional content. Alton Brown shows how to make the most of these very old kitchen newcomers.

Pantry Raid XII: Turning Japanese

The ingredients for that beguiling Japanese concoction, miso soup, may seem a bit unusual until host Alton Brown demystifies them and explores the wonders of the Japanese pantry.

Wild Yeast Risin'

First the pandemic, then the zombies, then the nukes and now: desolation and a giant dinosaur-thing. Luckily there are still plenty of yeast in the air, and Alton Brown proves that with a wild sourdough in the kitchen, the post-apocalyptic world can still taste good -- and he makes cheese crackers and waffles to prove it.

Soups On

A good soup is like a cooking school in a bowl and class is in session for host Alton Brown's nephew Elton. Join the two as they work together to craft an old classic and (perhaps) a new one. Recipes: Garden Vegetable Soup Grape Gazpacho

Chops Ahoy

Host Alton Brown yearns for the juicy chop of yesterdayand he intends to get it. Visit the neighborhood butcher, pick up stuffing tips (no, stuffing is not evil) and learn more than you ever wanted to know about propane. Recipes: Stuffed Grilled Pork Chops

Where There's Smoke, There's Fish

Get the lowdown on wood chips and creating a simple smoker for fish.

Crustacean Nation II: Claws

Host Alton Brown demystifies the buying, handling and cooking of the briny bug that put the surf into the surf-n-turf.

Fry Hard

Alton wants to show that proper know-how allows everyone to make healthy, delicious and safe fried foods.

Mayo Clinic

Join Alton Brown as he debunks the many mysteries of mayonnaise.

A Grind is a Terrible Thing to Waste

Learn to be excited when meat loaf is for dinner...

The Egg Files II: Man With a Flan

AB, in his second egg show, is out to show eggs don't have to be scrambled or an omlet.

Salad Daze

Exiled to bars, chopped and pre-packaged, drenched in noxious concoctions, the tossed salad deserves better. Alton Brown goes back to salad basics and pays homage to Caesar. Recipes: Hail Caesar Salad Veni Vedi Vinaigrette

Apple Family Values

Watch Alton Brown show you how to shop, store, and prepare some apple classics.

Ear Apparent

Alton shops, shucks and shares the history and methods of the summer fave: corn.
Good Eats Episode Guide
Steak Your Claim

Host Alton Brown journeys from field to market to hardware store in search of the perfect steak and the perfect pan to sear it in . Recipes featured on episode: Pan Seared Rib Eye.

This Spud's For You

Alton Brown ponders the potato and its main ingredient: Starch. Baking, mashing and gratins are re-examined. Recipes: Mashers Potato/Portobello Gratin The Baked Potato

The Egg-Files

Alton Brown cracks the mysterious egg case and pursues a higher understanding of the amazing ovoid's culinary powers. How to land a non-stick pan, scramble, over easy--and consider eggs for dessert Recipes: Lemon Curd Scrambled Eggs Unscrambled

Salad Daze

Exiled to bars, chopped and pre-packaged, drenched in noxious concoctions, the tossed salad deserves better. Alton Brown goes back to salad basics and pays homage to Caesar. Recipes: Hail Caesar Salad Veni Vedi Vinaigrette

A Bird in the Pan

Why did the chicken cross the road? Probably to escape Alton Brown, who seems intent on defining the perfect broiled chicken that's out of the oven and bathed in sauce in under half an hour. Recipes : Broiled, Butterflied Chicken

Churn Baby Churn

You scream, I scream, but Alton Brown would rather make his own ice cream...and sorbet and granita. Secrets the pros don't want you to know and how to find an ice cream machine that delivers the goods without breaking the bank. Recipes: Serious Vanilla Ice Cream Coffee Granita Key Lime Sorbet

The Dough Also Rises

Searching for the perfect southern-style biscuit, Alton Brown investigates flour and leaveners and turns to his Grandmother for a pointer or two...not to mention a few pointed comments. Recipes: Scones Shortcake Southern Biscuits

Gravy Confidential

Host Alton Brown conquers ""rouxs"" and leads the way to lump free gravy. Recipes: Gravy from Roast Drippings Sawmill Gravy White Roux

A Bowl of Onion

Host Alton Brown journeys to the center of the onion. After rediscovering a kitchen classic, and debunking the mythology of tear-free onion cutting, he emerges with a darned fine bowl of soup. Recipes: French Onion Soup

Hook, Line and Dinner

Alton Brown dives deep into the watery world of fish and finds that with just three cooking methods under your belt, you can cook just about all of the critters. Recipes: Grilled Salmon Steaks Pan Fried Fish Striped Bass in Salt Dome

Pantry Raid I: Use Your Noodle

Part one of an ongoing series looks at the king of pantry essentials: Dried pasta. Alton Brown explores pasta styles, the best cooking method (water is key), the tools you really need (big), and a different way of saucing. Recipes: Pasta

Power to the Pilaf

Alton brown heads to LA for a sack of rice, evaluates rice cookers, unlocks saffron and rewrites the rules for the most versatile of all rice dishes: pilaf. Recipes: Rice Pilaf

The Art of Darkness

Alton Brown delves into the dark world of chocolate, picks a pod, roasts some beans, questions mysterious guests, visits his shrink, makes a mousse and hits upon the ultimate chocolate recipe. Recipes : Chocolate Mousse Chocolate Lava Muffins
Shows for Fans of Good Eats