Auction Hunters Episode Rating Graph
Nov 2010 - Mar 2015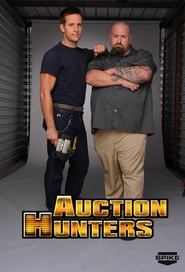 Browse episode ratings trends for Auction Hunters. Simply click on the interactive rating graph to explore the best and worst of Auction Hunters's 107 episodes.
The best rated episodes of Auction Hunters are:
Hot Wheels S2E22 rated 8.4
Money Makin' Monster Machines S3E24 rated 8.3
Hula Moola S3E22 rated 8.3
Half Pipe Dreams S2E17 rated 8.3
Everything's Bigger in Texas S2E10 rated 8.2
Allen's Ruff Day S3E21 rated 8.2
Sidecar Surprise S3E15 rated 8.0
Hidden Hot Wheels S3E3 rated 8.0
Viva la Vegas S2E18 rated 8.0
Gangs of New York S3E20 rated 8.0
The lowest rated episodes of Auction Hunters are:
Ramped Up S5E2 rated 7.1
Party Gras S5E8 rated 7.2
The Wild West S1E2 rated 7.2
Blazing Saddles S5E7 rated 7.2
Louisiana Purchase S5E9 rated 7.2
To Pawn or Not To Pawn S4E26 rated 7.3
You Got Served S4E16 rated 7.3
Carolyn Goes Topless S4E11 rated 7.4
Quadzilla Attacks S2E2 rated 7.4
It's Raining Ton S4E3 rated 7.4
The first episode of Auction Hunters aired on November 09, 2010.
The last episode of Auction Hunters aired on March 08, 2015.
There are 107 episodes of Auction Hunters.
There are 5 seasons of Auction Hunters.
Best Episodes of Auction Hunters
Hot Wheels

A 1970s dune racer; off-road racing gear; a 1965 replica Mustang pool table.

Money Makin' Monster Machines

The Auction Hunters team goes on the attack & ends up on a collision course with a hardened veteran auction buyer.

Hula Moola

Ton and Allen jet to the Hawaiian islands where they're joined by a feisty new female assistant! The team uncovers a pair of James Bond-style gadgets designed for high-speed underwater travel and a vintage sled used to race down the mountain

Half Pipe Dreams

A bulletproof vest and a SWAT team helmet are discovered. Also: A Z-Flex Jimmy Plumer Poolrider skateboard from the 1970s is featured.

Everything's Bigger in Texas

An 1886 Winchester riffle designed to kill buffalo; 1950s electric slot cars.

Allen's Ruff Day

Ton and Allen head to an auction in Ton's hometown and end up battling with a big-mouthed buyer. They discover a pair of tranquilizer dart guns and also end up fighting with a K9!

Sidecar Surprise

The guys visit Virginia for an auction. Featured: a military motorcycle from Russia and a 19th-century cannon.

Hidden Hot Wheels

Ton and Allen challenge an auction buyer on his home turf; The guys find a 1969 Chevelle Malibu.

Viva la Vegas

A naval cane sword from the 1800s; a 1910 poster of magician Chung Ling Soo; a Zig Zag magic sword box from 1974.

Gangs of New York

Ton and Allen duke it out with a local thrift store gang at a Brooklyn storage auction.

Mr. Haff Goes to Washington

The guys visit Washington, D.C., where they find a Civil War-era revolver and gold coins from South Africa.

Battle Bought

Remote-controlled combat robots from the 1990s; an 1800s French "Harmonica Pistol" are featured.

Rodeo Ton

Ton and Allen head to the Beverly Hills of Orange County, Anaheim, and score a 1970s El Toro mechanical bull used to train bull riders, a silver WWII era banjo, and a collection of 1800s...

Dallas Mavericks

The guys go to Dallas, where they find a handcrafted cowboy saddle and a Tomahawk cruise missile jet engine. Allen and Ton travel to Dallas and face off against Texas' most elite buyers. The guys uncover a military-grade Tomahawk cruise missile jet engine and a century-old handcrafted wild west cowboy...

Beantown Bidders

A 1940s tandem bicycle, a black powder whaling harpoon from the 1800s and a vintage American flag collection are found in Boston.

Top Gun Ton

An Ontario, Cal., auction is visited, where the hosts compete with high rollers; a Gundlach Korona large format field camera from the 1920s and a scale RC Viper Fan Jet aircraft are featured.

The Chi-Town Showdown

See a metal casket from the Victorian period; glass fire extinguisher grenades from the 1870's; a Chicago fire station alarm box from 1896.

Gangster Whiskey

A rare baseball card, a classic jukebox and an early model CD player are among items found by Alan and Clinton in their auction wins.

Choo-Choo, Cha-Ching!

Ton and Allen get a surprise second chance after nearly getting shut out in the small town of Palmer. They uncover a motorized railroad maintenance car from the 1960's and a pre-WWI Japanese semi-automatic pistol

Little-Ton Jones

An amateur rocket and machinery for mining gold are featured.

Ton's Driller Instinct

Ton & Allen encounter aggressive outdoorsmen in the Alaskan wilderness. The guys discover an 8-wheeled ATV that travels on both land & water and an air percussion hammer that can drill through solid rock!

Great American Cashtime

Rare Master Pitch baseball machine from the 1950's; Jaws of Life tool from the 1980's.

Sin City Shootout

The guys head to Las Vegas, NV and discover a bumper car designed to look like a 1953 Chevy, M16 rifle magazines, a photo booth and a set of potato guns.

Labor of Love

A Ms. Pac-Man arcade machine, a Harley-Davidson engine and an Air Jordan vintage shoe collection are examined.

Cashville, Tennessee

Ton and Allen rumble with a band of high-bidding bikers; the guys discover a 37 millimeter anti-tank gun and a cowboy's rodeo saddle.

Big Easy Money

Allen & Ton find more than easy money in New Orleans when they encounter bayou bidders with money.

Voodoo Moola

The guys run into trouble at a storage auction in Baton Rouge. Featured: an antique barber chair and a pair of racing lawn mowers.

Allen's Got Balls

The guys clash with a familiar foe. Also: A vehicle that picks up golf balls and an accurate rifle are featured.
Worst Episodes of Auction Hunters
Ramped Up

Ton and Allen go up against their former assistant, Carolyn, while Ton battles a bad back. The two find an automatic BB gun, and Allen faces a tough decision when negotiations to sell a stunt ramp go south.

Party Gras

On a trip to New Orleans, Ton and Allen look to mix business with pleasure. They wage war with some locals at a tough auction, win a Mardi Gras...

The Wild West

A '70s German H&K P7 pistol; a rare 1910 copper cash register.

Blazing Saddles

Ton and Allen head to a Hollywood auction and face a new competitor with a seemingly endless cash flow. After they uncover a triple barrel shotgun...

Louisiana Purchase

In Louisiana, Ton and Allen encounter some salty locals at a shipping crate auction, and navigate choppy waters at a boat auction.

To Pawn or Not To Pawn

A face-off with Carolyn in Covina; a special effects unit; deciding the fate of the shop.

You Got Served

The guys leave an auction empty handed and try to find new merchandise at a yard sale; questionable antique tennis rackets and an ancient special effects box may not earn them anything.

Carolyn Goes Topless

A friendly competition with former employee Carolyn turns into a vicious battle for a 1968 Corvette Stingray, giving Carolyn the last laugh. Allen tests his Ninja skills with an antique sickle weapon.

Quadzilla Attacks

An 1880s Palm-Squeezer pistol, a Western Electric telephone from the 1800s and a Quadzilla ATV are examined.

It's Raining Ton

The guys take Big Sis to her first auction - and when things get ugly, she becomes their secret weapon. Ton tests out a "blob" and Allen gets shot with a riot gun.

Hook, Line and Printer

A last-minute auction in Norwalk proves challenging when Ton and Allen go toe-to-toe with a real life cowboy couple. When the dust settles, the guys uncover a 3D printer and a grappling hook gun they can't wait to shoot.

You Foos You Lose

When their truck breaks down, Ton and Allen lay it all on the line to raise money to fix her. They score a Foosball table, Tommy Gun drums and to Ton's delight, a treasure trove of Twinkies, but will it be enough?

Separation Anxiety

Allen struggles to keep the pawn shop afloat while training Elle; After a fierce bidding war with Caroline, pieces from a century old motorcycle may not be enough.

Rock-et to Me!

Ton and Allen end up in a turf war at a Hollywood auction and at odds with each other over whether to gamble on what could be an antique slot machine. Allen attempts to fly a jetpack.

Big Sis Ducks Out

Big Sis drops brings bad news as the guys clash with Carolyn over a carnival unit in Long Beach; a Native American tomahawk, a dunk tank and a rare gun that can fire three shots at once.

Allen's Big Crush

Battling it out with a former-employee; a set of monster truck tires and a mystery box are the last chance.

Without a Chute

The shop's landlord wants to talk to the guys; Allen puts an experimental powered parachute to the test.

Win Lose or Joust

Ton and Allen race back from an auction to purchase a rare comic valued at over $100,000. The guys uncover a Samurai sword used for ritual suicide and Allen lives out his childhood fantasy of becoming knight.

Miami Heat

A 1970s NASA countdown clock, an all-terrain hovercraft and a 1960s Delta relay rocket are featured.

Reel Money

Ton and Allen travel to a container auction in San Diego and encounter some reckless spenders. They discover a "laser tag" system used for military training and refurbish a 1970's-era Fighting Chair used for big-game fishing.

Dead Aim

The guys meet a rival with shady bidding tactics. Featured: a monowheel and a rifle built to scare off grave robbers.

Don't Taze Me Bro

Two fierce opponents best Ton and Allen at the auction, leaving the duo in the lurch with a "trash unit" and little chance of breaking even for the day. And Ton gets tazed.

Allen vs. Ton

Ton and Allen find themselves bidding against each other at an auction; the fate of the pawnshop and their friendship is in question.

Once a Pawn a Time

Ton and Allen discover that owning a pawn shop is way more trouble than they expected. With bills stacking up, even an antique ammo collection and some classic football helmets may not be enough to put the guys in the black.

High Flying Ton

Allen and Ton are off to Ventura, CA, looking to crack open some container units that have been sitting there for ages. Thinking about pricey fishing gear and even Hollywood memorabilia, the boys are pumped to go in there and do what they do best.

The Jersey Score

Ton & Allen attend a silent auction in NJ, but that doesn't stop the local buyers from letting them know they're not welcome! They uncover a skeet throwing machine from the 1960's & a vintage vehicle with some real horsepower!

Ice, Ice, Baby

Ton and Allen have to get aggressive when they encounter a towering opponent with a mountain of cash.

Ton Voyage

A ruthless store owner tries to stop Ton and Allen from scoring new items in Santa Barbara so they fight back; the guys uncover a rare antique air gun and a vintage wooden boat built for speed.
Auction Hunters Episode Guide
The Big Score

1800s British Pepperbox handgun; pre WWI Lionel train set.

The Wild West

A '70s German H&K P7 pistol; a rare 1910 copper cash register.

Ton's Got a Gun

A depression era ``Art Case'' slot machine; a custom mini-bike; a Wild West 1800s Colt Peacemaker.

Strat'ed for Cash

Ton and Allen stake out a high-end auction. They uncover a Maui Blue '70s Fender Stratocaster and a rare 1936 jet-inspired Schwinn, but will this rusty ride rake in the riches?

The Real Thing

Clinton and Allen find a vintage Coke vending machine and a classic truck in their auction wins.

Weapons of Past Destruction

Muskets dating to the Civil War period and a polygraph machine are among the items Clinton and Allen find in storage units they win this week.

Gangster Whiskey

A rare baseball card, a classic jukebox and an early model CD player are among items found by Alan and Clinton in their auction wins.

Home on the Gun Range

An old penny arcade game and a shotgun that is more than one hundred years old are among the items Allen and Clinton find in units they win at auction.
Shows for Fans of Auction Hunters