The Suite Life on Deck Episode Rating Graph
Sep 2008 - May 2011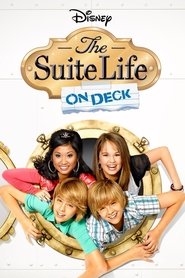 Browse episode ratings trends for The Suite Life on Deck. Simply click on the interactive rating graph to explore the best and worst of The Suite Life on Deck's 73 episodes.
The best rated episodes of The Suite Life on Deck are:
Snakes on a Boat S3E20 rated 8.5
Maddie On Deck S1E13 rated 8.2
Mother of the Groom S2E15 rated 8.1
I Brake For Whales S2E25 rated 8.0
The Spy Who Shoved Me S2E1 rated 8.0
Graduation on Deck S3E22 rated 8.0
The Wrong Stuff S1E17 rated 8.0
Mom and Dad on Deck S1E16 rated 7.9
Silent Treatment S3E1 rated 7.9
Twister (1) S3E17 rated 7.9
The lowest rated episodes of The Suite Life on Deck are:
Family Thais S2E6 rated 7.0
Frozen S3E14 rated 7.0
Starship Tipton S2E27 rated 7.0
The Swede Life S2E14 rated 7.1
Cruisin' for a Bruisin' S1E20 rated 7.2
Mulch Ado About Nothing S1E19 rated 7.2
The Kidney of the Sea S1E4 rated 7.3
Breakup in Paris (1) S2E29 rated 7.3
Mean Chicks S2E28 rated 7.3
So You Think You Can Date S3E3 rated 7.3
The first episode of The Suite Life on Deck aired on September 26, 2008.
The last episode of The Suite Life on Deck aired on May 06, 2011.
There are 73 episodes of The Suite Life on Deck.
There are 3 seasons of The Suite Life on Deck.
The Suite Life on Deck has ended.
Best Episodes of The Suite Life on Deck
Snakes on a Boat

It's couples game night and the gang has a hard time finding a fun game everyone finds interesting. London tries to play a prank on Woody and it results in the release of a crate full of snakes. Meanwhile, Cody tries to prove he can be funny to Bailey and Zack tries to get forgiven by Maya when she learns how many girls he has dated.

Maddie On Deck

Maddie Fitzpatrick visits the S.S. Tipton and gains a new friend in Bailey. Prince Jeffy of Linchtenstamp, who's only 8 years old, falls in love with Maddie and forces her to marry him. However, Zack challenges the Prince to a joust, with Maddie being the prize. Zack beats Prince Jeffy on a bouncing ball and using a water noodle weapon. Also, Zack finally gets his long-awaited kiss from Maddie.

Mother of the Groom

Esteban boards the boat to get married, however his mother doesn't approve of his future wife.

I Brake For Whales

The SS Tipton is going straight in the path of endangered blue whales motivating Zack, Cody, Bailey, and Marcus to try their best to change the ship's course. They lock themselves into the engine room hoping the whales will safely pass, however they discover it's not as easy as it seems. Cody begins to faint due to heat exhaustion, Marcus becomes desperate for water, and Zack loses it and tries to break free. Eventually, Kirby and Mr. Moseby break into the engine room to attempt to stop them, but after seeing the whales on Cody's laptop, they decide to go along with plan.

The Spy Who Shoved Me

A microchip with secret information on it goes missing and the twins help a spy recover it. Cody gives the chip to Bailey, telling her to hide it and not to look at what's in it, but Bailey looks it up on her computer anyway. When Cody finds out that Bailey ignored him, breaking her promise, he has mixed emotions. Bailey kisses Cody on the lips as a way of telling him he can trust her, so he forgives her.

Graduation on Deck

Mr. Moseby announces that London's dad, Mr. Tipton is selling the ship and that it will be dismantled within a week.

The Wrong Stuff

London holds a competition between Cody and Woody to decide which one of them will accompany her on her trip to the Tipton Space Station. Desperate to win, Cody and Woody each try to sabotage the other during the competition. Meanwhile, Zack is in charge of the senior citizen's activities and meets a passenger who is unwilling to participate in any of the activities. Zack makes multiple attempts to find something he wants to do and finally discovers that he enjoys playing pranks on other people. Together, they try to pull off a series of pranks on the other passengers.

Mom and Dad on Deck

The boys plan to have an all-guys weekend with their dad, but a surprise visit from their mom ruins it. When Kurt and Carey get a show on the ship, Mr. Moseby says they can stay on board, but worried their parents will permanently stay on the ship, the twins hatch a plan to sabotage their parents' show. Meanwhile, London tries to find the perfect belated birthday gift for Mr. Moseby by following him around all day. In the end, London makes Mr. Moseby very happy that he got a present from her because even his own mother forgot his birthday.

Silent Treatment

Cody leaves the ship following his break up with Bailey to join an elite, non-religious, monk-like club which he hopes will help him get over the break up. Zack and Woody are determined to go there and save Cody. Meanwhile, London and Miss Tutweiller try to console Bailey by giving her relationship advice.

Twister (1)

London offers to take Bailey to Kettlecorn to celebrate her grandmother's 90th birthday, but when their blimp malfunctions they are forced to drive the rest of the way. Elsewhere, Zack, Cody, and Woody challenge Mr. Moseby and his brother, who is visiting with his teammates, to a game of basketball, that is until they learn his brother is NBA star Dwight Howard. Meanwhile, Cody is unsure of where or why Bailey has gone to and laments her absence, until he discovers that she went to her family farm. He decides to go there to ultimately win her affections back.

seaHarmony

Zack and London play matchmaker for Mr. Moseby and Ms. Tutweiller, but with little success. Eventually, they get Moseby and Tutweiller together, and although they have an argument, they remain together. Meanwhile, Cody tries to impress Bailey by acting like someone else based on her dating test results. However, what Cody doesn't know is that some of her answers were for fun, while others were true.

The Ghost and Mr. Martin

When the ship is docked in New Orleans, Mr. Moseby tells the tale of the ghost of Captain Entenille, whose old steamship, the Jessie Belle, sunk 150 years ago. His spirit makes contact with Zack, sending him on a mission to prove the sinking of the old ship wasn't the captain's fault. Meanwhile, London and Bailey try to help Moseby overcome his fear of performing in public.

The Suite Life Sets Sail

London, Zack, Cody and Mr. Moseby set sail on the S.S. Tipton for their semester at sea. London convinces her roomate to leave the ship so she can have a room to herself. Cody finds himself sharing a room with Woody, who is very messy, and Zack shares a room with Bailey, who is a neat freak. Nobody knows that Bailey is a girl who disguised herself as a boy in order to gain a position on the ship after she found that there were no more vacancies for girls. Zack and Cody agree to switch roommates, but Zack changes his mind after he finds out that Bailey is a girl. After everyone else eventually finds this out Bailey is allowed to stay, filling the position vacated by London's ex-roommate, and Bailey becomes London's new roommate. This is the last straw for London and she escapes to Parrot Island via helicopter.

Party On !

Maya's birthday is coming up and Zack decides to do something special for her. When singer Sean Kingston comes on board, he immediately becomes attracted to London. Zack misleads Sean Kingston into throwing a surprise party for London and also making Mr. Moseby believe it is for him, when it is actually a party for Maya. Meanwhile, Cody goes with Bailey to a Belgian chocolate factory on a couple's tour and runs into Woody who mistakenly came instead of attending a hiking trip.

Twister (2)

Cody arrives in Kettlecorn and is surprised to see that Moose is also there to get Bailey back. A tornado approaches and everyone evacuates into the Pickett's storm shelter. As the tornado hits, Bailey is knocked out and dreams that she is Dorothy Gale and is trying to find her way back home through the Land of Oz. As Bailey unwittingly re-enacts the story of The Wonderful Wizard of Oz, she encounters Moose as the Scarecrow, Cody as the Tin Woodman, Woody as the Cowardly Lion, Zack as a Flying Monkey, London as Glinda the Good Witch and the Wicked Witch of the West, and Mr. Moseby as a Munchkin. She wakes up from her dream and has to decide between Moose and Cody.

The Beauty and the Fleeced

Zack, Marcus, and Woody create a fake beauty pageant so they can meet girls. When Mr. Moseby learns of their plans, he punishes them by forcing them to see it through. Meanwhile, Bailey enters the pageant to try to beat London and hires Cody as her coach, but gets mad at him when he becomes too controlling.

Crossing Jordin

Jordin Sparks comes aboard the S.S. Tipton and Zack, Cody and Marcus try to write a song for her. Meanwhile, as one of London's Yay Me! contest, one of her fans gets to spend a couple days with her on the ship, but London's fan is a little crazy.

Showgirls

London and Bailey are on a mission to prove that Miss Tutweiller is dating Mr. Moseby after overhearing a conversation between the two. Meanwhile, Zack convinces Cody to sneak out after curfew to catch the Starlight Follies show on the ship. When they finally make it past the security guard and into the show, they become convinced that their teacher, Miss Tutweiller, is one of the showgirls by seeing her heart shaped anklet in the show, and during class, so Zack sends Bailey and London undercover as two showgirls to find out.

My Oh Maya

Zack becomes attracted to a girl named Maya, but when he realizes he is actually falling in love with her, he attempts to use the six month plan Cody devised to date Bailey. Meanwhile, Dante, the boy who stole Marcus's identity in Paris, stows away on board to have Marcus produce his next album. In addition, Cody is trying to condition himself to forget about Bailey by flicking a rubber band against his wrist every time he thinks about her while she is visiting her home in Kettlecorn.

Goin' Bananas

When Zack turns in one of Cody's old essays as his own, Ms. Tutweiller thinks he has a fear of bananas. Meanwhile, London goes through withdrawal when her cell phones are taken away in class.

Shipnotized

A famous hypnotist visits the S.S. Tipton and accidentally hypnotizes London to act like Bailey, which gets her really annoyed. Meanwhile, Harvard's Dean of Admissions, Monroe Cabbit, is also visiting with his daughter Olivia. Cabbit is fond of Cody, but thinks lowly of Zack, although Zack wants to date Olivia. Since Cabbit does not approve of the relationship, Zack and Cody concoct a plan where Cody will pretend to date Olivia, which Cabbit approves of, but Zack will actually be the one who goes on the date.
Worst Episodes of The Suite Life on Deck
Family Thais

London visits her grandmother in Thailand. Meanwhile, Zack asks Cody to go on a double date with him.

Frozen

Cody goes to a scientific research facility in Antarctica, and Zack and Woody tag along to go snowmobiling. But after they arrive, the head scientist steals their snowmobile, stranding the boys at the facility, leaving them to find ways to survive until help arrives. Meanwhile, London's favorite fashion designer comes on board to announce he's quitting the business. She eventually tries to inspire him to find some new ideas for designs and come out of retirement.

Starship Tipton

Centuries in the future, Starship Tipton resident prankster Zerk (Zack's great-great-great-great-great grandson) plays a joke on feuding aliens and because of it, they vow to destroy the starship. The kids must travel to the future to save their descendants and fix the problem before it's too late. Meanwhile, London discovers that she has a great-great-great-great-great grandson, Rome, and that the Starship Tipton belongs to her family.

The Swede Life

Zack and Cody talk to Mayor Ragnar when the boat docks in Sweden, and they are shocked to learn that their ancestors were scoundrels and not heroes like the twins originally thought. Meanwhile, Moseby gets help from Marcus to find the missing screw for his nightstand, but they accidentally get stuck in a furniture store.

Cruisin' for a Bruisin'

After Kirby injures Moseby, Connie takes over Moseby's work and breaks a boat in a bottle intended as a gift for the captain. Everyone tries to comfort Moseby, but none of them do any good. Moseby overhears mention of a problem with the boat and thinks there is a problem with the full-size ship. London eventually fixes the boat in a bottle. Moseby falls down the stairs and injures everyone except London. Finally, Moseby accidentally breaks the boat and doesn't have enough time to repair it.

Mulch Ado About Nothing

When Bailey starts feeling homesick, Cody decides to recreate her hometown festival. However, thanks to London, Bailey's hometown boyfriend, Moose, shows up. He and Cody compete in corn bobbin', arm wrestling, and chess to win Bailey's heart, but Cody loses every competition. Moose asks Bailey to come home, so she asks Cody what to do. Cody says to follow her heart and Bailey stays because she would miss her friends

The Kidney of the Sea

Zack has a crush on a cute passenger named Violet, but must deal with her wealthy "boyfriend" Ashton and snooty mother who will do anything to keep Zack and Violet apart. Meanwhile, Cody referees an intelligence test between London's dog Ivana and Bailey's pet pig Porkers. The episode includes plot elements from the 1997 film Titanic, where Jack was framed for stealing the "Heart of the Ocean" necklace.

Breakup in Paris (1)

Cody and Bailey are planning to celebrate their one year anniversary when the SS Tipton docks in Paris. Cody asks London to help him make his date perfect. However, a big misunderstanding begins when Bailey sees Cody with London (who were just practicing the date) and mistakes her as the "hideous French girl". The next day, the day of the anniversary, Cody sees Bailey with another guy, Jean Luc, who was just trying to cheer her up. Bailey and Cody start arguing about the misunderstanding, and decide it would be better if they broke up. Meanwhile, Zack and Woody are pursued by art thieves.

Mean Chicks

Bailey bets London $1 million dollars that she cannot go on one week without insulting her, so London asks Mr. Blanket for help to try not to insult Bailey. When Bailey loses the bet, London insults her one million times. Meanwhile, Cody attempts to avoid the assaults of a seagull after not permitting the seagull to eat fries.

So You Think You Can Date

The Seven Seas High dance is coming up. Having broke up, Cody and Bailey lie about having dates to the dance, so they quickly try to find a backup date to backup their lie. Now the pressure is on to see who has the best game. Meanwhile, Woody is tired of Tutweiller and Moseby arguing about who should get the skydeck for the school dance, so he makes them share the skydeck. It is revealed though flashback that Mr. Moseby and Miss Tutweiler's interest in the Middle Ages and 1980s, respectively, comes from the tribulations they endured as outcasts in their youth. Through understanding, Mr. Moseby convinces Emma that they both have become successful adults and have overcome their painful pasts.

London's Apprentice

When London's father gives her one million dollars to find an invention to market, she enlists her friends to come up with a unique invention and offers them the cash as a prize. At first everyone comes up with their own ideas, but then they combine their resources, wreaking havoc on the ship with their multifunctional robot.

Rollin' With the Holmies

Cody tries to find out who stole a valuable book.

Marriage 101

A class assignment requires the students to simulate marriage to learn the challenges that face married couples in everyday life. Cody 'marries' Bailey, Zack 'marries' London, and Woody 'marries' Addison. However, when the "Wheel of Life" gives Cody as injury, he and Bailey begin to fight.

Computer Date

Arwin comes on board the SS Tipton to improve the ship by adding a robot. However, problems start to occur when it begins to have feelings for Cody. Meanwhile, London and Woody enlist Zack's help to pass a gym class.

Senior Ditch Day

London and Woody go to a posh beach club for senior ditch day, but when the bouncer won't let Woody in, London and Zack go without him. Meanwhile, in an effort to keep their perfect attendance records, Bailey and Cody show up for class, which annoys Ms. Tutweiller who was looking forward to her day off.

Kitchen Casanova

Bailey gets jealous when Cody gets attention from other girls after he becomes the substitute home-ec teacher. Meanwhile, London tries to sell Zack's "paintings" which are things he's had in his mouth when he sneezed.

Sea Monster Mash

The class has a school project to complete and Cody chooses Bailey to be his partner, disappointing Zack who had hoped to get Cody to complete his and Woody's project for them. After Bailey tells London that she has partnered with Cody, London teams up with Zack and Woody. Cody is trying to catch a famous sea monster, but keeps failing and disappointing Bailey. Zack tries to sabotage Cody's project. However, his own project turns into a monster when London pours a smoothie into their plant project, causing it to grow and eventually trapping Zack, Woody, and London. The sea monster shows up at the end of the episode.

Prom Night

After the students pull a prank on Mr. Moseby, he cancels the senior prom. So, Zack comes up with a plan to have a "secret prom". Meanwhile, Bailey tries to get everybody to vote her for prom queen while Cody helps Woody ask Addison to prom. Ultimately, the kids award the roles of king and queen to Mr. Moseby and Ms. Tutweiller.

Ala-ka-scram!

London wants to become the assistant to the ship's magician after she develops a crush on him. Meanwhile, Zack wants to spend more time with Woody.

Can You Dig It?

While searching through an archaeological site in South America, Zack awakens the spirit of an ancient princess.

The Play's the Thing

After assigning the class to write their own play, Ms. Tutweiler selects Cody's play to be presented in class. However, Bailey refuses to participate after realizing the play antagonizes her role in the break-up between her and Cody, forcing Cody to act as Bailey and Zack as Cody.
The Suite Life on Deck Episode Guide
The Suite Life Sets Sail

London, Zack, Cody and Mr. Moseby set sail on the S.S. Tipton for their semester at sea. London convinces her roomate to leave the ship so she can have a room to herself. Cody finds himself sharing a room with Woody, who is very messy, and Zack shares a room with Bailey, who is a neat freak. Nobody knows that Bailey is a girl who disguised herself as a boy in order to gain a position on the ship after she found that there were no more vacancies for girls. Zack and Cody agree to switch roommates, but Zack changes his mind after he finds out that Bailey is a girl. After everyone else eventually finds this out Bailey is allowed to stay, filling the position vacated by London's ex-roommate, and Bailey becomes London's new roommate. This is the last straw for London and she escapes to Parrot Island via helicopter.

Parrot Island

When the S.S. Tipton makes a special trip to pick up London from Parrot Island, Bailey, Moseby and Woody find themselves in jail because all the parrots left for Seal Island after Tipton Industries cut down all the trees. It's up to Zack and Cody to get them out of it but Zack and Cody end up in jail along with the others, and Bailey has to use her pig, Porkers, to rescue them. Zack and Cody fight for Bailey and Zack lets Cody have her after finding out about her ex-boyfriend Moose and seeing she has too much "baggage".

Broke N' Yo-Yo

Bailey is mad that London is hogging all the space in their cabin, so she makes up a "Sea Snark" attack, but later feels guilty and tells her the truth. Meanwhile, when Zack uses up both his and Cody's meal cards buying things for all of the girls on the ship, they go broke. To make up for it, Moseby puts them to work. Because of that, Zack thinks that Cody should win the yo-yo contest for its $1,000 prize, but Cody finds himself up against the pro, Johan Yo.

The Kidney of the Sea

Zack has a crush on a cute passenger named Violet, but must deal with her wealthy "boyfriend" Ashton and snooty mother who will do anything to keep Zack and Violet apart. Meanwhile, Cody referees an intelligence test between London's dog Ivana and Bailey's pet pig Porkers. The episode includes plot elements from the 1997 film Titanic, where Jack was framed for stealing the "Heart of the Ocean" necklace.

Showgirls

London and Bailey are on a mission to prove that Miss Tutweiller is dating Mr. Moseby after overhearing a conversation between the two. Meanwhile, Zack convinces Cody to sneak out after curfew to catch the Starlight Follies show on the ship. When they finally make it past the security guard and into the show, they become convinced that their teacher, Miss Tutweiller, is one of the showgirls by seeing her heart shaped anklet in the show, and during class, so Zack sends Bailey and London undercover as two showgirls to find out.

International Dateline

The ship is struck by lightning when it crosses the International Dateline, which places Cody in the same day over and over. He tries to use each day as a chance to let Bailey know how he feels about her, but something gets in the way every time. It's then up to Cody to divert the ship from the lightning to set them back on the right course.

It's All Greek to Me

The S.S. Tipton visits Greece. While they are there, Bailey crushes on the tour guide, which makes Cody jealous. To impress her, Arwin's cousin, Milos, gives him a replica of the ancient amulet of the Greek goddess Aphrodite to give as a gift to her, but in a mix up, he ends up getting the real one. Meanwhile, London has to write a speech for her father, who is funding a new exhibit, but finds it very difficult, but then has a dream about Greek history, which inspires her.

Sea Monster Mash

The class has a school project to complete and Cody chooses Bailey to be his partner, disappointing Zack who had hoped to get Cody to complete his and Woody's project for them. After Bailey tells London that she has partnered with Cody, London teams up with Zack and Woody. Cody is trying to catch a famous sea monster, but keeps failing and disappointing Bailey. Zack tries to sabotage Cody's project. However, his own project turns into a monster when London pours a smoothie into their plant project, causing it to grow and eventually trapping Zack, Woody, and London. The sea monster shows up at the end of the episode.

Flowers and Chocolate

Chelsea, Barbara, and Bob visit the S.S Tipton. Cody is worried about how he's going to tell Barbara about his feelings for Bailey, but Barbara has to dump Cody because she and Bob are now dating. Right before Cody tells her about Bailey, Barbara tells him about her and Bob. To make Barbara jealous, Cody tells her that he and Bailey are also dating, thinking he can get away with the lie because Bailey is off the ship, but she returns early. London tells Chelsea that her room is her shoe closet, and that Woody is her servant. Woody agrees to help her because he has a crush on Chelsea. During movie night, Cody tries to make Barbara think that he and Bailey are dating, but Bailey eventually finds out. Cody apologizes and Bailey forgives him and says if he wanted her to be his pretend girlfriend, all he had to do is ask. To show it, she tickles him, wraps her arms around him, and finishes with a kiss on the cheek (causing Cody to faint) saying that would have made Barbara really jealous. Chelsea finds out that London is just a regular student, but instead of telling everyone, tells London she will tell everyone that London was "abducted by aliens" instead.

Boo You

When Cody and Kirby don't allow Zack to bungee-jump off the side of the ship, the brothers accidentally knock Kirby off the ship, but Kirby lands in the hot tub. To make it up to him, Zack and Cody tutor Kirby so he can pass his high school equivalency exam to earn a better job. Meanwhile, London embarrasses Bailey on her internet show in a new segment called "Boo You!"

seaHarmony

Zack and London play matchmaker for Mr. Moseby and Ms. Tutweiller, but with little success. Eventually, they get Moseby and Tutweiller together, and although they have an argument, they remain together. Meanwhile, Cody tries to impress Bailey by acting like someone else based on her dating test results. However, what Cody doesn't know is that some of her answers were for fun, while others were true.

The Mommy and the Swami

When the ship stops in India, Cody takes Zack with him to visit his guru, a Swami who lives in the top of a mountain who charges high prices for everything he sells. Eventually, Zack and Cody run out of money and join the Swami's worldwide call center. Meanwhile, Mr. Moseby is having computer problems and is trying to contact the call center for help, but without any success. Padma, who was originally London's roommate on the ship, but left after London bribed her, asks London to help convince her mother that she was still at sea. It is later shown that the help center Moseby was calling was run by the Swami, who used an American accent.

Maddie On Deck

Maddie Fitzpatrick visits the S.S. Tipton and gains a new friend in Bailey. Prince Jeffy of Linchtenstamp, who's only 8 years old, falls in love with Maddie and forces her to marry him. However, Zack challenges the Prince to a joust, with Maddie being the prize. Zack beats Prince Jeffy on a bouncing ball and using a water noodle weapon. Also, Zack finally gets his long-awaited kiss from Maddie.

When In Rome...

The ship docks near Rome and London falls for a young, handsome musician named Luca while playing in the streets. Later, as Bailey searches for her money belt key, she overhears that Luca and his uncle, Marco, are actually con men and had already conned London for twenty thousand dollars. Bailey talks to Luca and finds out that he actually doesn't want to be a con man and really likes London. So, they hatch a plan to get the money back from his uncle which includes Bailey dressing up as Naomi Wyoming, a parody of Hannah Montana. Meanwhile, Zack and Cody get themselves hired by Chef Gigi so they can eat at her restaurant. At the end, Cody is fired, but Zack enjoys a delicious meal with Gigi.

Shipnotized

A famous hypnotist visits the S.S. Tipton and accidentally hypnotizes London to act like Bailey, which gets her really annoyed. Meanwhile, Harvard's Dean of Admissions, Monroe Cabbit, is also visiting with his daughter Olivia. Cabbit is fond of Cody, but thinks lowly of Zack, although Zack wants to date Olivia. Since Cabbit does not approve of the relationship, Zack and Cody concoct a plan where Cody will pretend to date Olivia, which Cabbit approves of, but Zack will actually be the one who goes on the date.

Mom and Dad on Deck

The boys plan to have an all-guys weekend with their dad, but a surprise visit from their mom ruins it. When Kurt and Carey get a show on the ship, Mr. Moseby says they can stay on board, but worried their parents will permanently stay on the ship, the twins hatch a plan to sabotage their parents' show. Meanwhile, London tries to find the perfect belated birthday gift for Mr. Moseby by following him around all day. In the end, London makes Mr. Moseby very happy that he got a present from her because even his own mother forgot his birthday.

The Wrong Stuff

London holds a competition between Cody and Woody to decide which one of them will accompany her on her trip to the Tipton Space Station. Desperate to win, Cody and Woody each try to sabotage the other during the competition. Meanwhile, Zack is in charge of the senior citizen's activities and meets a passenger who is unwilling to participate in any of the activities. Zack makes multiple attempts to find something he wants to do and finally discovers that he enjoys playing pranks on other people. Together, they try to pull off a series of pranks on the other passengers.

Splash & Trash

Zack and Woody are convinced that a girl the S.S. Tipton rescued from the ocean is actually a mermaid. They make multiple attempts to prove it, but are unsuccessful. Upon her telling Zack that she is really a competitive swimmer and extremely busy training for the Olympics, Zack decides to teach her how to relax. Meanwhile, Cody is fired as the ship's towel boy after he doesn't allow passengers to use multiple towels in an attempt to protect the environment. He also puts up a show to portray the future of the Earth if this kind of overuse continues, which ultimately gets him re-hired as towel boy.

Mulch Ado About Nothing

When Bailey starts feeling homesick, Cody decides to recreate her hometown festival. However, thanks to London, Bailey's hometown boyfriend, Moose, shows up. He and Cody compete in corn bobbin', arm wrestling, and chess to win Bailey's heart, but Cody loses every competition. Moose asks Bailey to come home, so she asks Cody what to do. Cody says to follow her heart and Bailey stays because she would miss her friends

Cruisin' for a Bruisin'

After Kirby injures Moseby, Connie takes over Moseby's work and breaks a boat in a bottle intended as a gift for the captain. Everyone tries to comfort Moseby, but none of them do any good. Moseby overhears mention of a problem with the boat and thinks there is a problem with the full-size ship. London eventually fixes the boat in a bottle. Moseby falls down the stairs and injures everyone except London. Finally, Moseby accidentally breaks the boat and doesn't have enough time to repair it.

Double-Crossed (II)

Hannah Montana boards the S.S. Tipton on her way to a concert performance in Honolulu. To impress Bailey, Cody desperately tries to get tickets to the show. Meanwhile, the Russo's are still aboard the ship on their vacation in which Alex pulls a prank on Justin by putting blue dye in the hot tub, making him turn blue, for which Mr. Moseby blames Zack, while Max tries to impress London with his magical suitcase. The crossover starts on Wizards of Waverly Place: S02E25 Cast-Away (To Another Show) (I) It continues on Hannah Montana: S03E20 Super(stitious) Girl (III)
Shows for Fans of The Suite Life on Deck