Perfect Strangers Episode Rating Graph
Mar 1986 - Aug 1993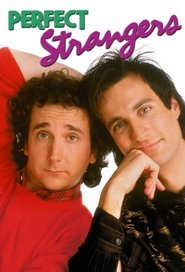 Browse episode ratings trends for Perfect Strangers. Simply click on the interactive rating graph to explore the best and worst of Perfect Strangers's 150 episodes.
The best rated episodes of Perfect Strangers are:
Pipe Dreams S3E17 rated 8.1
The Break Up S6E3 rated 7.9
Bachelor Party S7E1 rated 7.9
Lifesavers S2E5 rated 7.9
Up a Lazy River (2) S4E7 rated 7.9
Get Me to the Dump on Time (2) S7E24 rated 7.9
Hunks Like Us S2E2 rated 7.8
Door to Door S7E4 rated 7.8
Speak Memory S6E17 rated 7.8
The Lottery S4E1 rated 7.8
The lowest rated episodes of Perfect Strangers are:
The Gazebo S7E7 rated 6.2
The Men Who Knew Too Much (2) S6E8 rated 6.5
The Men Who Knew Too Much (1) S6E7 rated 6.6
Bye, Bye Birdie S5E23 rated 6.8
Yes Sir, That's My Baby S7E16 rated 6.8
Coach Potato S3E11 rated 6.8
Teacher's Pest S4E21 rated 6.8
The King and I S4E16 rated 6.8
I Saw This on TV S6E16 rated 6.8
Better Shop Around S3E5 rated 6.9
The first episode of Perfect Strangers aired on March 25, 1986.
The last episode of Perfect Strangers aired on August 06, 1993.
There are 150 episodes of Perfect Strangers.
There are 8 seasons of Perfect Strangers.
Perfect Strangers has ended.
Best Episodes of Perfect Strangers
Pipe Dreams

Jennifer asks Larry if he can call a plumber for her to fix her shower head while she's away. Larry decides that to impress her he'll fix it himself and as Larry and Balki try and put everything together, things go extremely wrong and they end up flooding Jennifer and Mary Anne's bathroom.

The Break Up

Jennifer was asked out on a date by an old boyfriend and checked with Larry first. But he agreed thinking that's what she wanted but she really wanted to know here their relationship is going. Confused, She breaks up with Larry who is too scared to tell her how he really feels but they eventually end up getting engaged.

Bachelor Party

As the best man at Larry's upcoming wedding, Balki is tricked by Mr. Gorpley into throwing a bachelor party and when Mr. Gorpley show up at the party, he spikes the punch and hires a stripper and Jennifer finds out.

Lifesavers

After Larry saves Balki from getting hit by a taxi, Balki becomes his personal servant which ends up annoying Larry.

Up a Lazy River (2)

After the river takes them on a wild ride, The four end up lost in the woods. Hoping that Larry can regain Jennifer's respect, he talks Balki into letting him lead them back to the camp site but they end up walking for five hours in a circle. Later, Larry and Balki almost drown in quicksand and in the evening, they get attacked by a bear.

Get Me to the Dump on Time (2)

According to a sacred Myposian custom, Balki and Mary Anne must be married within 24 hours and they get everything ready. Larry feels left out of the duties so Balki makes him his best man and the guardian of his Myposian marriage necklace which he must have during the ceremony, but Larry accidentally throws it out. So Larry and Balki search the dump for it and eventually find it and Balki and Mary Anne finally get married.

Hunks Like Us

Larry decides to join a health club after having the hots for a member named Jennifer. But he thinks she's only interested in jocks and pretends to be one. Balki goes with him and picks up a woman right away who happens to be Jennifer's best friend Mary Anne.

Door to Door

Larry and Balki get part time jobs to earn extra money. Balki tries stuffing teddy bears, but Larry asks for his help with door to door selling cleaning products. However, Larry is determined to go to a mansion and sell lots of products instead of going door to door with disastrous results.

Speak Memory

Jennifer's mother comes to town and wants to meet Larry, and Jennifer doesn't think that her mother will approve of her marrying him. Later on, Larry falls down the stairs at the Chronicle and gets amnesia which last during the dinner where Larry meets Mrs. Lyons.

The Lottery

Balki insists on buying a lottery ticket but Larry thinks that it is just a waste of money for something that can't possibly win. But during the draws, Larry realizes that Balki picked the right numbers and won 28 million dollars but Balki can't remember where he hid the ticket.

Ladies and Germs

Larry has a date with a beauty queen but after going to the hospital to visit Mr. Twinkacetti (who has broken his leg), he catches a cold and when Balki tries to cure him with a secret Myposian cure, he ends up sleeping for three days.

Baby, You Can Drive My Car

Balki wants to get his driver's license but Mr. Twinkacetti doesn't think he can do it. But Larry is so confident that he can, that he bets $50 and offers Balki his car.

The Elevator

Larry decides to impress Mr. Wainwright by enlisting himself and Balki to move his brand new oversized couch up the elevator to his office while the elevator is under repair.

Falling in Love is...

Balki falls in love with a girl at night school and who makes a play for Larry and constantly breaks dates with him. Balki refuses to believe that she is just using him to get good grades.

Going Once, Going Twice

Larry goes to an auction to cover a story and brings Balki with him and Larry demonstrates the bidding procedure at an auction and they wind up buying a very expensive bottle of wine for $21,000. They now must hide it from Jennifer until they can go back to the auction and resell it.

Tux for Two

Larry has been invited to a formal party for a photographer he idolizes but Balki's honest opinions embarrass Larry.

Beautiful Dreamer

Balki hasn't been sleeping due to a nightmare that has been haunting him about him not being able to help out at harvest season back on Mypos.

Climb Every Bilboard

Larry suggests to Mr. Wainwright that a Chronicle employee stay on a billboard until the Bull' losing streak is over. Mr. Wainwright liked the idea and assigned Larry to find someone to do it. So he tricks Balki to do it but when Balki wants to get down, Larry kicks the ladder down and they both get stuck up there until the Bulls win.

See How They Run

Balki runs for student body president and lets Larry help and as usual, Larry goes completely over the top. The students however, don't like the idea of Balki's idea of reinstating the language requirement so Larry thinks Balki should lie in order to win but he won't.

The Selling of Mypos

When a big corporation in Chicago wants to buy 300 acres of land on Mypos, Balki was chosen to negotiate the sale, and he picked Larry to guide him through. When they are offered 10% of the total sale of 28 million dollars, Larry insists they accept is but Balki has a funny feeling about it.

Trouble in Paradise

Larry and Balki invite Jennifer and Mary Anne over for dinner but cannot agree on what to serve which cases a rift between them and eventually a rift between Jennifer and Mary Anne.

Up a Lazy River (1)

The Chicago Chronicle is having a camping trip. Larry hates camping but knows that Jennifer loves it, so he arranges a trip. Jennifer insists she won't go alone with Larry (remembering the skiing incident), so Larry elects Balki as the camping leader thinking that Jennifer would feel safe and Mary Anne decides to go along.

Just a Gigolo

Lydia is miserable when her boyfriend dumped her so Balki uses his match-making skills to fix Lydia up with a man who turns out to be a gigolo who married wealthy women, takes their money and leaves them.

A Christmas Story

Larry and Balki are snowed in Chicago on Christmas Eve which means they can't go to Madison to see Larry's family. So Larry is miserable until Balki spreads some Christmas cheer his way.

Or Get Off the Pot (1)

Mary Anne has been hinting at Balki to propose to her and he has failed one too many times so she threatens to move out. Larry talks to Balki and tries to get him to realize but do to mis-communication, Balki thinks that Jennifer's in love with him and Mary Anne is going to die. But in all the confusion, Mary Anne move out.

Wayne Man

Balki wins an all-expenses paid trip to Las Vegas but is sad when they can't get any tickets to see Wayne Newton. Jennifer attempts to call up an old boyfriend who can get her tickets, But a jealous Larry calls up Wayne's people and tells them that Balki is going deaf and manages to get tickets. After the concert, Wayne wants to meet Balki personally but Larry is afraid the truth will come out.

Great Balls of Fire

Balki convinces Larry to become a volunteer fireman but after the fire chief wore him out, Larry refuses to go back to the fire station until he discovers that Jennifer gets really turned on by firemen. However, the only fire they get to fight is in the fire station.

Sunshine Boys

Larry's popular high school rival Bunky McDermott comes to see him and invites him and Balki to a formal dinner party and make him a member of his popular club. Larry is so excited and lies to Bunky about going to the Caribbean but to convince him, Larry and Balki spend some time in a tanning bed and end up getting sunburned.

Three's a Crowd

While playing a board game, an argument breaks out between Jennifer and Mary Anne. The result being Mary Anne moving out and in with Larry and Balki at Balki's insistence. Larry doesn't like the idea because is jeopardizes his relationship with Jennifer. So Larry and Balki devise a plan to get Jennifer and Mary Anne back together.

The Graduate

Balki manages to graduate night school at the top o his class but soon finds out that there is no graduation ceremony. So Larry talks to the principal and arranges one.

Just Desserts

After Balki serves Larry, Jennifer, and Mary Anne some ""bibi-bobkas"" (Mypoian cream puffs), Larry suggests selling them but baking them cannot be rushed.

Wedding Bell Blues

On Balki's 25th birthday, his mama has a pre-arranged marriage that Balki must go through with, even though he is in love with Mary Anne. So Larry and Jennifer try and find a way to save Balki from being unhappy.

Babes in Babylon

Larry and Balki win a trip to Las Vegas. When they get there, Larry plans out what to do for their entire trip to prevent Balki from going to the casinos and becoming a compulsive gambler. Balki eventually talks him into it and after Balki has a string of good luck playing roulette, Larry starts playing and won't stop.

Happy Birthday, Baby

Larry is miserable on his 24th birthday after he blew a photo opportunity. So Balki tries to throw him a last minute surprise birthday party for him to cheer him up.

Piano Movers

When Lydia wants her piano moved up ten flights of stairs so she can sing for a record producer she is dating, Balki volunteers himself and Larry but Larry's bad back may be a strain on this whole thing.

Seven Card Studs

Balki loses $100 at Mr. Gorpley's poker game so Larry insists on playing at his next game to win back Balki's money and then some. Larry tells Balki that he is a great poker player but he loses every hand to Mr. Gorpley.

Up on a Roof

Larry enters a photo contest and has the idea of a perfect picture. But to take it, he and Balki have to go up on a roof and shoot it before a storm comes in.

Since I Lost My Baby

After Mr. Twinkacetti forgot his wedding anniversary (for the 16th time), Edwina kicks him out. Balki invites him to stay for a while but he makes no efforts to reconcile with Edwina. So Larry and Balki try and get them back together.

The Wedding

Larry and Balki are driving to Lake Whitefish where Larry and Jennifer are getting married and they are pulled over for going too slow, but they are arrested when Larry backs into the patrol car, then they are picked out of a line-up when Larry is identified as a robber. Larry and Jennifer end up getting married in jail until the real robber confessed.

See You in September

Balki and Mary Anne expect Larry and Jennifer to set a wedding date but they're too scared. To help them, Balki gives them an official marriage test to see if they're right for each other but things don't go as expected. In the end they set the wedding for September regardless of what the test says.

Dog Gone Blues

Balki got a dog and wants to keep it even though it is against the lease. So Larry and Balki do their best to hide it from Twinkacetti.

Disorderly Orderlies

Balki tries to get Larry to do volunteer work at the hospital but he refused until he discovered that a famous football player is a patient there hoping that he can get an interview to advance his career.

Safe at Home

After Larry buys an expensive stereo chair, their apartment is robbed along with the chair. So Larry buys a high-tech security system but takes all the responsibilities himself and won't share them with Balki.

This Old House

Larry has a plan to make a fortune and talks Balki into buying a house for no money down, fixing it up and then selling it for a profit. He ends up making a deal for $150,000 but when he realizes he can make more money by putting in a chandelier and fancy doors, he gets greedy.

Here Comes the Judge

When Balki is elected the head of the grievance committee, Lydia is accused of parking violations and she tries to influence his judgment by buying him ""bunny slippers"" but Larry tells Balki that he must be tough which comes back on Larry when he's accused of stealing office supplies.
Worst Episodes of Perfect Strangers
The Gazebo

Larry and Balki are building a new gazebo in their back yard and as they struggle to build it, it reminds Jennifer and Mary Anne of Laurel and Hardy as we see them in a parody of Laurel and Hardy trying to build a gazebo.

The Men Who Knew Too Much (2)

Larry and Balki manage to play back the tape proving their innocence, but they have trouble getting the tape to the police after they are mugged and captured by Marco's men.

The Men Who Knew Too Much (1)

Larry is sent to Los Angeles to write an article about a soap opera star's wedding and Balki goes with him. While attempting to get a better story, they get chased by mobsters after they witness and video tape Marco Madison, a big time gangster, murder an undercover drug agent and Larry and Balki are prime suspects.

Bye, Bye Birdie

Balki grows very fond of his new pet parrot that drives Larry crazy. Meanwhile, their chimney is clogged and when Larry tried to light a fire, he had to open the window to let the smoke out, the parrot flies out and Balki is heartbroken.

Yes Sir, That's My Baby

When Balki shows Larry that Jennifer has been knitting booties, The possibility that Jennifer is pregnant causes Larry to imagine Larry and Balki's future sons becoming best friends in the nursery trying to escape.

Coach Potato

When Larry and Balki get cable TV, Balki becomes glued to the TV and won't stop watching it to the point where he forgets about his job, sleep, and never goes out anymore. So Larry must make an important decision of getting rid of the cable.

Teacher's Pest

Larry was chosen to teach a college course in journalism and Balki is able to take the class. But his standards are set way too high that he fails the whole class.

The King and I

Larry and Balki throw a '50's party and invite their friends. Lydia brings her date Lamont who is a hypnotist. After demonstrating hypnosis, he accidentally hypnotizes Balki into thinking he's Elvis which carries on through their tax audit the next day.

I Saw This on TV

Larry manages to get tickets to go to a Bulls game with Balki on the night that Larry promised to take Jennifer to the ballet. So Larry lied to Jennifer saying that he had to work. Balki tells him a story about an old Honeymooners rerun where we see Ralph (Larry) lying to Alice (Jennifer) about having to work late when he plans on going bowling with Norton (Balki) and Alice ends up finding out about it while she was with Trixie (Mary Anne). However Jennifer found out about the basketball game and Larry is in a heap of trouble.

Better Shop Around

While grocery shopping, Balki wins a shopping spree to happen the next day and he thinks it would be fun. But Lary makes a plan to get certain things to sell for an air conditioner which takes all the fun out of it.

Lie-Ability

After a minor car accident, Mr. Gorpley suggests Larry should sue. So Larry has plans to defraud an insurance company to gain money to help his sister Elaine with her tuition. But Balki objects as usual.

Father Knows Best (1)

Larry's perfectionist father comes for a visit and Larry wants to impress him so he can finally get a ""well done son"" from his father. But instead, they end up trapped in the basement that is flooding after Larry broke the water pipe.

Aliens

Larry and Balki throw a Halloween party with their friends and after six hours of watching scary movies, Larry wakes up and discovers that Balki is an alien from ""Planet Mypos"" and is turning everyone into Mypiots by putting vests on them.

Finders Keepers

Balki finds a box with over $50,000 cash in it. Larry wants to keep it but Balki is insistent on finding the rightful owner, which won't be easy, especially with Mr. Gorpley scheming to get it anyway he can.

Baby Quiz

Balki applies to the ""Baby Quiz"" TV game show for both couples. As it happens, Only Larry and Jennifer are accepted until a last minute drop out of the other contestants, in which Balki and Mary Anne take their places. The prize is a college scholarship for the baby.

Up, Up and Away (1)

Jennifer is two weeks overdue and has a few false alarms. Meanwhile, After Balki and Mary Anne went to the fair, Mary Anne goes into labor and has her baby in the driveway. Jennifer is told about a balloon ride Mary Anne went in and in hopes of going into labor, Larry and Balki take Jennifer up in the balloon.

Ten Speed and a Soft Touch

Larry and Balki become 'big brothers' to a troubled teenager who is always stealing. They do fine until Larry accuses him of stealing his bike.

Blind Alley

Larry's bowling team is one game away from winning the trophy that Mr. Gorpley has been waving in Larry's face for the last year. But Calvin, the star player has been sent out of town by his boss - Mr. Gorpley of course. Balki tries bowling for the first time and had an excellent score so he becomes the substitute, but his trip to the ophthalmologist before the tournament may make playing difficult.

Almost Live from Chicago

Lydia has been offered the opportunity of having her on TV advice show but she has one problem, she's afraid of cameras. But Larry tries to force her to do the show because of a mistake he made in high school when he turned down an opportunity.

The Horn Blows at Midnight

When a famous psychic visits the Chronicle, She goes into a trance and predicts that a bog storm will come and Larry will die at midnight after sitting on a sheep and eating a golden ring. Larry thinks that it is just superstition until a storm comes out of nowhere.

The Break In

Balki accidently delivers Larry's offensive article to the publisher. So they break in late at night to retrieve it and end up on the ledge dealing with someone trying to commit suicide.

Family Feud

A 500 year-old feud in the Bartokomous family is back when their rival Zolton Bauchelitis is coming to fight a duel with Balki. Larry gets caught up in it and must fight Zolton himself. However, they don't try and kill each other, the winner takes the loser's ears.

Missing

After Dimitri is kidnapped, Balki has a mental block that prevents him from drawing it in the paper. so Larry and Balki try to catch the kidnapper in the basement of the Chronicle.

Sexual Harrassment in Chicago

The editor of the Chronicle's Sunday Magazine makes a play for Balki but he isn't interested. She won't take no for an answer and anyone who ever tried to report her lost their jobs.

That Old Gang of Mine

Mary Anne was promoted and moves to London and Balki is heartbroken and miserable. So Larry suggests Balki get a hobby to take his mind off her. So he joins a motorcycle gang where the club plans a wild initiation ceremony.

The Pen Pal

Vince Lucas the racketeer that Larry and Balki testified against has been paroled and Balki invites him into their apartment after writing to him ever since he went to prison. Even though he threatened them, Balki trusts him but Larry's too scared.

The Newsletter

When Balki is put in charge of the Chronicle Newsletter, Larry horns in and suggests he dig deep into the information. But he ends up reporting Lydia getting cosmetic surgery, Mr. Gorpley dating the wife of a sports editor, and quotes an insult Larry made to Mr. Wainwright.

Digging Up the News

Larry is assigned to interview Uncle Shaggy, a kid's show host and when he gets Balki to take a picture of him without his costume, the get Uncle Shaggy fired after someone discovered that he has a criminal record for something he did along time ago. But Larry swears he will make it up to him.

The Play's the Thing

When Balki takes Larry's ""Wheat"" play-script to Lydia's theater, Larry goes down to see the cast. But when the director tries to change the lines, Larry won't let him, so they all quit. But Larry insists that they keep the show by casting him with Balki, Lydia, Jennifer, and Mary Anne, but they've never acted before and make a mess of it.

Future Shock

Jennifer has been given a promotion but if she accepts it, she has to move to LA. Larry refuses to tell her how he feels as a fear of rejection but later that evening, he has a dream about being a lonely old man with Balki and Mary Anne married, rich, living upstairs.

Hello Ball

When Jennifer's father comes to town, Larry tries to impress him. So they decide to go golfing. Larry is an excellent golfer but Mr. Lyons is a bad golfer and a bad loser o Larry decides to let him win and lets Balki play thinking that he can't golf, but can he?

Nightmare Vacation

Larry found the perfect vacation and Balki, Jennifer and Mary Anne decide to give him one more chance with planning vacations. They go to a tropical resort, Club Paradise with broken walls in the hotel room and it is disrupted with a hurricane and Larry can't admit that he's made another mistake.

Poetry in Motion

Larry and Balki discover that Lowell Kelly, a famous poet used to live in their apartment and his unpublished poem is hidden there. So they search for it but Balki doesn't know that Larry plans to sell it after he discovered that it would be worth about $100,000.

Blast From the Past

It's a very psychotic evening when Marvin Berman, who tried to blow up Larry and Balki, visits them for dinner to apologize. But in the process, they mistakenly think that the mob is after them and they are surrounded by killers.

Defiant Guys

Larry is very angry at Balki for making him late for work and won't speak to him so Balki handcuffs them together and loses the key during Larry's important luncheon sate with Mr. Burns and the publisher R.T. Wainwright.

Maid to Order

With Larry working late and Balki at college, their household chores are falling behind. So they decide to hire a maid. They finally select Mr. Bailey who waits on them hand and foot for practically nothing which ends up getting on Larry's nerves.

Because They're Cousins

Balki's cousin Bartok come to visit from Mypos via Los Angeles for the last six months. Bartok looks just like Balki except after being in LA, he lost his accent and got a cool attitude, and he has a money-making scheme and tries to take Balki's money.

Stress Test

Mr. Wainwright has chosen Larry and Balki to team up for a stress evaluation test that could get them fired if they fail, which isn't easy for Larry ho is high strung.

Father Knows Best (2)

Larry and Balki, Jennifer and Mary Anne, Lydia and Mr. Gorpley, and of course Larry's father are all trapped in the flooding basement. Larry attempts to solve the problem without much luck. So thinking they're all going to die, Larry must tell his father how he feels. Luck changes when Larry finds his chemistry set.

Eyewitless Reports

A Chronicle Tour sends Mr. Gorpley, Larry and Balki & Jennifer and Mary Anne to a cabin in the forest where they encounter a 'Mad Dog' killer who escaped from prison. The killer is later apprehended but they all tell different stories about the capture which confuses the state trooper.

Two Angry Men

Balki gets his and Larry's names drawn for jury duty which starts the day before Jennifer has a pre-paid, non-refundable vacation to Bermuda booked for her and Larry. Balki holds out for not guilty endangering Larry's plans.

Up, Up and Away (2)

Trapped on board a runaway hot air balloon, Larry and Balki must find a way to get back to Earth as Jennifer goes into labor.

College Bound

Larry prepares a surprise party for Balki who is taking his college entrance exams. While they are waiting for him to return, they talk about some things they've been through together such as when they first met, the first day at the Chronicle, when they tried to fix Jennifer and Mary Anne's shower, etc. Larry thinks that he has helped Balki come along way but it seems that Balki has been helping him more.

Get a Job

Larry and Balki quit their jobs after Twinkacetti refuses to give them a raise and get jobs at a burger joint serving to rowdy hockey fans.

Hello, Elaine

When Larry's sister Elaine stops by for a visit, Larry is appalled when she tells him that she's going to New York to become a pianist instead of college.
Perfect Strangers Episode Guide
Knock Knock, Who's There?

Larry Appleton has just settled in his new Chicago apartment after leaving home of one of nine kids and took a job at the corner discount store working for his greedy landlord Mr. Twinkacetti until he can eventually become a photo journalist. But one evening, Balki Bartokomous, his distant cousin and a Mediterranean sheep herder from the island of Mypos shows up on his door step looking for a place to stay. So Larry takes him in and tries to get him a job at Twinkacetti's store which may mean risking his own job.

Picture This

Larry tries to kickstart his career and gets tipped off that Dolly Parton is in town committing adultery. So he decides to follow her until he can get a picture to sell to newspapers. Meanwhile, Balki will do a favor for anyone who will ask for it so Larry teaches him to say ""no"" once in a while but it backfires on him.

First Date

Larry takes Balki to a singles bar to meet women and while Balki gets his first date, Larry gets beat up in a parking lot by a boyfriend of a woman he hit on.

Baby, You Can Drive My Car

Balki wants to get his driver's license but Mr. Twinkacetti doesn't think he can do it. But Larry is so confident that he can, that he bets $50 and offers Balki his car.

Check This

Larry takes Balki to the bank to open a bank account but Balki doesn't seem to understand everything about banking when he overspends with his checks and buys Larry new furniture. Meanwhile, Twinkacetti is going to a poker game and his wife, Edwina doesn't like him gambling. So he asks Larry to tell his wife that they were at a basketball game but Larry refuses to.

Happy Birthday, Baby

Larry is miserable on his 24th birthday after he blew a photo opportunity. So Balki tries to throw him a last minute surprise birthday party for him to cheer him up.
Shows for Fans of Perfect Strangers