Unit One Episode Rating Graph
Oct 2000 - Jan 2004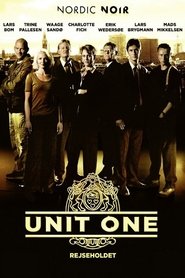 Browse episode ratings trends for Unit One. Simply click on the interactive rating graph to explore the best and worst of Unit One's 32 episodes.
The best rated episodes of Unit One are:
Assistancemelding A-19/01 (2) S3E14 rated 8.8
Assistancemelding A-05/03 (2) S4E2 rated 8.4
Assistancemelding A-19/01 (1) S3E13 rated 8.3
Assistancemelding A-12/01 S3E8 rated 8.3
Assistancemelding A-3/01 S3E2 rated 8.2
Assistancemelding A-28/00 S2E4 rated 8.1
Assistancemelding A-25/00 S2E2 rated 8.1
Assistancemelding A-17/01 S3E12 rated 8.0
Assistancemelding A-6/01 S3E4 rated 8.0
The lowest rated episodes of Unit One are:
Assistancemelding A-13/01 S3E9 rated 6.7
Assistancemelding A-31/00 (1) S2E6 rated 7.3
Assistancemelding A-16/01 S3E11 rated 7.4
Assistancemelding A-7/01 (1) S3E5 rated 7.5
Assistancemelding A-9/01 S3E7 rated 7.5
Assistancemelding A-15/01 S3E10 rated 7.5
Assistancemelding A-11/00 S1E5 rated 7.6
Assistancemelding A-05/03 (1) S4E1 rated 7.6
Assistancemelding A-31/00 (1) S2E7 rated 7.7
The first episode of Unit One aired on October 01, 2000.
The last episode of Unit One aired on January 01, 2004.
There are 32 episodes of Unit One.
There are 4 seasons of Unit One.
Best Episodes of Unit One
Assistancemelding A-19/01 (2)

The Indian has kidnapped Gaby, and La Cour and Fisher is on their tail, IP is trying to protect The Indian's ex-girlfriend who are also the murdered student's sister; this dramatic episode was supposed to be the end of the series, but as you can see below, two episodes were added later.

Assistancemelding A-05/03 (2)

Things are taking a turn for the worse when both Johnny and Fischer find themselves in grave danger; their cover has been blown and the bikers want them dead. This episode marks the end of the series.

Assistancemelding A-19/01 (1)

La Cour gets one of his visions and finds a murdered student at one of the most prestigious boarding schools in Denmark, this involves the unit in a case where they finally get clues to find the serial killer known as The Indian (because he cuts the pubes off his victims); meanwhile, Ulf has bad news for the team.

Assistancemelding A-12/01

When local crime boss Bob is found murdered in his own S&M dungeon in a custom made monkey cage in Fredericia, the unit is involved in a case of revenge and jealousy.

Assistancemelding A-3/01

Christian and Andreas Dahl are shot when they confront two famous criminals in burying stolen money in Kalundborg. Tina Lauritsen, the wife of Christian, is later found with her throat slit. The criminals are quickly identified, as a burned out white Mercedes is found containing rabbit dung (as Eik Nielsen, the male criminal, favours white Mercedes and Anja Jespersen, the female criminal, always carry around a rabbit). Unit One puts the area where the money was buried under surveillance. When the couple shows up, the Special Police Corps surround them, but they manage to escape into the church where a small group of people were arranging baptising schedules. Eik lets the grown ups escape and the priest, the wife of a local police officer, manages to text message Unit One and ask them to open the Northern Door to let Anja escape with the infant. The Special Police Corps manages to successfully rescue the priest and take Eik into custody.

Assistancemelding A-28/00

A woman dies in a house fire. Her 8 year old daughter fights for her life in hospital. Was the fire an accident or arson?

Assistancemelding A-25/00

A lawyer with a history of getting defendants to retract confessions uses the technique to exonerate the perpetrator of a crime that the team previously investigated. Then the lawyer and his family are threatened by an unknown attacker and the team is called in to protect him.

Assistancemelding A-17/01

When Johnny finds a couple of Polish girls in the back of a truck near Slagelse the unit is getting involved in a case of human trafficking and quickly tie it to the Polish mafia.

Assistancemelding A-6/01

A hotel is set on fire in Nyborg, killing 32 people. A local pyromaniac, Henning Jørgensen, is taken into questioning, but fails to answer where the fire started. In a side story, a little boy witnesses how a bespectacled man places the corpse of a young woman on a bench in a parking lot. In a picture from the local newspaper, a face is very faintly viewed in the background, and the police trace the person in the picture to be Otto Lykke Larsen, a mentally retarded man. Larsen is taken into questioning. In the videos found in Larsen's apartment, fires are videotaped and Unit One suspects that Larsen was the pyromaniac responsible. In other videos, Larsen has sexual intercourse with a woman, Britt Hjort Jespersen. In questioning, Larsen admits that he was the one who set fire on the hotel, along with all the other fires recorded in his videotapes. In the mean time, the corpse of the young woman is identified as Jespersen. Larsen admits he killed Jespersen.
Worst Episodes of Unit One
Assistancemelding A-13/01

An entire family is brutally murdered and the case leads the unit into a tragic story of incest and violence.

Assistancemelding A-31/00 (1)

The body of the 10-year-old is found in a stream in the woods just outside of Hellebæk. No boy of the description is missing. La Cour dreams of a bag that is found at the harbour and has exactly the same interior as in La Cours dream. A social licence from the bag reveals the boy to be Martin Simonsen. DNA samples proves that the killer earlier has murdered a young boy. La Cour talks with a conductor from Odense, Claus Munk Andersen, who claims he didn't see the boy. But through a vision and investigation of other witnesses, Andersen is taken into custody. A DNA sample proves him to be the killer, but when the police moves out to arrest him, they find him hanged in his house and La Cour's fingerprints all over the place.

Assistancemelding A-16/01

A young girl is found murdered on Bornholm and the unit is quickly involved as it looks like the work of one of Denmark's infamous serial killers, known as The Indian; unfortunately, the story spins into a personal tragedy for Ingrid.

Assistancemelding A-7/01 (1)

Just released from prison the entrepreneur called farmand (daddy-o) is found murdered in a Danish train to Århus, which puts the unit smack in the middle of hypnosis and crime and they meet one of the smartest criminals in the series so far. Kaare commits a robbery just after being released from State Prison in Horsens. He shoots three people and is arrested by Fischer. Unit One suspects that Ivan has masterminded the coup.

Assistancemelding A-9/01

Bertel Kjeldsen calls Dahl late at night to ask her to come to Fredensborg where he allegedly killed his own wife. In the meantime, the case of Britt Hjort Jespersen is brought up again as a poor autopsy of the body wasn't satisfactory. DNA samples from a new autopsy show DNA from another man. Dahl tries hard to find Keldsen, who is standing at the edge of a tall building when Dahl finds him. He tells how he killed his wife and how his son, Knud Kjeldsen, killed Jespersen. Dahl arrests Knud. Knud lies under questioning, but the DNA samples show that Knud's biological brother, Robin Hansen, who is mentally retarded, was the murderer. Knud tried to cover for his retarded brother to spare his family.

Assistancemelding A-15/01

Jette Møller is found murdered in a fish boutique in Vordingborg. Finn Møller, her husband, is taken into custody, but nothing is gaining out of his answers. Her phone is tapped and when a suspicious phone call remind Fischer and La Cour about Strangers on a Train, Møller is put under surveillance. He escapes when he sails from Vordingborg to an island. The following day, the body of Putte Bech Lorentzen is found in a sauna. Unit One suspects Larsen and arrest him. Through evidence found in the garden of Bech Lorentzen, Unit One arrests Bertram Bech Lorentzen, the husband of Putte, for the murder of Jette.

Assistancemelding A-11/00

A young couple's wedding day is ruined by a murder. The killing seems unfeasible and the forensics experts are perplexed when Unit One arrives. Soon, many of the villagers are under suspicion. While IP's jealously grows, Johnny receives help from Gaby with his personal problems. Søren puts pressure on Ingrid to make a decision about their relationship. But all could be futile when Ingrid soon after receives a phone call from the hospital alerting her that Søren is in a serious condition.

Assistancemelding A-05/03 (1)

When a black prostitute is found murdered and things indicate the Danish minister of justice, the unit is once again called together, although they are all busy with other work; soon we learn that things are not what they seem and we venture into the Danish biker scene.

Assistancemelding A-31/00 (1)

La Cour is taken into custody and is ordered home to Copenhagen. In the mean time, the investigation team contacts Karin, the sister of Andersen who tells them that the man that visited Andersen the night he was killed and had sexual intercourse with him probably is Sonny, a local male prostitute. Fischer is sent to the dumpster, where he finds a trash bag that contains Andersen's diary that contains information about the murdered boys and Cliff "Sonny" Jensen, whom Andersen raised into prostitution and lent to his friends. La Cour notices some ash buds and remembers what happened at Andersen's, paying Ulrik Gregersen, Andersen's brother-in-law a visit. He follows him to the dumpster where he arrests him and discovers that the trash bags he dumped there contained the body of Sonny.
Unit One Episode Guide
Assistancemelding A-6/00

When an elderly lady is murdered in Nakskov, details emerge from her younger female lodger, who says she saw an unfamiliar man leave the house just after the crime. Fischer's relationship with the local force is complicated because of a previous case and the conflict between them resurfaces. IP is worried about Kirsten's whereabouts, and Ingrid's husband Søren surprises her just as she is on her way out with Boysen.

Assistancemelding A-11/00

A young couple's wedding day is ruined by a murder. The killing seems unfeasible and the forensics experts are perplexed when Unit One arrives. Soon, many of the villagers are under suspicion. While IP's jealously grows, Johnny receives help from Gaby with his personal problems. Søren puts pressure on Ingrid to make a decision about their relationship. But all could be futile when Ingrid soon after receives a phone call from the hospital alerting her that Søren is in a serious condition.

Assistancemelding A-15/00

Ulla, a teacher from Roskilde, has celebrated her 30th birthday with a big party among friends and relatives. On her way home from the party she disappears without a trace. Her husband calls the police and Unit One is summoned. Evidence indicates that a crime has taken place, and Ulla's children also face danger. Ingrid is in an awful state following Søren's death and has incarcerated herself. Gaby and Johnny try to help, but in vain. However, IP has his own way of tackling Ingrid. Fischer receives a tempting offer from Ulf.

Assistancemelding A-17/00

Fischer and La Cour have taken a holiday on the North Sea with Fischer's family. Their holiday is soon ruined when the local force receives an anonymous tip-off that a homicide has been committed in the neighborhood. The murderer is at large and could strike again at any time. Ulf is summoned when Fischer loses control while detaining a subject.

Assistancemelding A-19-00 (1)

En hel egn er opskræmt, efter en hætteklædt mand gennem længere tid har forgrebet sig på ensomt boende ældre kvinde – overfaldene bliver stadigt grovere, og alle frygter, at det næste gang ender med mord. Rejseholdet bliver tilkaldt, og dermed bliver

Assistancemelding A-19/00 (2)

(Fortsat).Det lykkes den hætteklædte gerningsmand, som overfalder ældre kvinder stadigt grovere, at slå til igen. Men hvordan kan han hele tiden være et skridt foran efterforskningen, som nu står i stampe? Ulf ankommer for at kræve resultater og bliver
Shows for Fans of Unit One