Maigret Episode Rating Graph
Mar 2016 - Dec 2017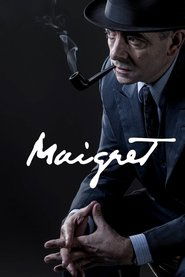 Adaptation of the novels written by Georges Simenon featuring his fictional French police commissioner Jules Maigret.
Best Episodes of Maigret
Night at the Crossroads

A complex tale of murder, deceit and greed in an isolated country community. Maigret has been interrogating a mysterious Dane, Carl Andersen, for hours without a confession. Why was the body of a diamond merchant found in his car at his isolated mansion? He's either innocent or a very good liar. What does his beautiful but vulnerable sister know? And what compels everyone at the Three Widows Crossroads to be so secretive? Maigret sets out to find his killer.
Worst Episodes of Maigret
Maigret in Montmartre

Maigret investigates the murders of two women who are seemingly unconnected yet share a mysterious bond. The first, Arlette, is a beguiling showgirl from a seedy club who arrives at the police station to report two men she overheard discussing the murder of a Countess. But Arlette is shifty and eventually rushes from the building, only to be found strangled in her apartment the next morning. Meanwhile, Maigret hears word of a Countess who has also been found strangled, her valuables untouched and only a few mysterious leads for the detective to follow up. What connects the two? And should Maigret have done a better job of protecting Arlette when she came to him in her hour of need?
Maigret Episode Guide
Maigret Sets a Trap

Maigret comes under pressure from his superiors and the press to catch a serial killer of women with no common feature except their hair. Making no progress Maigret sets a trap using undercover police women. The trap yields a clue to a suspect with a possessive wife and mother but a sixth murder while his suspect is in custody throws doubt on Maigret's theory and his superiors decide to replace him as investigator of the case.

Maigret's Dead Man

One morning, an agitated man calls the Police judiciaire asking for Maigret. He claims he's being followed by someone trying to kill him. Before Maigret can get the details he hangs up, calls back again from various cafés, until the calls finally stop. That night, his body is found, his face badly beaten, stabbed to death. Ridden with guilt for not having saved "his" dead man, Maigret is determined to find the murderer.
Shows for Fans of Maigret