Life with Derek Episode Rating Graph
Sep 2005 - Mar 2009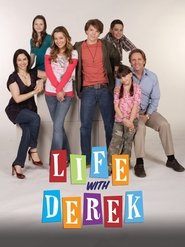 Browse episode ratings trends for Life with Derek. Simply click on the interactive rating graph to explore the best and worst of Life with Derek's 70 episodes.
The best rated episodes of Life with Derek are:
Futuritis S4E18 rated 9.0
Truman's Last Chance S4E16 rated 8.0
Rude Awakenings S4E15 rated 8.0
Tuesday Afternoon Fever S4E13 rated 8.0
Casey & Ralph?! S4E12 rated 8.0
How I Met Your Stepbro S4E11 rated 8.0
The lowest rated episodes of Life with Derek are:
Teddy's Back S4E14 rated 5.0
Surprise! S4E17 rated 5.0
Take A Stepkid to Work Day S4E9 rated 6.0
Two Timing Derek S3E1 rated 7.0
Two Kisses One Party S4E1 rated 7.0
Open Mic Plight S4E2 rated 7.0
The first episode of Life with Derek aired on September 18, 2005.
The last episode of Life with Derek aired on March 25, 2009.
There are 70 episodes of Life with Derek.
There are 4 seasons of Life with Derek.
Life with Derek has ended.
Best Episodes of Life with Derek
Futuritis

A worrisome Casey is having difficulty writing her valedictorian speech for graduation. Meanwhile, Edwin is concerned that he won't be able to live up to Derek's reputation at J.S. Thompson High when he goes there in the fall.

Truman's Last Chance

Derek serves as a chaperone for Casey who is going to a party in Toronto with Truman. Meanwhile, Lizzie goes out on a date with a boy that the family has never met.

Rude Awakenings

To be eligible for college athletic scholarships, a "D" average Derek seeks George and Edwin's help in passing all of his final exams. Meanwhile, Nora and the girls try to get a stressed out Casey to stop over-studying and relax.

Tuesday Afternoon Fever

After entering a tv dance contest, Casey must find a new dance partner when the previous one pairs up with her rival. Meanwhile, Lizzie dares George and Edwin to eat only healthy food for a week.

Casey & Ralph?!

While his parents are away for the weekend, Ralph stays at Derek's home where he begins to develop a crush on Casey.

How I Met Your Stepbro

As George prepares a Mexican fiesta for their second wedding anniversary, Nora gets a reluctant Casey to tell the story of how she and Derek first met.
Worst Episodes of Life with Derek
Teddy's Back

A surprise visit from Edwin's friend Teddy turns into a frequent occurrence that makes the entire McDonald-Venturi household uncomfortable. Despite warnings from Emily, Casey decides to go out on a date with Truman.

Surprise!

As the prom approaches, Casey and Derek both find themselves without a date. Meanwhile, George and Nora have something to tell the family.

Take A Stepkid to Work Day

Casey spends the day with George at his law office where her need to organize things doesn't mesh well with the way he usually does things. Meanwhile, Derek tries to help Nora land a business deal with a client.

Two Timing Derek

When Derek already has a girlfriend, Casey is shocked when he asks out a friend of hers, Lucy. Casey asks Emily to dig up information on whether Max is available or not. Meanwhile, Nora has set up a dinner with another family, but some members of her family object.

Two Kisses One Party

Derek refuses to help out with Marti's birthday party despite being asked by Sally. Casey wants to get back together with Max, but he is hesitant about the whole idea.

Open Mic Plight

After Derek has trouble expressing his feelings for Sally, she recommends that he write a love song for her. Meanwhile, Edwin tries out his talent show comedy routine on George and Lizzie.
Life with Derek Episode Guide
No episode information found for this season.
Shows for Fans of Life with Derek