Head of the Class Episode Rating Graph
Sep 1986 - Jun 1991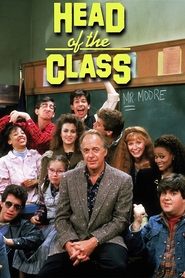 Browse episode ratings trends for Head of the Class. Simply click on the interactive rating graph to explore the best and worst of Head of the Class's 114 episodes.
The best rated episodes of Head of the Class are:
The Russians Are Coming, the Russians Are Coming! S1E17 rated 8.5
Video Activity S1E19 rated 8.0
Valentine's Day S1E18 rated 8.0
Back to the Future S1E2 rated 7.9
Arvid's Sure Thing S3E11 rated 7.7
Past Imperfect S1E15 rated 7.5
Mission to Moscow (2) S3E4 rated 7.4
First Date S3E9 rated 7.3
Don't Play With Matches S2E20 rated 7.3
We Love You, Mrs. Russell S2E19 rated 7.3
The lowest rated episodes of Head of the Class are:
From Hair to Eternity (2) S4E18 rated 4.6
Exactly Twelve O'Clock S3E22 rated 4.8
Viki & Eric & Simone & Alex S4E2 rated 5.2
Good Mourning S4E9 rated 5.2
The Quiet Kid S4E20 rated 5.2
Dead Men Don't Wear Pocket Protectors (2) S5E9 rated 5.2
The Devil and Miss T.J. S4E11 rated 5.3
Love at First Byte S1E4 rated 5.3
Teacher's Pet S4E26 rated 5.3
The Importance of Being Alex S5E14 rated 5.3
The first episode of Head of the Class aired on September 17, 1986.
The last episode of Head of the Class aired on June 25, 1991.
There are 114 episodes of Head of the Class.
There are 5 seasons of Head of the Class.
Head of the Class has ended.
Best Episodes of Head of the Class
The Russians Are Coming, the Russians Are Coming!

The IHP faces their Russian counterparts in an academic tournament. Eric must join the team to replace an ailing Jawaharal.

Video Activity

The class makes a music video for a time capsule

Valentine's Day

The class has problems on Valentine's day.

Back to the Future

The class imagines life 20 years in the future

Arvid's Sure Thing

Arvid goes out with an easy girl

Past Imperfect

Charlie must pass a test in Macro Economics in order to keep his teaching license. The IHP attempt to help him.

Mission to Moscow (2)

The team begins the competition without Eric, Arvid or Dennis.

First Date

Eric and Simone go on their first date.

Don't Play With Matches

The class gets matched up with computer dates

We Love You, Mrs. Russell

A popular teacher has Alzheimer's

The Secret Life of Arvid Engen

Arvid starts to daydream about Lori and it affects his schoolwork

As Time Goes By

Charlie's ex-flame evaluates the class

Pilot

A high school substitute teacher takes over a class of geniuses.

Teacher's Teacher

Charlie is upset when the IHP's regular teacher announces his return from sick leave.

Engen and Son

Arvid's Dad teaches the honor's math class.

Parent's Day

The IHP's parent's come to see how the class is taught

I Am the King

Charlie moonlights as a character in late night commercials for an appliance store.

Born to Run

Alan and Sarah both want to be class president

Let's Rap

The class become Peer Counselors

Mission to Moscow (1)

In Moscow, Dr. Samuels insists on study for an academic meet, while Charlie lobbies for more personal cultural experiences. (Part 1 of 2)

The Refrigerator of Fillmore High

Dennis gets to play on the football team.

For Better, For Worse

Ms. Meara teaches a class on marriage

On the Road Again

Darlene and Sarah buy a car; problems with Mrs. Samuels has Dr. Samuels rooming with Charlie.

Will the Real Arvid Engen Please Stand Up?

Arvid sends his penpal Eric's picture

Ode to Simone

Simone receives a discouraging letter from her favorite poet....after his death. Dennis tries to give up sarcasm and pranks.

Rebel Without a Class

Eric makes trouble for another teacher

Little Shop 'Til You Drop (1)

The final days before opening night are fraught with chaos: no Ronette, Mr. Mushnik MIA, one lead with laryngitis and another ready to walk just before curtain time.

Scuttlebutt

An accomplished journalist alumnus visits.

Partners

Maria hides her intelligence from a hunk she is dating

The Way We Weren't

When doing reports on their ancestry, both Alan and Darlene find things out that they don't want to.

Tough Guys Don't Sew

Viki gets Eric to design and sew clothes for her home economics project.

A Problem Like Maria

Maria dates the captain of the opposing team
Worst Episodes of Head of the Class
From Hair to Eternity (2)

The spirit of ""Hair"" leads the class to go on with the show in defiance of Mrs Hartman. (Part 2 of 2)

Exactly Twelve O'Clock

Hall monitor Arvid has daytime nightmares of a personal high noon after a bully he cited for loitering demands a showdown - at high noon.

Viki & Eric & Simone & Alex

Eric goes out with Viki and Simone goes out with Alex and they all end up at the art museum.

Good Mourning

Charlie teaches the class about grief.

The Quiet Kid

A new student rejects the Academic Olympics.

Dead Men Don't Wear Pocket Protectors (2)

Bully Zach may have Arvid's missing gun. (Part 2 of 2)

The Devil and Miss T.J.

T.J. makes a deal with the devil to get accepted into the IHP class.

Love at First Byte

Charlie receives a love note from a secret admirer he suspects is in the IHP.

Teacher's Pet

Charlie and Eric vie for a night-school teacher.

The Importance of Being Alex

Simone's reputation suffers when Alex lies to his friends about a romance with her.

Viki's Torn Genes

At Christmas, Billy helps Viki find her birth mother, but the woman doesn't want to see her.

Getting Personal

Billy tries the personals ads.

The Write Stuff

Charlie encourages the class to revitalize the school's literary journal, and the class votes Simone as editor-in-chief. Unfortunately, the power this position gives Simone slightly goes to her head. Meanwhile, Eric fabricates a memoir for the journal, which dishonestly wins him more attention from Simone.

Billy's Big One

Billy fakes a heart attack to circumvent a health-insurance bureaucrasy; the IHP girls try writing a romance novel.

Dead Men Don't Wear Pocket Protectors (1)

After Billy is robbe, he has the class write papers on gun control, leading Arvid to a harrowing experience when he buys a gun for the assignment. (Part 1 of 2)

The Phantom of the Glee Club

The class learns T.J. is more than just a contemporary-style musician when Billy discovers her operatic talent.

Where's Charlie?

Charlie doesn't return for the new school year and the Kids are wondering where's Charlie? Charlie found an acting gig and left and now the students have a new teacher, Billy MacGregor.

The Heartbreak Nerd

Arvid goes out with gorgeous Viki.

Be My Baby . . . Sitter

Jasper's overprotective parents hire a babysitter for him -- and to his mortification, it turns out to be Sarah.

My Dinner With Darlene

Darlene promises to treat the class to an elaborate farewell dinner, but then finds her credit card revoked.

Science Fair-Weather Friends

Sarah, Arvid, and Dennis compete and deceive to win the science fair.

Moore Than You Know

Charlie thinks he sees his dead uncle

Back to School

It's the first day back at School and there are some new additions to Mr. Moore's class. Maria, transferred to the High Of Perfoming Arts, Jawarlahal's family moved to California, and Janice went Harvard. The new kids are coming in, Alex Torres, Aristotle McKenzie, and Viki Armory, who has crushes on her teachers.

Viki in Love

Viki believes she is in love with Mr. Moore, but Alan believes she loves him.

From Hair to Eternity (1)

The prudish head of the school's English department seems determined to ruin Charlie's class production of ""Hair"". (Part 1 of 2)

Cement Hi-Tops

Aristotle videotapes a mob family wedding.

Twelve Angry Nerds

When Alan is caught cheating, Billy has the class act as a jury to decide his punishment.

And Then There Were None

Arvid's infectious flu may keep the class from performing in a Shakespeare competition.

The Ring of Darlene M.

Certain members of the class suspect Alex of stealing Darlene's antique ring.

Fillmore vs. Billy Jean's

The IHP class behaves obnoxiously when their bus breaks down at a rural truck stop.

The Big Squeeze

The IHP are concerned when they learn a transfer student might join their class, making it necessary for one of them to leave. They fight over who it should be.
Head of the Class Episode Guide
Pilot

A high school substitute teacher takes over a class of geniuses.

Back to the Future

The class imagines life 20 years in the future

Charliegate

Dennis misquotes Mr. Moore for the school newspaper

Love at First Byte

Charlie receives a love note from a secret admirer he suspects is in the IHP.

The Outsider

Janice feels left out in class and decides to throw a party to make friends. Charlie dates a model.

Teacher's Teacher

Charlie is upset when the IHP's regular teacher announces his return from sick leave.

Volleyball Anyone?

Arvid tries to impress a girl by challenging the school basketball players to a volleyball match against the IHP class.

Critical Choices

Charlie tries his hand at ""Hamlet""

Cold Turkey

Mr. Moore spends Thanksgiving with Dr. Samuels

You've Got a Friend

After their team project wins them a trip to Washington, D.C., Sarah and Arvid develop slight feelings for each other. But things aren't necessarily a bed of roses between them.

As Time Goes By

Charlie's ex-flame evaluates the class

The Way We Weren't

When doing reports on their ancestry, both Alan and Darlene find things out that they don't want to.

Rebel Without a Class

Eric makes trouble for another teacher

Ode to Simone

Simone receives a discouraging letter from her favorite poet....after his death. Dennis tries to give up sarcasm and pranks.

Past Imperfect

Charlie must pass a test in Macro Economics in order to keep his teaching license. The IHP attempt to help him.

A Problem Like Maria

Maria dates the captain of the opposing team

The Russians Are Coming, the Russians Are Coming!

The IHP faces their Russian counterparts in an academic tournament. Eric must join the team to replace an ailing Jawaharal.

Valentine's Day

The class has problems on Valentine's day.

Video Activity

The class makes a music video for a time capsule

Privilege

Charlie sets Arvid up with a job at a hot nightclub, which causes Arvid to develop a cocky, image-conscious attitude.

The Secret Life of Arvid Engen

Arvid starts to daydream about Lori and it affects his schoolwork
Shows for Fans of Head of the Class