The Young and the Restless Episode Rating Graph
Mar 1973 - present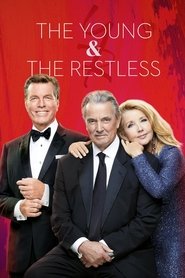 Browse episode ratings trends for The Young and the Restless. Simply click on the interactive rating graph to explore the best and worst of The Young and the Restless's 2373 episodes.
The best rated episodes of The Young and the Restless are:
Episode 11397 - March 29, 2018 S45E144 rated 10.0
Episode 11221 - July 14, 2017 S44E221 rated 10.0
Episode 11215 - July 06, 2017 S44E215 rated 10.0
Episode 10832 - January 07, 2016 S43E89 rated 10.0
Episode 10831 - January 06, 2016 S43E88 rated 10.0
Episode 10828 - December 31, 2015 S43E85 rated 10.0
Episode 11554 - November 06, 2018 S46E46 rated 9.7
Episode 11259 - September 08, 2017 S45E6 rated 9.7
Episode 11645 - March 18, 2019 S46E137 rated 9.5
Episode 11586 - December 24, 2018 S46E78 rated 9.5
The lowest rated episodes of The Young and the Restless are:
Tuesday, September 19, 2023 S50E246 rated 1.0
Episode 10846 - January 27, 2016 S43E103 rated 4.0
Episode 11396 - March 28, 2018 S45E143 rated 5.5
Episode 11382 - March 06, 2018 S45E129 rated 5.7
Episode 11422 - May 03, 2018 S45E169 rated 5.7
Episode 12016 - December 23, 2020 S48E66 rated 6.0
Episode 12017 - December 24, 2020 S48E67 rated 6.0
Episode 193 S49E193 rated 6.0
Friday, February 17, 2023 S50E98 rated 6.0
Episode 11283 - October 12, 2017 S45E30 rated 6.1
The first episode of The Young and the Restless aired on March 26, 1973.
The last episode of The Young and the Restless aired on September 22, 2023.
There are 2373 episodes of The Young and the Restless.
There are 51 seasons of The Young and the Restless.
The Young and the Restless is set to return for future episodes.
Best Episodes of The Young and the Restless
Episode 11397 - March 29, 2018

Jack is backed into a corner, Traci honors Colleen's memory, and Victoria receives a chilling warning.

Episode 11221 - July 14, 2017

Jack and Ashley isolate Dina from Graham; Charlie and Mattie learn of Cane's infidelity; the Newman family struggles to keep up its charade.

Episode 11215 - July 06, 2017

Cane insists Juliet take a paternity test, Charlie interferes with Reed and Mattie's budding relationship, and Michael and Paul search for Kevin. (TV-14 D)

Episode 10832 - January 07, 2016

Victoria confides in Nick, Mariah struggles with her feelings for Kevin, and Sage is rattled by Dr. Anderson.

Episode 10831 - January 06, 2016

Jack makes an important business decision, and Adam dodges a bullet with Chelsea.

Episode 10828 - December 31, 2015

Ashley makes a shocking confession; Neil enlists Nikki's help; tensions run high between Jack and Phyllis.

Episode 11554 - November 06, 2018

Jack receives disturbing news, Christine lays down the law, and Cane makes a tough decision.

Episode 11259 - September 08, 2017

Cane scores a victory, Mariah flirts with danger, and Nick confides in Chelsea.

Episode 11645 - March 18, 2019

Mia threatens Arturo that she'll reveal they had sex if he doesn't help her get Rey back, and Summer worries about the surgery and if Kyle will leave her afterward. Billy and Nick explain to Nikki, Victoria, and Sharon that they have reason to believe JT is alive.

Episode 11586 - December 24, 2018

Nick and Victoria continue to be at Nikki's side in the hospital. Lola and Kyle exchange gifts.

Episode 11576 - December 10, 2018

Victoria, Sharon and Nikki kidnap Tessa to find out answers. Mariah confides in Lola.

Episode 11832 - December 12, 2019

Kyle gives Jack an ultimatum, Victor gives Summer advice on her love life, and Devon learns Amanda had her history scrubbed.

Episode 11731 - July 18, 2019

Jack visits Ashley in Paris; Cane opens up to Traci; Abby makes a power move.

Episode 11336 - December 28, 2017

Old feelings resurface for Victor and Nikki during their vow renewal, while Abby and Scott give into temptation.

Episode 11262 - September 13, 2017

Cane's feud with Victoria escalates, Abby takes a leap of faith, and tensions mount between Devon and Mariah.

Episode 11744 - August 6, 2019

Nick loses his temper and punches Adam, and Sharon breaks it up; Sharon and Adam have sex; Lola offers an olive branch.

Episode 11715 - June 26, 2019

Jack gains a new perspective on life; Lola gets a surprise visit from her mother.

Episode 11261 - September 12, 2017

Ashley changes course to learn Graham's secret, Neil is concerned about Lily, and Victoria uses an opportunity to freeze Phyllis out.

Episode 11602 - January 15, 2019

Victor calls a truce, Kerry gives Jack mixed signals, and Devon sees Ana in a new light.

Episode 11674 - April 30, 2019

Billy makes amends; Sharon gives Mia a warning; Nikki uncovers a clue about Victor.

Episode 95

Victor and Nikki take time for romance; Billy surprises Lily; and Ashland comes clean with Victoria.

Episode 213

Sharon welcomes Rey home; Chelsea and Chloe strategize about Adam; and Phyllis chases a lead.

Episode 77

The tension between Nick and Victoria continues to simmer, terribly affecting Nikki. Phyllis attempts to persuade Kevin to revert to his old ways, while Mariah tries to keep Faith away from trouble.

Episode 11837 - December 20, 2019

Phyllis considers revenge; Elena makes a decision about Amanda.

Episode 11831 - December 11, 2019

Sharon's plan goes awry; Nick's interests are protected by his parents; Billy picks up old habits.

Episode 11825 - Nov 29, 2019

Victor and Nikki Newman celebrate Thanksgiving at the Newman ranch; Sharon serves Thanksgiving dinner for the homeless at Crimson Lights.

Episode 11800 - Oct 23, 2019

Sharon and Rey embark on a fresh start; Phyllis makes a power move; Nick and Chelsea struggle with a tough decision.

Episode 11796 - Oct 17, 2019

Jack protects the Abbott legacy; Chelsea is troubled by Connor's behavior.

Episode 11793 - Oct 14, 2019

Jack and Traci make a discovery about Dina's past; Chloe comforts Billy; Nick considers a career change.

Episode 11783 - Sep 30, 2019

Victor wants a showdown; Nick's in trouble with Chelsea; Amanda is confronted by Jill.

Episode 11748 - August 12, 2019

Victor takes over; Chelsea gets stunning news; The day of Lola's wedding to Kyle arrives; Elena begins a new chapter.

Episode 11740 - July 31, 2019

Jack dishes out some tough love; Paul supports Christine; Phyllis stuns Nick.

Episode 11732 - July 19, 2019

Nikki's night to shine spirals out of control.

Episode 11730 - July 17, 2019

Michael and Kevin plot to outmaneuver Adam; Phyllis covers her tracks; Nick prepares for battle.

Episode 11720 - July 3, 2019

Phyllis and Victoria go head to head; Chelsea leaves with Calvin but looks back at Nick; and Theo's had enough of Summer's obsession with Kyle; Victor has a surprise for the Newman family.

Episode 11638 - March 07, 2019

Phyllis reacts to Summer's engagement, Kerry surprises Jack, and Michael changes his strategy.

Episode 11636 - March 05, 2019

Phyllis takes another shot with Nick, Michael hopes to make a deal, and Tessa gets an unsettling call.

Episode 11633 - February 28, 2019

Christine, Brittany and Michael make their opening statements in court, Mia convinces Rey to keep their secret, and Kyle visits with Lola.

Episode 11614 - January 31, 2019

Nikki makes a dangerous mistake, Lauren tests Kyle, and Nick struggles to keep his cool.

Episode 11613 - January 30, 2019

Victoria opens up to Victor, Summer reconnects with Fen, and Jack and Kerry make decision about their relationship.

Episode 11611 - January 28, 2019

Victor gives Arturo an ultimatum, Jack uncovers Kerry's secret and Nick demands the truth.

Episode 11603 - January 16, 2019

Nick has a change of heart, Rey disappoints Sharon, and Cane's visit with Lily takes an unexpected turn.

Episode 11595 - January 4, 2019

Victoria struggles with her feelings for Billy, Cane confides in Jill, and Nikki takes matters into her own hands.

Episode 11582 - December 18, 2018

Nick, Victoria, Phyllis, Kerry and Jack rush to the hospital. Cane confronts Charlie about his drinking.

Episode 11566 - November 23, 2018

The Rosales family helps Sharon feed the homeless, Kerry joins the Abbotts for dinner, and Lola declines Kyle's invitation.

Episode 11549 - October 30, 2018

Sharon goes to the pumpkin patch with Nick, and Nikki receives an upsetting call. Jack works to repair the damage done within the Abbott family. Nick refuses to give up on Sharon.

Episode 11541 - October 18, 2018

Summer interrupts Kyle's date with Lola, Cane disappoints Lily, and Billy admits he went too far.

Episode 11540 - October 17, 2018

Jack holds a family breakfast, Mariah's curious about Sharon and Rey, and Ashley makes an announcement.

Episode 11539 - October 16, 2018

Billy returns from rehab and gets a shock, Victoria, Sharon, and Nikki meet about the notes, and Abby confronts her mother.

Episode 11538 - October 15, 2018

Life changes forever for the Abbotts, while Nikki struggles with a dilemma.

Episode 11531 - October 04, 2018

A surprise guest arrives in Genoa City.

Episode 11525 - September 25, 2018

Victor makes amends with Matt Miller, Summer tests Mariah, and Jack receives news about his paternity.

Episode 11521 - September 19, 2018

Sharon celebrates a milestone, Phyllis receives shocking news, and Ashley faces a moral dilemma.

Episode 11515 - September 11, 2018

Nick's night to shine takes a shocking twist, Kyle and Summer turn up the heat, and Rey shows his true colors.

Episode 11513 - September 07, 2018

Jack makes a move, Cane comforts Lily and Billy plays with fire.

Episode 11487 - August 02, 2018

Victor surprises Nikki, Neil struggles to keep the peace, and Nick makes amends with Victoria.

Episode 11486 - August 01, 2018

Tempers flare between Jack and Billy, Phyllis delivers an important message, and Devon's world is rocked.

Episode 11454 - June 18, 2018

Nick stuns Sharon; Summer angles to get closer to Billy; Brittany interrogates Victoria about J.T.

Episode 11452 - June 14, 2018

Nick makes a chilling promise; Charlie is smitten with Shawna; Billy presses Phyllis to make a change.

Episode 11431 - May 16, 2018

Jack revisits his dark side; Kyle covers his tracks; Paul corners Victoria.

Episode 11414 - April 23, 2018

Hilary second guesses her agreement with Devon; Abby is charmed by Arturo; Nikki takes control.

Episode 11332 - December 22, 2017

Jack gives Ashley an unforgettable Christmas gift, Cane and Lily are caught in a parent trap, and Nikki questions whether Paul and Christine are being naughty or nice.

Episode 11331 - December 21, 2017

Nick and Chelsea get into the Christmas spirit, Abby loses her cool, and J.T. turns on the charm.

Episode 11329 - December 19, 2017

Jack and Ashley battle it out in the boardroom, Lauren protects her interests, and Victor makes a deal with Nikki.

Episode 11328 - December 18, 2017

J.T. shares damaging information with Victor, Jack springs into action, and Jill returns home with an agenda.

Episode 11323 - December 11, 2017

Victor prepares for battle, Nick asks Devon for help, and someone discovers Abby's affair with Scott.

Episode 11294 - October 27, 2017

Billy points the finger at Gloria, Lauren snaps at Sharon, and Abby and Zack's relationship takes an unexpected turn.

Episode 11289 - October 20, 2017

Jack considers his options, Cane's relationship with Juliet takes an interesting turn, and Victoria loses control!

Episode 11271 - September 26, 2017

Jack confronts Dina about meddling in his relationship, Mariah opens up to Kevin, and Billy presses his luck.

Episode 11258 - September 07, 2017

Nick and Sharon set a trap for Alice, Charlie covers for Mattie, and Hilary toys with Jordan.

Episode 11255 - September 04, 2017

Jack defends his relationship with Nikki, Ashley vows to protect Dina, and Victoria makes her feelings known for Billy.

December 17, 2015

Victor makes a surprising hire at Newman Enterprises; Kevin urges Billy to clean up his act; Nick makes a decision about his relationship with Sage.

Episode 10188 - Thursday, June 27, 2013

Billy tells Carmine that Victoria kicked him out for gambling. Carmine hands Billy a business card of a guy looking for a game. Later, Fen tells Carmine to stop texting him. Tyler accuses Devon of getting him fired. Meanwhile, Abby and Alex get into an argument at the police station. Later, Abby offers to buy Tyler a drink when she hears that he lost his job. Michael and Lauren try to enjoy watching a movie together. During dinner, they share a sweet kiss and work on rebuilding their relationship. Jill offers Hilary double her pay to divert projects to her instead of Cane. Lily comes clean with Cane, and tells him that Tyler is the reason she left the campaign. Lily tells Cane that she doesn't have feelings for Tyler even though he may be attracted to her. Chloe and Kevin inform Delia that they are getting a divorce. Delia is pained by the news, but is assured that it has nothing to do with her. Fen passes money to a dealer in exchange for a bag of pills.

Episode 11220 - July 13, 2017

Drama unfolds as the residents of Genoa City gather for Nikki's concert.

Episode 11755 - August 21, 2019

Victor learns a secret; Billy lashes out against his family; Mariah is undermined by Theo.

Episode 11722 - July 5, 2019

Billy gets déjà vu; Chelsea's in trouble.

Episode 11747 - August 9, 2019

Jack takes control of a situation; Adam's backed into a corner by Victoria; Nate sees Abby in a different light.

Episode 11735 - July 24, 2019

Jack returns home with surprise news; Lola loses patience with Celeste; Victoria steps up for her family.

Episode 11729 - July 16, 2019

Victor takes care of unfinished business; Cane surprises Jill; Billy offers Jack unsolicited advice.

Episode 11728 - July 15, 2019

Nick asks Chelsea to stay in Genoa City; Rey shares a family secret; Sharon is ambushed.

Episode 11269 - September 22, 2017

Billy and Victoria venture into dangerous territory, Tessa's moment in the spotlight is derailed, and Phyllis defends Jack.

Episode 112

Victor and Adam form an alliance against Billy; Chloe comes to Chelsea's rescue; and Rey and Sharon take steps to save their marriage.

Episode 11947 - September 15, 2020

Victor has questions regarding Kyle's commitment to Summer; Jack is given a reality check by Phyllis; Nate delivers shocking news.

Episode 11941 - September 7, 2020

Lola sees a different side to Theo; Victoria hides something from Billy; Adam spirals.

Episode 11757 - August 23, 2019

Michael's loyalty is questioned by Victor; Rey gets closure; There's a shocking return to Genoa City.

Episode 11753 - August 19, 2019

Billy melts down; Summer is consoled by her mother.

Episode 11723 - July 8, 2019

Adam wants to move forward with Chelsea; Paul asks Phyllis for more details on her 'vacation'.

Episode 11658 - April 8, 2019

Sparks fly between Billy and Victoria; Sharon questions her future with Rey.

Episode 11653 - April 1, 2019

Ashley reveals shocking news; Rey romances Sharon; Nikki confides in Paul.

Episode 11348 - January 17, 2018

Abby receives a surprise visitor in Paris, Graham crosses the line, and Tessa resorts to extreme measures.