Archer Episode Rating Graph
Sep 2009 - present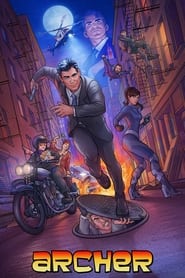 Browse episode ratings trends for Archer. Simply click on the interactive rating graph to explore the best and worst of Archer's 134 episodes.
The best rated episodes of Archer are:
Arrival/Departure S5E13 rated 8.3
White Elephant S5E1 rated 8.2
Sea Tunt (2) S4E13 rated 8.2
The Man from Jupiter S3E1 rated 8.2
Double Trouble S2E13 rated 8.2
Space Race (1) S3E9 rated 8.2
The Rules of Extraction S5E8 rated 8.2
Placebo Effect S2E9 rated 8.1
El Secuestro S2E10 rated 8.1
The Wind Cries Mary S4E2 rated 8.1
The lowest rated episodes of Archer are:
Bort the Garj S10E1 rated 7.4
Identity Crisis S12E1 rated 7.4
Happy Borthday S10E2 rated 7.4
Dining with the Zarglorp S10E4 rated 7.4
Different Modes of Preparing the Fruit S9E3 rated 7.5
Photo Op S12E4 rated 7.5
Strange Doings in the Taboo Groves S9E5 rated 7.5
Road Trip S10E6 rated 7.5
The Leftovers S10E3 rated 7.5
Shots S12E5 rated 7.5
The first episode of Archer aired on September 17, 2009.
The last episode of Archer aired on October 12, 2022.
There are 134 episodes of Archer.
There are 14 seasons of Archer.
Archer is set to return for future episodes.
Best Episodes of Archer
Arrival/Departure

Archer helps Lana with the delivery of her baby, while Krieger tries to prevent the delivery of a deadly weapon.

White Elephant

ISIS is raided and disbanded by the U.S. government when it transpires that the agency was never sanctioned by them. Its former staff discover a hidden vault containing one-ton of cocaine, and form a drug cartel to sell the drugs to fund their retirements.

Sea Tunt (2)

Archer and the ISIS crew go to an underwater SEA LABoratory to stop the deranged Captain Murphy.

The Man from Jupiter

Archer is shocked to learn that his mother is dating Archer's idol/hero/man-crush, Burt Reynolds.

Double Trouble

Krieger works to finish a top-secret project, and Archer brings a mysterious former KGB agent named Katya Kazanova home to meet Malory.

Space Race (1)

Archer and his colleagues at ISIS voyage to the final frontier in an effort to prevent a catastrophe on the International Space Station.

The Rules of Extraction

Archer, Ray, and Cyril raft down a crocodile-filled river while Lana and Pam plan a spa day for Malory.

Placebo Effect

When Archer discovers that the chemotherapy drugs he has been taking are phony, he goes on a rampage against the Irish gangsters behind the scheme. He also makes friends with a fellow marijuana-toking cancer patient (voice of Joan Van Ark). Meanwhile, Cyril learns why Krieger is fluent in Portuguese.

El Secuestro

Pam is abducted by kidnappers who mistake her for Cheryl. It seems that Cheryl wasn't completely forthcoming about her background when she applied for her job at ISIS.

The Wind Cries Mary

Archer and his former best friend are holed up in the Vermont wilderness, fighting hard to come out on top.

Space Race (2)

Archer and the rest of ISIS are held captive by mutineers on the International Space Station.

Un Chien Tangerine

Archer and Lana extract an agent from Morocco only to find out his bark is worse than his bite.

Fugue and Riffs

Archer has amnesia and decides the only cure is a spa weekend.

Lo Scandalo

Malory turns to Archer and Lana for help when she finds herself in a compromising situation with the Italian prime minister.

Deadly Velvet (2)

Things get even deadlier on the set of Deadly Velvet when someone turns up, you guessed it, dead.

The Limited

The Royal Canadian Mounted Police enlist the help of ISIS to transport a captured Canadian terrorist. On a train.

The Honeymooners

Archer and Lana pose as newlyweds to stop a sale of enriched uranium.

Drift Problem

Archer's surprise birthday present - a high-tech, souped-up spy car - leads to all sorts of other surprises. None of which are good.

Skytanic

When a bomb threat jeopardizes the maiden voyage of the luxury airship Excelsior, Archer and the ISIS crew must battle the clock (and each other) to avert disaster.

Mission: Difficult

Archer is trapped inside IIA headquarters and Barry is trapped inside Other Barry.

Sea Tunt (1)

Cheryl's brother Cecil Tunt and his girlfriend Tiffy drive her crazier than usual as they travel into the Bermuda Triangle. Where mysteries abound!.

Crossing Over

Archer's sex life compromises his effectiveness as an agent. But more seriously than the countless other times.

Legs

Archer's fear of cyborgs hits home when Krieger offers to make robotic legs for Gillette.

The Papal Chase

Archer must rescue the Pope from an assassination plot using Woodhouse as a decoy. Operation Bad Habit is a go.

The Kanes

Lana introduces Archer to her parents. Archer introduces Lana's parents to high-speed chases.

Swiss Miss

In yet another attempt to secure funding for ISIS, Malory drags her agents to the luxury winter resort town of Gstaad to protect a Swiss billionaire's daughter from a kidnapping threat. But Archer soon finds out the real threat is his protectee: an underage nymphomaniac who will stop at nothing to bed the world's greatest spy.

House Call

Archer has to stage an intervention for Pam that gets derailed by an unwanted guest.

Skin Game

Archer is faced with a dilemma when his murdered fiance, Katya, miraculously reappears. In Krieger's lab.

Bloody Ferlin

Archer must help Gillette save his younger brother from a crooked sheriff in the backwoods of West Virginia.

A Kiss While Dying

Archer, Pam and Lana travel to Miami to visit some old friends. It's a fondue party!

El Contador

Cyril is promoted to field agent, while Malory institutes a strict drug-testing policy. Neither of which sit well with the staff of ISIS.

Midnight Ron

The beginning of beautiful hatred between Archer and his new stepfather plays out as the two are chased by gangsters.

Live and Let Dine

Archer, Lana, and Cyril go undercover in celebrity chef Lance Casteau's hellish kitchen.

Stage Two

Breast cancer strikes the Archer family---Sterling has it. "I'm trying to stay positive," he says. "I can beat this." But before surgery, he wants to bond with young Seamus (even though he isn't actually the baby's father) and take a Las Vegas vacation.

Skorpio

Archer must rescue Lana from the clutches of Skorpio, the infamous arms dealer. Meanwhile, Cyril fears not only for his girlfriend's life, but her succumbing to the seductive nature of Archer's heroics.

Filibuster

Cyril becomes the new president of San Marcos, Cherlene becomes the first lady of country music, and Archer becomes a resistance fighter.

Smugglers' Blues

Archer travels to Columbia on a secret mission that becomes not so secret after he gets drunk.

White Nights

Archer's search for his father's identity leads him into hot water. Agent Barry Dylan is sent to rescue Archer.

Baby Shower

Archer decides to give Lana the perfect baby shower gift by forcing Kenny Loggins to sing a duet with Cherlene. Something something Danja Zown!
Worst Episodes of Archer
Bort the Garj

Archer and the crew of the Seamus wake up to the smell of shepherd's pie and see a business opportunity in their new guest.

Identity Crisis

Archer and the gang just saved the world from a nuclear catastrophe and their reward is five nights in a rat-infested Moldovan hotel.

Happy Borthday

The crew provides entertainment for Bort while Barry-6 tries to crack Archer's safe.

Dining with the Zarglorp

Deep in space, Archer and the crew encounter a terrifying cosmic beast. Even deeper, they encounter a self-aggrandizing life coach.

Different Modes of Preparing the Fruit

Archer, Pam, and Crackers try to find the missing key to their latest get-rich-quick scheme.

Photo Op

Archer and Lana face off against snakes, crocodiles and mercenaries to reunite a family.

Strange Doings in the Taboo Groves

But there is no joy in Mudville- mighty Pam has struck out.

Road Trip

Daydreams of an interstellar road trip turn into an existential nightmare. Written by Mike Arnold.

The Leftovers

Pam's sandwich ruins everyone's dinner by releasing something deep inside of them.

Shots

Sex, drugs, and monster trucks! Archer and the gang celebrate another barely successful mission.

Operation: Fang

Gillette is in charge of a creepy crawly mission in a tropical jungle.

A Warrior in Costume

Archer keeps an eye out for a past nemesis.

Distraction Action

Archer has a brilliant plan to evade capture. There is only one problem, he refuses to follow it.

Lowjacked

The Agency embarks on a team building exercise that doesn't quite get off the ground.

London Time

A mission across the pond turns into a trip down memory lane for Malory while Cheryl/Carol teaches Pam about British history.

Disheartening Situation

Archer estimates his impact on the world while Pam samples the local nightlife.

Strange Pilot

Archer inserts himself into a domestic dispute and engine troubles threaten to ruin his business.

Sleepers Wake

Lana tries to seduce Archer for a cut of the ransom as he races Figgis and Poovey to collect the money.

Bank Run at Mr. Bank's Bank

Is Fabian asking The Agency to rob a bank? No, because we won't use those words.

Some Remarks on Cannibalism

Archer and Pam try to escape the cannibals with the less-than-willing help of an anthropologist while everyone else races to the idol.

The Big Con

Free drinks, party rooms and swag bags are just a few of the things the gang is not enjoying at the world's foremost spy convention, Clandesti-con!

Colt Express

A mysterious stranger and a scavenger hunt helps Archer and the gang get a jump on their enemies.

The Laws of Attraction

Fabian tasks The Agency with recovering a piece of valuable tech from a nefarious threat, the Swiss!

Bloodsploosh

Archer and the gang attend a martial arts tournament to capture an international arms dealer.

Helping Hands

The Agency attempts to steal experimental technology from a reclusive inventor, but they forgot one vital item... Sterling Archer.

Mr. Deadly Goes to Town

Archer and the crew pick up a hitchhiker and try to convince him to turn his life around.

Cold Fusion

Archer and the gang travel to Antarctica to solve a murder mystery with international implications.

Space Pirates

A voyage home gets interrupted by an alien battle cruiser carrying precious cargo.

Auflösung

Archer discovers that he has a twin brother that works as account manager for the Chinese government.

The Orpheus Gambit

Archer is back in the spy game and his first mission is to guard a priceless statue; then, he must tell Lana his true feelings and get blind drunk.

Out of Network

Archer seeks professional help but IIA's health plan is murder.

Cubert

Archer is convinced a mysterious object is causing the crew to act strangely. Is it magnetic? Is it supernatural? Does it need to be cleaned with some sterile wipes?

Ladyfingers

While investigating a kidnapping, Archer reveals too much about Figgis and Krieger reveals too much about his past.

Saturday

Mommy daughter day turns into a lesson in fellowship and tactical awareness.

Jane Doe

Archer tries to escape from jail with the help of a crazed heiress and a dysfunctional jazz quartet.

The Double Date

Archer shows off his date to Lana. Cyril shows Archer's date a top-secret dossier. Archer's date shows Archer his innermost desires.

Killing Utne

Malory hosts a dinner party for the UN intelligence chairman, Torvald Utne, in an effort to get a new weapons contract for ISIS. Unfortunately, a group of rival assassins have targeted Mr. Utne for elimination.

No Good Deed

Archer tries to find out who killed his partner, but accidentally gets in bed with Mother, a notorious L.A. crime boss.

Berenice

A mysterious woman hires Archer to fake her death but Archer is unable to rise to the occasion.
Archer Episode Guide
Mole Hunt

Archer is in trouble with his Mother and the Comptroller because his expense account is way out of proportion to his actual expenses. So he creates the idea that a Mole has breached ISIS and he needs to get into the mainframe to hunt him down (so he can cover his tracks!). All this leads to a surprising ending.

Training Day

Lana's residual lust for Archer prompts Malory to promote Cyril to field agent. Archer then trains his new competition as only he can, whilst Malory frets over her own past and her son's future.

Diversity Hire

Owing to a rash of agent deaths (the result of Sterling's carelessness), ISIS can't meet government diversity standards. Enter the gruffly elegant Conway Stern, an "onyx" agent who wears a Star of David around his neck. Conway is "a diversity double whammy," gushes Malory, but that and his secret-agent skills aren't the only reasons she hired him.

Killing Utne

Malory hosts a dinner party for the UN intelligence chairman, Torvald Utne, in an effort to get a new weapons contract for ISIS. Unfortunately, a group of rival assassins have targeted Mr. Utne for elimination.

Honeypot

Malory's career is threatened when a sensitive videotape falls into the hands of a rogue (and roguish) Cuban agent, so she calls on Archer's expertise in seduction to turn the tables on her blackmailer.

Skorpio

Archer must rescue Lana from the clutches of Skorpio, the infamous arms dealer. Meanwhile, Cyril fears not only for his girlfriend's life, but her succumbing to the seductive nature of Archer's heroics.

Skytanic

When a bomb threat jeopardizes the maiden voyage of the luxury airship Excelsior, Archer and the ISIS crew must battle the clock (and each other) to avert disaster.

The Rock

After ISIS loses yet another lucrative contract to rival agency ODIN, Malory assigns Archer and Lana to embarrass ODIN by stealing a priceless diamond from their biggest client.

Job Offer

When Archer takes a higher-paying job at rival agency ODIN, Malory will stop at nothing to get him back.

Dial M for Mother

Questions about the identity of Archer's real father lead him into a perilous trap... and an explosive confrontation with Malory.
Shows for Fans of Archer