The Cartel Episode Rating Graph
Jun 2008 - Nov 2010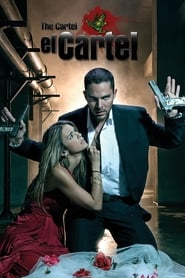 Browse episode ratings trends for The Cartel. Simply click on the interactive rating graph to explore the best and worst of The Cartel's 107 episodes.
The best rated episodes of The Cartel are:
The beginning of the end S2E49 rated 8.0
Dirty Business S2E15 rated 8.0
Unnplaned actions S2E45 rated 7.5
Tortures, Lies & threats S2E44 rated 7.5
Model behavior S2E43 rated 7.5
Tempting addictions S2E38 rated 7.5
A Life For A Life S2E16 rated 7.3
The Art of Trafficking S2E6 rated 7.3
Innocent Fugitives S2E5 rated 7.3
Unfortunate witness S2E48 rated 7.0
The lowest rated episodes of The Cartel are:
Declaring war S2E1 rated 6.0
Undercover cop S2E32 rated 6.0
The finale S2E50 rated 6.0
Hidden Lies S2E2 rated 6.3
Dangerous Agreements S2E3 rated 6.3
Lost Freedom S2E4 rated 6.3
Innocent Guilt S2E7 rated 6.3
Sealing The Deal S2E8 rated 6.3
Instigating Temptations S2E10 rated 6.3
The Protectors S2E19 rated 6.5
The first episode of The Cartel aired on June 04, 2008.
The last episode of The Cartel aired on November 17, 2010.
There are 107 episodes of The Cartel.
There are 2 seasons of The Cartel.
Best Episodes of The Cartel
The beginning of the end

While agent Sam protects Zully from a killer sent by Oliver, the senator sends an assassin to murder Caliche. Pepe is finally captured by the DEA.

Dirty Business

Caremotor is sent to Colombia for prosecution, while Zully's husband threatens her at the clinic and Cabo becomes interested in model Vicky.

Unnplaned actions

Estupiñán faces justice from his countrymen, while Calero arrests Leo. Caliche's wife, meanwhile, grows suspicious about the source of his income.

Tortures, Lies & threats

While Morales learns that Cabo has returned to Colombia, thwarting his revenge plot, Oliver tries to hand over Paredón with help from his niece.

Model behavior

Captured by police after being attacked by Cabo's men, XL resorts to drastic measures, while Calero makes inquiries about Leo and Estupiñán's case.

Tempting addictions

After being chased by the DEA, Rambo hides at Anestesia's. Pepe manages to see his daughter in the capital, while Cabo learns he has colon cancer.

A Life For A Life

In Colombia, Caremotor learns that his family was murdered by Mario's men. Puma tries to kill his wife.

The Art of Trafficking

Pepe buys a rifle in preparation for a showdown over his land, while Pirulo readies to escape prison. Vironcha hides Paredón in a friend's house.

Innocent Fugitives

After police find a stack of cash in his car, Vironcha sends his family away. Paredón plots a murder, while Mario's men target Guillo.

Unfortunate witness

DEA agents capture Paredón, while Rocky is freed on the condition he meet publicly with Johana. Caliche exacts his sly revenge.

Lost innocence

After Vicky provides information on Cabo, Calero launches an operation against the trafficker. Pepe learns of plans to bring his daughter to Madrid.

Survival of the fittest

El Pariente is extradited to the U.S., and Antena feels heat from a junta snitch. Caliche, meanwhile, learns his wife took lovers in his absence.

Pandora's box

Caliche meets with Antenas, while Oliver makes a deal concerning Paredón's whereabouts, and Milton confronts an exporter of hallucinogenic pills.

A new beginning

Caliche gets out of prison, but Primo is captured by Venezuelan police. Cabo kills Gen. Morales' informer, while snitch Zully changes her identity.

Last mission

Olano transfers Doménico's assets to boss Amparo, while Anestesia warns Buñuelo about the lawyer. Cabo's overseas cocaine shipment is intercepted.
Worst Episodes of The Cartel
Declaring war

As drug lords Don Mario and el Cabo begin a gang war, Buñuelo and Pirulo are jailed, and Pepe is freed on probation following his arrest in Miami.

Undercover cop

With help from his henchmen, Caliche prepares to bust Larissa out of jail, while Johana opens up to authorities about the Mexican drug connection.

The finale

Agents Katherine, Sam and Peter return home, while Pajarraco, Mario, and Buñuelo are sentenced in Miami, and Cabo's son and Caliche meet their fates.

Hidden Lies

Pepe strikes a deal with a DEA agent to avoid extradition, while Raymundo listens in on his boss's girlfriend's calls, and Juan B leaves for Colombia.

Dangerous Agreements

Raymundo informs his boss about his girlfriend's calls, while Don Mario plots to kill Caremotor, and Pepe threatens some thugs staked out on his land.

Lost Freedom

Don Mario searches for Caremotor, threatening anyone who might hide his prey. Pirulo talks to Luis Fernando, a Brazilian capo, about a prison escape.

Innocent Guilt

Peter congratulates Pepe on his informant work, while Juan B names Rocky the head of border distribution. Valderrama is delivered to the police.

Sealing The Deal

Madero discovers Caremotor is sending drugs by submarine, while Pepe strikes a deal with Farid. Pirulo learns his accountant surrendered to police.

Instigating Temptations

Larissa flees Caliche's house, but he sends Antenas to find her. Police assault Caremotor at his hideout, while Pepe plans to meet with Farid.

The Protectors

Cabo flees after a shootout at a bar, Rocky and Johanna grow closer and Madero captures a key player.

Mistaken identity

While Andrea surrenders to the DEA to get her son back and El Pajarraco offers to become an informant, XL and Rocky recover their confiscated drugs.

Unexpected Enemy

El Pájarraco tells Madero and Agent Peter about Teto's and Mario's operations, while Antena reveals information on boss Caliche's drug shipments.

The cop and the snitch

Plagued by stomach pain, Cabo visits his doctor, who speculates that he may have colon cancer. Pepe and Anestesia confer with the DEA agent.

Immunity pact

After Rocky confesses his love to Johana, he is captured by Mexican police and the DEA. Through their bosses, Cabo and Mario come to an agreement.

Playing With Fire

Hoping to capture El Golfo, Lilian poses as a prostitute, while XL's men kill Racines in order to keep Mario and Cabo's agreement together.
The Cartel Episode Guide
No episode information found for this season.
Shows for Fans of The Cartel