Fear the Walking Dead Episode Rating Graph
Aug 2015 - present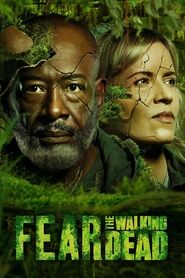 Browse episode ratings trends for Fear the Walking Dead. Simply click on the interactive rating graph to explore the best and worst of Fear the Walking Dead's 107 episodes.
The best rated episodes of Fear the Walking Dead are:
Children of Wrath S3E8 rated 7.9
Wrath S2E14 rated 7.9
The Good Man S1E6 rated 7.8
Brother's Keeper S3E12 rated 7.8
100 S3E4 rated 7.8
North S2E15 rated 7.8
Sleigh Ride S3E16 rated 7.7
The Unveiling S3E7 rated 7.7
The End Is the Beginning S6E1 rated 7.7
Things Bad Begun S3E15 rated 7.7
The lowest rated episodes of Fear the Walking Dead are:
Amina S7E15 rated 6.7
In Dreams S6E12 rated 6.8
Reclamation S7E6 rated 6.8
Mourning Cloak S7E10 rated 6.9
Follow Me S7E9 rated 6.9
Remember What They Took from You S8E1 rated 6.9
Six Hours S7E2 rated 6.9
Channel 4 S5E9 rated 6.9
The Raft S7E13 rated 7.0
Divine Providence S7E14 rated 7.0
The first episode of Fear the Walking Dead aired on August 23, 2015.
The last episode of Fear the Walking Dead aired on June 04, 2023.
There are 107 episodes of Fear the Walking Dead.
There are 8 seasons of Fear the Walking Dead.
Fear the Walking Dead is set to return for future episodes.
Best Episodes of Fear the Walking Dead
Children of Wrath

Madison must negotiate the terms of an agreement in the midst of ranch-wide turmoil. Nick and Alicia challenge their mother's motives.

Wrath

Travis is thrown off by new refugees; Nick must decide if he's going to stay at the Colonia with Luciana or leave.

The Good Man

As civil unrest grows, and the dead take over, Travis and Madison try to devise ways to protect their families.

Brother's Keeper

Nick and Jake set out to handle a delicate situation; the Ranch prepares for a threat greater than any they've faced before.

100

A mysterious character searches for purpose and soon becomes tied to the struggle over a key resource in the apocalypse.

North

When Travis' rage causes unrest at the hotel, Madison has to choose whether or not she will stand by him; Nick becomes leader of the Colonia as Narcos close in.

Sleigh Ride

Madison faces a horrifying revelation.

The Unveiling

A new arrival sows a divide within the ranch. Meanwhile, Alicia forms a new relationship in the hopes of maintaining peace.

The End Is the Beginning

Mortally wounded Morgan must decide whether to help a desperate stranger while a mysterious bounty hunter tries to finish what Ginny couldn't.

Things Bad Begun

Strand's motives are made clear when Nick discovers a new threat descending on the dam.

Things Left to Do

Ginny and Morgan have a standoff—but this time Ginny is outgunned.

This Land is Your Land

With the Ranchers trapped and without hope, Alicia is thrust into a position of leadership where she's forced to make life-changing decisions.

Good Out Here

Madison and Morgan try to help Nick find inner peace. A quest for revenge exacts its toll on the group.

Eye of the Beholder

The Clark family find themselves in a dire predicament. They must work together to discover a path to safety.

What's Your Story?

A lone traveler's wearying journey is interrupted by new acquaintances, some who become friend, others who become foe.

The Key

John is settling in as one of Virginia's rangers when a mysterious death sends him on an investigation that makes him question everything he thought about himself.

Laura

The arrival of a wounded visitor in John Dorie's life forces him to change his ways.

I Lose People...

The group's hope falters as they seek a way out. Alicia and Charlie reunite with friends.

The Door

With a decimated militia and scarce resources, the survivors are running out of options.

Blood in the Streets

A family in distress boards the Abigail. Strand branches off and his past begins to emerge. Nick searches for an associate of Strand's.

Burning in Water, Drowning in Flame

A new threat reveals itself to Madison and Troy as they search for answers. Alicia must reconcile with her past decisions.

Blackjack

Strand and Dorie are marooned. Luciana aids a man in need. The group's efforts to help a stranger put everyone in danger.

Do Not Disturb

Travis has a hard time connecting with Chris while looking for shelter; Alicia meets a woman with a bloody past.

La Serpiente

Following the rekindling of an old friendship, a mission is launched to replenish the Ranch's water supply by seeking the help of another community.

The Dog

After they escape a riot, Travis, Liza and Chris seek refuge with the Salazars; Madison defends her home.

Welcome to the Club

Virginia forces Alicia and Strand to clear an unusual walker threat, where an encounter with a new ally gives Strand an idea that could be the key to their freedom.

So Close, Yet So Far

While Madison struggles to keep Nick from crippling withdrawal, Travis ventures out to find his son before the city of Los Angeles falls.

The New Frontier

Following a harrowing journey, the Clark family arrive at their new home. Strand faces resistance as he attempts to hold power over his domain.

J.D.

June splits off from the group in an effort to gather any information to help stop an oncoming threat.

No One's Gone

Madison fights to preserve the life she worked so hard to build. Morgan tries to do the right thing.

Another Day in the Diamond

A troubled survivor finds allies in an unexpected place. Meanwhile, the life Madison has fought to build comes under threat.

Alaska

Al and Dwight go rogue on a recon mission for Ginny to follow a lead thought lost, but Al must choose between what she has now and what she's chasing.
Worst Episodes of Fear the Walking Dead
Amina

As the survivors prepare to escape the area by raft, Alicia turns back to save one more person trapped in the fallout.

In Dreams

Grace wakes up with her memory blurred and sees what her world's become years later.

Reclamation

Morgan searches for Al, only to discover that he's not the only one looking for her, and that his search may have put a target on his own back.

Mourning Cloak

When Charlie shows up at the Tower unexpectedly, Howard recruits a young Ranger in training to determine the reason for her visit; as they journey beyond the Tower together, Charlie's true motives are revealed.

Follow Me

Alicia takes refuge in the home of a mysterious stranger. With her fevers growing worse and Arno pursuing her at every turn, Alicia is forced to confront the failings of her past and how she will face her future.

Remember What They Took from You

After going undercover at PADRE, Morgan and Madison find themselves back at odds trying to do what's best for Mo while struggling to accept their new lives under the watchful eye of PADRE.

Six Hours

As Morgan, Grace and Mo struggle to adapt to life on the submarine, a food shortage forces them to face the nuclear fallout outside the sub.

Channel 4

The group, traveling in a convoy, doubles-down on their mission to find and help survivors.

The Raft

Morgan and Alicia plan their next steps; Dwight and Sherry face the prospect of having to choose between their code and their safety.

Divine Providence

As the battle for the Tower heats up, Alicia brings the fight to Strand's front door.

Ofelia

Luciana and Wes test the limits of their patience when Daniel's worsening mental state ends up endangering them all.

Channel 5

The group searches for a new home; concerned for Grace, Morgan makes a tough call.

Sonny Boy

When baby Mo goes missing inside the Tower, Dorie Sr. finds himself in a unique position to prove his worth to an increasingly paranoid Strand.

Gone

Morgan finds a new ally who turns out to be more trouble than he bargained for.

Cindy Hawkins

June and Dorie's routine in Teddy's fallout shelter is disrupted when they discover the origins of their home and its sinister connections to Teddy's past.

Till Death

With a code to guide them, Dwight and Sherry become ethical outlaws known as the Dark Horses. When Strand recruits them for a search and rescue mission, it forces them to question their code and their future.

Breathe with Me

Against the advice of the group, Sarah searches for Wendell, and in the process encounters a dangerous survivor who forces her to take part in a search of his own.

You're Still Here

Alicia and Strand answer a call for help; Morgan and Al hit a roadblock.

Ner Tamid

In search of a permanent home, Charlie encounters a rabbi struggling to survive on his own.

Today and Tomorrow

A survivor sends Al and Morgan into a dangerous settlement where Al chases a lead.

The Beacon

While most of the landscape is destroyed by nuclear warheads, Strand thrives in one of the few inhabitable places left; Strand's search for survivors uncovers a stranger with an unexpected connection to his past.

The Little Prince

Facing impossible odds, Luciana and the group work together to tackle an impossible task while Morgan helps prevent disaster. Elsewhere, an old friend presents Sarah, Charlie, and Strand with a solution

Blue Jay

After fleeing PADRE, June's safety and solitude are threatened by an unwelcome reunion with Dwight and Sherry and a desperate father's search for his missing daughter.

People Like Us

Morgan tries to help Alicia and the fractured group of survivors as a storm brews.

Grotesque

Nick's search for answers leads him into a deadly dog-eat-dog landscape. A dark time from his past is uncovered.

Odessa

Mo's hunt to prove PADRE's true intentions has her in over her head as she's drawn into the larger web of secrets and subterfuge of the adults who care for her.

Weak

June helps when Al's health deteriorates; Morgan searches for friends lost in the storm.

The Hurt That Will Happen

Morgan and Alicia meet a survivor and learn of a grave new walker threat. Meanwhile, the mission is put to the test when one of their own goes missing. Elsewhere, Strand makes contact.

Close Your Eyes

Alicia's forced to reckon with an agonizing past while seeking refuge from a storm.

210 Words Per Minute

Morgan and Grace search a shopping mall to fulfill a dying man's wish; Dwight is tested.

King County

Morgan's return to King County gets complicated when PADRE comes to collect.

Still Standing

Strand and Charlie seek safety. Dorie helps Dwight on his quest. Morgan stays focused on the greater mission. Elsewhere, Alicia refuses to give up.
Fear the Walking Dead Episode Guide
Pilot

A highly dysfunctional blended family is forced together when they realize a reported virus is actually the onset of the undead apocalypse.

So Close, Yet So Far

While Madison struggles to keep Nick from crippling withdrawal, Travis ventures out to find his son before the city of Los Angeles falls.

The Dog

After they escape a riot, Travis, Liza and Chris seek refuge with the Salazars; Madison defends her home.

Not Fade Away

Madison and Travis see different sides of the National Guard's occupation in their neighborhood; the family tries to adapt to the new world.

Cobalt

The National Guard's plan for the neighborhood is revealed; Travis and Madison make a difficult decision.

The Good Man

As civil unrest grows, and the dead take over, Travis and Madison try to devise ways to protect their families.
Shows for Fans of Fear the Walking Dead