Naked and Afraid Episode Rating Graph
Jun 2013 - present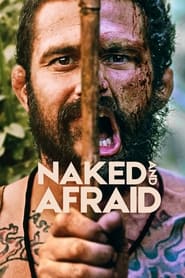 Browse episode ratings trends for Naked and Afraid. Simply click on the interactive rating graph to explore the best and worst of Naked and Afraid's 160 episodes.
The best rated episodes of Naked and Afraid are:
Little Person, Big Challenge S11E2 rated 8.5
Man Vs. Amazon S2E1 rated 8.0
Welcome to America! S15E1 rated 8.0
Shaken and Very Stirred S11E11 rated 8.0
Naked and Ghosted S11E5 rated 8.0
Bahama Drama S11E3 rated 8.0
Feel The Burn S10E21 rated 8.0
Stalked on All Sides S10E11 rated 7.9
Stomping Grounds S10E7 rated 7.8
Don't Let the Jungle Bugs Bite S10E15 rated 7.8
The lowest rated episodes of Naked and Afraid are:
Twinning S11E1 rated 6.3
Blood, Sweat And Fears S11E8 rated 6.5
Meltdown on the Mountain S10E16 rated 6.8
Biting Back at Africa S11E10 rated 6.9
Close Encounters S11E6 rated 7.0
From the Ashes S6E4 rated 7.0
Kalahari Cold Front S15E5 rated 7.1
For Better Or A lot Worse S10E14 rated 7.1
Mile-High Clubbed S12E2 rated 7.1
Hangry S7E3 rated 7.1
The first episode of Naked and Afraid aired on June 23, 2013.
The last episode of Naked and Afraid aired on April 30, 2023.
There are 160 episodes of Naked and Afraid.
There are 15 seasons of Naked and Afraid.
Naked and Afraid is set to return for future episodes.
Best Episodes of Naked and Afraid
Little Person, Big Challenge

Underestimated his whole life, a survivalist with dwarfism tries to prove himself in the Amazon but struggles against predators and his partner.

Man Vs. Amazon

Amanda "AK" Kaye and Tyler Steinle failed to survive in the Amazon rainforest after tapping out, season 1 castaways EJ Snyder and Laura Zerra arrive to complete AK and Tyler's 21 day journey.

Welcome to America!

Two foreigners try to become the first survivalists to endure 21 days on U.S soil. But rattlesnakes, unfamiliar terrain and plummeting temperatures threaten to send them back across the pond.

Shaken and Very Stirred

A powerful earthquake in the Philippine jungle rattles a thrill-seeking chef and a competitive hockey mom, but the territorial monkeys, rainstorms, lack of food, and dehydration lead to a disastrous face-first fall.

Naked and Ghosted

In a brutal Mexican jungle known to be haunted by Mayan spirits, All-star survivalists Sarah and Trent are tormented by rain, predators and spirits of the rainforest.

Bahama Drama

In the Bahamas two fans face relentless insects and aggressive sharks during hurricane season.

Feel The Burn

Dropped into Guyana's scorching savannah, two Naked and Afraid superfans fight the oppressive heat and constant insect attacks. Scorching temperatures lead to severe dehydration and force a desperate fan to risk illness by drinking unsanitary fluids.

Stalked on All Sides

Kel and Eric try to avoid becoming preys to Africa's wild animals

Stomping Grounds

Elite survivalists Matt Wright and Gary Golding are tested by deadly spitting cobras and territorial elephants in an African killing zone. But Matt and Gary aren't alone each must protect a novice survivalist from the threats surrounding them.

Don't Let the Jungle Bugs Bite

Avoiding the dangers of a rushing river, two survivalists brave a vast cave system in the Colombian rainforest; trying to survive 21 days, the jungle tests them with threats including venomous fer-de-lance snakes, piranhas and biting insects.

Legends and Rookies

Legend survivalists Max and Rylie are dropped in the South African bush with two novice fans to try and survive 21 days with spitting cobras, aggressive warthogs, rhinos and leopards.

The Spirits Are Angry

A haunted Colombian rain forest punishes the survivalists with threats from deadly jaguars, 300 species of snakes and relentless biting insects. But their challenge is threatened when they don't heed the curse of the jungle.

Naked Gets Weird

Surviving 21 days Naked in the wilderness leads to weird and awkward moments. From bizarre pre-challenge prep and mortifying naked intros, to night-time cuddling gone wrong and learning wildlife bathroom routines the hard way, Naked and Afraid gets weird

Stalked on the Savannah (Part 1)

In sun-scorched Brazil, survivalists Wes and Jesse try to complete their 21-day challenge, but a jaguar crossing into their camp puts them on high alert. Starvation forces Jesse to attack a beehive in search of honey and the entire colony retaliates.

Two is a Crowd

Survivalist Lynsey copes with her lone-wolf partner Darvil in South Africa.

Baked Alaskan

A deadly spider bite puts Gwen, an Alaskan homesteader at risk of tapping but she works with her partner to get her revenge, in the 130-degree heat of the Mexican jungle.

Two Tarzans, One Jane

When a third survivalist is added to the mix, romantic complications make surviving the Colombian jungle's poisonous dart frogs and deadly jaguars much more complicated. Feeling left out, a survivalist's emotional breakdown puts his challenge at risk

Arachnid Overload

A survival-savvy yoga teacher and a custom knife maker tackle the brutal jungle of Colombia. Their primitive survival skills are impressive, but the deadly spiders and tics test both their courage and resilience, threatening to take them down.

A Tangled Web in Texas

Tarantulas and desert heat test an adventurer and archaeologist in Texas.

Primal Fear

Lindsey Leitelt and Luke McLaughlin challenged in a dense harsh land in Namibia.

Baskets and Bullet Ants

All-stars Fernando and Dani land in a rainforest in Ecuador for their third challenge, where jaguars, caiman, anacondas and bullet ants are on the prowl; their divergent approaches to primitive survival might do them in.

Dunes of Despair

Honora Bowen and Matt Strutzel survive hunger and dehydration in Brazil's North Region. Despite Honora passed out from severe heat, Matt completes the challenge all alone.

Himalayan Hell

Hakim Isler and Phaedra Brothers tackle the high altitude and extreme cold of the Himalayan foothills in northern India. Phaedra battles food poisoning from before her arrival and suffers through bladder and kidney infections.

Gag Me with a Turtle

Two fan survivalists are in over their head in brutal South Africa.

What the Duck

Two fan survivalists are dropped on a Mexican island filled with venomous coral snakes, territorial jaguars, blood-sucking chiquistas and a duck named Henry that they desperately want to eat for dinner.

Don't Cave In

In the relentless Colombian jungle, a mom and National Guard vet teams with a firefighter. Violent storms and hypothermic conditions force them to huddle in bat-infested caves. A special bond develops between a survivalist and a wild monkey.

Colombian Conflict

Charlie, a no-nonsense New Yorker, and Danielle, a nature-loving vegetarian, attempt to survive for 21 days in the deadly Colombian jungle.

Stalked On The Savannah (Part 2)

In sun-scorched Brazil, survivalists Wes and Jesse try to complete their 21-day challenge, but a jaguar crossing into their camp puts them on high alert. Starvation forces Jesse to attack a beehive in search of honey and the entire colony retaliates.

Loaded for Bear

Surrounded by aggressive and territorial black bears day and night, two survivalists must compete against the apex predators for resources in the Smoky Mountains of Tennessee.

Amazoned Out

Superfans Molly and Nate are dropped deep in the Amazon rainforest, a place that's taken down the best of the best; they lean on lessons learned from their couches to push through torrential rain, relentless bugs, and extreme sleep deprivation.

Frozen and Afraid

Dropped onto a frozen Alaskan Glacier, All-Star survivalists Laura Zerra and Steven Hall scramble to stave off frostbite and hypothermia. And 7,000 miles south, two new survivalists take on a sun-scorched Brazil island, with anaconda and deadly stingray.

Haunted and Hungry

A former Marine sniper and a Mississippi mom try to endure 21 days in a haunted Colombian swamp. But extreme humidity, insects and infection prove more difficult to endure than any legends.

USA vs. World

Two teams of international survivalists attempt to endure in South Africa.

Trouble in Paradise

Torrential downpours and brutal wind storms push two starving survivalists to their breaking points in the Honduran jungle.

Jungle Love

Jaclyn McCaffrey and Adam Young survive in Nicaragua for battling with dehydration and freezing temperatures.

Lost at Sea

Two survivalists are stranded at sea and have to survive for 21 days with no food, water or clothes. They must put their skills to the test to overcome deadly sharks and heatstroke that threaten their survival.

Hell or High Water

A special ops veteran teams up with a single mom to fight torrential rains, flash floods and sickness in Thailand's Sai Rung River Valley. The pair puts their skills to the test before the river leaves them stranded from the crew.

The Death Ledge

Three young survivalists test their skills in the coastal rainforest of Ecuador, where they risk their lives scaling a massive rock cliff to forage for food.

Battle of the Sexes

Two women and two men face off in South Africa to see who can survive 21 days. Pursued by leopards, lions, and hyenas, who will tap first — the men or the women?

Fire and Fury

Stalked by aggressive leopards and unable to get fire for protection, two survivalists fight the elements and each other as they look for double redemption on a predator-filled plain in South Africa.

Alligator Alley

An Army mom and a U.S. marine battle alligators, snakes and mosquitoes in the Florida Everglades.

No Safety In Numbers

Two pairs of survivalists are surprised when they must take on the deadly jungles of Panama side-by-side. But before their 21-day challenge begins, they have to re-think their survival strategies along gender lines.

Redemption Road

A past contestant returns to the show and along with her partner attempts to survive the jungles of Guyana.

Blindsided

A dangerous burn and clashing survival strategies plague survivalists Angela and Steven in the jungles of Panama.

Honeymoon From Hell

A married couple goes from watching the challenge from their couch in Idaho to taking it on in the perilous Philippine jungle. Torrential rain, relentless bugs and deadly boars put their survival skills -- and their marriage to the ultimate test.

Beware the Bayou

Billy Berger and Ky Furneaux survive 21 days in the swamps of Louisiana. They risk attack from deadly snakes and alligators.
Worst Episodes of Naked and Afraid
Twinning

In an unprecedented Naked and Afraid challenge, identical twin sisters Amber and Serena, as well as brothers Warren and Thomas, are dropped in the African savannah. They take on rhinos, hyenas and a territorial leopard stalking their camp.

Blood, Sweat And Fears

Two survivalists gets frustrated while trying to navigate the flooded jungles of Belize; the man-and-woman team faces a maze of poisonous snakes and rabid bat infested caves, all in the name of conquering their fears.

Meltdown on the Mountain

Dropped into a high-altitude jungle in Colombia, Tommy and Leah face territorial Pumas and venomous fer-de-lance snakes, but the biggest threat is the extreme temperature changes, where highs hit nearly 100 degrees and lows plummet into the 40s.

Biting Back at Africa

In a unique four-person challenge, a lion attack survivor returns to Africa to face her fears. Surrounded by lions, crocodiles and cape buffalo, the tribe of four struggles against constant threats and each other as they try to survive in a kill zone

Close Encounters

Two strangers are dropped in one of the most dangerous African locations in the dead heat of Summer. Faced with aggressive hippos and charging elephants they quickly learn their place, but must mark their territory if they want to make it 21 Days.

From the Ashes

Two survivalists team up to tackle the swampy shore of Croatia. A strong partnership is forged through braving the elements and facing their demons, but everything takes a turn for the worst after a freak accident.

Kalahari Cold Front

Jaclin, a paralegal, and Michael, a fishing boat captain, take on 21 days in the mighty Kalahari desert of South Africa, one of the largest stretches of sand in the world.

For Better Or A lot Worse

The first couple to ever take on the 21-day challenge tests themselves and their relationship as they take on the Guyana jungle. They must work together to battle jaguars, anacondas, caiman, and more than two-million species of insects.

Mile-High Clubbed

The mile-high altitude of the Rockies tests two strangers' ability to adapt.

Hangry

Former Marine Tim, and Shannon, a stonemason take on armies of stinging red ants and bubbling mud volcanoes on the Caribbean island of Trinidad. Even with this daunting location working against them, their biggest struggle is actually each other.

Botswana Breakdown

Ashley Burns and Michael Jefferson attempt to survive dazzling heat in Botswana. Ashley medically evacuated on day 3 after suffering dizziness, while Michael tapped out on day 12 after hurting his kidney.

Night Stalkers

A wilderness guide and a software engineer try to endure 21 days in the Botswana desert. But at night, their safety is threatened by roaming lions and aggressive elephants.

Rain of Terror

A mom and an adventure addict drop into the cloud forest of Ecuador; unbearably wet conditions, violent lightning, cabin fever, trench foot and finger-slicing machetes threaten to keep the pair from completing their 21-day challenge.

Just Kidding

Being naked in the jungle with a complete stranger can lead to funny moments, and laughter can be a critical skill when trying to survive through blood, sweat, tears, snake bites, burns, and rashes in hard to reach places.

The Labyrinth

Two survivalists take shelter in a labyrinth of caves in Colombia.

Contamination

A stay-at-home mom and a trucker try to survive in a Philippine forest after a typhoon scatters debris everywhere. Combating sickness and no food, they come together and ward off hunger by eating a skunk.

Come Hell and Black Water

Florida's brutal black water swamp pushes a hard-headed homesteader and an elite military Alpha male to their limits. Threatened by venomous snakes, dangerous wild boar and torrential rains, the clashing survivalist must work together or fail alone.

Valley of the Leopards

Fan survivalist Matt, notorious for his former partner sharting in their water source, teams up with environmentalist, Kerra, to take on 21-days in Zambia. Dropped in a valley teaming with leopards, will he have another environmental disaster?

The Haunted

Two complete strangers - man and woman- are left naked and stranded on a desert island.

Stone Cold

An Army vet and a newly married man grapple with gender norms as they take on the mountains of Croatia; extreme hunger and frigid temperatures force this unlikely pair to bond together, but a vicious storm threatens to rip them apart.

Stars Against the Storm

All-Stars Wes and Suzänne take on Ecuador's relentless rainforest

No Gear, No Fear

A professional backpacker and an experienced hunter attempt to survive 21 days without their high-end gear in a swampy Argentine savanna teeming with mosquitoes, aggressive bees and violent subtropical storms.

Bro, Hold My Fear

Four male survivalists who tapped in previous challenges seek redemption in South Africa. Humbled by their past failures, can they make it to 21 days and triumph as a tribe?

Opposites Don't Attract

A wilderness EMT and a hard-headed homesteader try to survive in a coastal Colombian jungle. But when their priorities clash, their partnership becomes volatile.

Melt Down Under

An adventure guide and a veteran take on Australia's Outback and face brutal terrain, freezing temperatures and lack of sleep. However, their greatest danger may be each other when cultural differences cause tempers to flare.

Washed Out

An extreme athlete and a book smart bartender tackle an Ecuadorian cloud forest where it rains daily. Will their inability to know their own limits eventually get the best of them or will Mother Nature strike the final blow in this Naked and Afraid first?

A Screw Loose

In a haunted Mayan jungle, a painful injury tests the resolve of survivalists Leah and Caesar. Surviving is a struggle as they are faced with suffocating humidity, hungry predators, torrential rainfall, unrelenting insects and intoxicating fruit.

The Devil's Woods

The frigid Montana wilderness pushes the survivalists' partnership over the edge. As they struggle to work together, wildlife including bears and aggressive moose circle their camp. Plummeting temperatures create the need for drastic action.

Eye Of The Storm

Two survivalists take on the Belize Jungle to survive for 21 days with no food, water or clothes. They must put their skills to the ultimate test to overcome a catastrophic hurricane and predator-filled environment.

The Danger Within

A resilient mom from Washington and a quirky spider-lover tackle the remote Seminole Forest of Florida. Terrorized by huge gators and 550-pound black bears, they are driven to their physical and emotional breaking points.

The Swarm

Tara Skubella and Dustin Hobbs must endure the jungles of Panama's Isla San José, where disease-carrying insects may prove to be the team's greatest threat.

Abandoned Village

Two survivalists try to endure 21 days in the wreckage of an abandoned village in Botswana's Okavango Delta, where aggressive hippos have claimed the territory.

Next Gen Survival

For the first time, two young adult kids of veteran survivalists try to prove they are as good as their parents when they take on 21-days in a dense Mexican rainforest where they face pumas, jaguars, and deadly fer de lance snakes.

Trying To Deal With The Devil

Deep in Mexico's Baja desert lies the scorching wasteland of the Devil's Canyon. A Canadian mountain man teams up with an experienced homesteader to take on the canyon's triple-digit heat, scarce water, and venomous predators

Texan Torture

A surfer from Hawaii and an ex-military take on the Texas countryside, surrounded by armadillo, bighorn sheep and vicious wild boar; as they battle starvation and face a potentially fatal flood, their skills get fully put to the test.

No Rain, No Gain

Torrential downpours hammer the survivalists as soon as they're dropped into the Georgia rainforest. Pushed by the weather, mountain lions, black bears and poisonous copperheads, the pair create a bond that leads to a life-changing decision.

All or Nothing

Hunter Jeremy McCaa and surfer girl Cassidy Flynn must survive on West Nalaut Island in the Philippines.

Sucker Punched in South Africa

Heather, a pro-angler from Texas, Sean, son to the late astronaut, William McCool, and Dallas, a reformed ex-con, take on 21 days in the searing heat of Limpokwena, South Africa.

In Too Deep

On the edge of the Bermuda Triangle, an Army veteran dive master and a Cajun boat captain take on relentless thunderstorms and battle dehydration as they try navigate more than 20 miles of open ocean in the ultimate test of sink or swim.

Monkey Business

An Australian bushman and an American biologist form an intimate bond as they take on the Namibian desert together. The relationship grows as they search for scarce food along a thin stretch of raging river whole territorial baboons track them at every turn.

Hearts of Darkness

Carrie Booze and Tom Touw survive with crocodiles and extreme heat in Cambodia.

Beauty and the Beasties

An expert bow-hunter and Air Force Vet hope to survive in deadly Zambia.

Bite Me

Surrounded by crocodiles, leopards and venomous snakes, survivalist band together against the South African bush. But scorpion and aggressive tick -- in the most vulnerable parts of the body -- put their challenge at risk.

Ashes to Ashes

A survival instructor and a retiree of the armed forces are inserted into the volcano-ravaged island of Montserrat; they have different survival styles but find a way to work together, then one accident has an eruptive effect on both.

Curse of the Chiapas

A football coach and midwife attempt to overcome the curse of Chiapas, Mexico, a location so daunting that no survivalist has completed 21 days. But their radically different approaches to survival hurt their ability to endure.

Mayan Sacrifice

Luke, a go-getter from Southern California, and Alyssa, a positive survival instructor, take on the rugged coast of the Yucatan.
Naked and Afraid Episode Guide
The Jungle Curse

Shane Lewis and Kim Shelton have to survive 21 days in the Costa Rican jungle, where a producer has survived a venomous snake bite.

Terror in Tanzania

Survivalists EJ Snyder and Kellie Nightlinger survive in Tanzania's Serengeti Plain, putting their skills to the ultimate test.

Island From Hell

Jonathan Klay and Alison Teal are marooned in the Maldives for 21 days and clash with sunburn and starvation.

Punishment in Panama

Clint Jivoin and Laura Zerra have to stay 21 days on a Panamanian island, plagued with sand flies and threatened by snakes.

Breaking Borneo

Survivalists Puma Cabra and Julie Wright have to survive 21 days in Borneo. They battle with sickness, starvation, and wildlife.

Beware the Bayou

Billy Berger and Ky Furneaux survive 21 days in the swamps of Louisiana. They risk attack from deadly snakes and alligators.
Shows for Fans of Naked and Afraid