One on One Episode Rating Graph
Sep 2001 - May 2006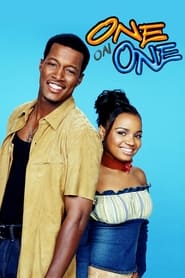 Browse episode ratings trends for One on One. Simply click on the interactive rating graph to explore the best and worst of One on One's 113 episodes.
The best rated episodes of One on One are:
Daddy's Other Girl S2E13 rated 9.0
Radioactive Platonic S1E3 rated 8.5
When Flex Got Breanna S1E1 rated 8.4
Shock Jock S4E12 rated 8.0
Lost In The Headlights S4E10 rated 8.0
Who Brought The Jive Turkey? S4E9 rated 8.0
Daddy's Home S4E8 rated 8.0
We'll Take Manhattan S4E1 rated 8.0
The Prodigal Brother S3E21 rated 8.0
Cabin Fever S3E18 rated 8.0
The lowest rated episodes of One on One are:
Manic Monday S4E6 rated 4.3
Keeping It S3E8 rated 5.0
Bright Lights, Big City (2) S3E24 rated 5.0
It's a Mad, Mad, Mad Hip Hop World S3E14 rated 6.0
Dirty Laundry S4E4 rated 6.0
Save The First Dance S4E20 rated 6.0
Jailbait S1E2 rated 6.2
Misery S1E21 rated 6.5
Unemployment Up, Pride Down S2E3 rated 6.5
Everybody Loves Whom? S2E11 rated 6.5
The first episode of One on One aired on September 03, 2001.
The last episode of One on One aired on May 15, 2006.
There are 113 episodes of One on One.
There are 5 seasons of One on One.
Best Episodes of One on One
Daddy's Other Girl

Flex's little sister, Bernadette has come to Baltimore to announce to her brother that she has given up her sucessful career in law to become a fashion model. Flex tries to figure out how to break the news to their dad. Meanwhile when Breanna gets a baby from her Home Economics class Josh and Arnaz become competitive to be it's father.

Radioactive Platonic

Flex gets his first taste of what it's like to be an overprotective father when, Tracy, Breanna's best friend from Atlanta, comes for a weekend visit and is revealed to be a 16-year-old boy. The situation becomes even more complicated when Breanna discovers that she may have more than friendly feelings for Tracy and seeks out dating advice from Flex's girlfriend, Tonya. Meanwhile, Duane makes a bird-brained attempt to get an autograph from the retiring Cal Ripken Jr.

When Flex Got Breanna

Baltimore sportscaster Mark ""Flex"" Washington finds his bachelor's paradise disrupted when his feisty 14-year-old daughter, Breanna, comes to live with him full-time. Flex is used to the carefree life of a young single man, complete with junk food, sports and women. Breanna is accustomed to no rules and all fun when she visits her dad for two weeks a year. But when the demands of her mother's new job make it necessary for Breanna to move in with her father for the foreseeable future, Flex must adjust to raising a teenager on a day-to-day basis. In the series premiere, Breanna's jealousy of Flex's date causes her to act out, straining their relationship.

Shock Jock

After making some comments on his show ""Flex Files."" Flex jeopardizes Breanna's chances of getting college scholarships from some organizations who think Flex is a pig. And also Duane secretly sells the uniforms that Spirit made for him as a favor.

Lost In The Headlights

Breanna wants to stuff her bra so she could appear in a national commercial at a movie-themed restaurant, where women with large breasts are the main attraction.

Who Brought The Jive Turkey?

Breanna plans a perfect romantic Thanksgiving Dinner for Arnez and her. But later in turns sour when his friends show up. Meanwhile Flex wants to have a nice dinner with his neighbor Danielle but Flex accidentally stumbles upon a support group for singles, all of who have dated Flex.

Daddy's Home

When Arnez hires a sexy back up singer for his band, Breanna is full of envy. Beacuse she thinks that Arnaz may have a passion for more than just the music.

We'll Take Manhattan

After running away to New York City, Breanna, Spirit and Arnaz quickly learn that fame and fortune is hard work after spending the night in a grungy apartment with other starving artists and being forced to panhandle for money. But when Breanna gets advice from a friendly stranger named Glinda who sends her to see ""A Raisin in the Sun,"" she realizes what is most important to her. Meanwhile, after learning that Breanna has run off with Arnaz and Spirit to New York City, a frantic Flex drags Spirit's mom Leilani and Duane to the city to find their kids and bring them home.

The Prodigal Brother

When his career as ""hairdresser to the rap stars"" ends abruptly, Flex's younger brother Kevin returns home hoping to take over the family barbershop, but after Flex sells it out from under him, he agrees to let Kevin stay on as manager. Later, Flex and Kevin team up to confront Kevin's former employer, a gangster rapper, in order to get the money he owes Kevin. Meanwhile after Flex grounds her Breanna tries hard not to break her punishment.

Cabin Fever

Flex becomes jealous when Breanna starts to admire her Drama teacher more than her. He gets soo jealous that he goes to McKinley Highschool just to tell the teacher off, but because of a huge snowstorm he, Breanna and the entire school gets snowed in. Meanwhile because of the snowstorm Duane is the only one left in the building soo he tries to find ways to entertain himself. Also Flex's father comes back from a trip and helps Flex out with his jealousy.

The Catch

Breanna and Spirit hold audition for a new cheerleader on their cheerleading squad. So far all the people who try out suck except for one girl who just recently moved to Baltimore and transferred to McKinley. Her name is Charlotte and not only does she make the squad but she and Breanna quickly become friends. While getting to know each other Charlotte tells Spirit and Breanna that even though she just moved to Baltimore she was still here over the summer visiting her Grandmother. Charlotte also mentions that during the summer she met a guy and had sex with him. Breanna and Spirit get really curious and ask her who and she says Arnaz! When Breanna discovers that she's the girl that Arnaz lost her virginity too this makes Breanna mad putting a dent in her new friendship with Charlotte. The next few days Breanna starts to treat her really cruelly, but Spirit knocks some sense into Breanna by saying that she should really be mad at Arnaz. During the annual school cheer-off Breanna and Cha

East Meets East Coast

The Korean shop-owner next to Flex's barbershop raises unexpected objections when his daughter begins a mini romance with Flex.

The One About Your Friends

Natalie wants to spend more quality time with Flex but he wants to have time for himself to watch his sports games, so she starts to spend time with Duane instead. When Flex finds out he becomes jealous. Meanwhile at a sleepover Breanna discovers that Spirit has kissed Arnaz before, causing a problem in their friendship.

Me and My Shadow

When a music contest comes up Flex and Duane decide to have a reunion with their highschool band ""Midnight Gold"", but during rehearsal Duane turns out to have an incredible singing voice and the band wants him as leader instead of Flex but will he remain in Flex shadow forever or will he finally stand up to Flex and make something out of himself? Meanwhile when Tiffany gets a broken ankle she tricks Breanna into being the coach of the cheerleaders for revenge, but in the end Breanna's efforts on the team helps them win a cheerleading trophee award which Tiffany decides to take credit for.

Let's Wait Awhile

While Breanna is away on a school ski trip, Flex snoops into her room where he makes a shocking discovery. In alarm, he rushes to the ski resort to put a halt to her shenanigans and to have a long-overdue fatherly talk about the birds and the bees.

Adventures in Double-Dating

Breanna goes on her first date with a boy named Keith and just as Duane and Flex remember their dating days he decides to tag along with Breanna on her date. They go to the movies and Flex annoys the couple even more. When he finally decides to go to se another movie he runs into the sexy mother of Breanna's boyfriend! The kids of the parents are not happy and Breannna and Keith put their heads together to think up a way for their parents to stop dating. Meanwhile Duane has to take his boss' wife out to dinner but she begins to fall madly in love with Duane and wants him. When Duane says no she starts to think she is unattractive to him until Nate Dogg shows up and woo's her.

Santa Baby

Once again Breanna's mother has come over for the holidays. This time she feels sick. Later on Flex's whole family comes over for Christmas, and Breanna's grandma discovers that Nicole is pregnant. Breanna overhears and tells Flex. At first their all happy about it thinking that it's a miracle, but when she takes a pregnancy test she realizes that there's no baby, but Breanna says that there's still a miracle because her parents are together for Christmas.

Phantom Menace

Flex's competitive spirit is kicked into high gear when an old nemesis—a successful player on and off the court—moves into the neighborhood. His apprehension grows worse when the man throws a hot Hallowe'en party. Meanwhile, Breanna, Spirit and Arnaz's spying leads them to witness something they wish they hadn't seen.

Dream Seller

With Flex's father out of town it's his job to look over his father's barbershop, but things become complicated when he has to balance out his job as manager of the barbersop and leading sports cast anchor at his news job. Unfortunately after he fouls up an interview with R&B artist Anthony Hamilton he gets fired forcing Flex to have a permanent job at the barbershop. Meanwhile Duane, Breanna, Arnaz, and Spirit start a fashion buisness, and decide to sell their latest fashions to the students at McKinkley Highschool for a high price.

Find My Wife, Please

Duane is depressed when he finds out that his cholesterol level is too high. The doctor tells him that it's genetic, so he and Flex go in search of Duane's father. Meanwhile Natalie accidently finds the engagement ring Flex plans to give her. The search for Duane's dad leads him to a professional who tells him that Duane's father was an ex-con, but is now working for the C.I.A. Flex doesen't believe this guy, but when he digs up some info on Flex that only his family knows he's convinced. The professional also looks up Flex's marital records and discovers that Flex and Nicole are still married! Meanwhile Breanna and Arnaz's finally become a couple. Things are going great for them except for Josh who still has a thing for Breanna, but is heartbroken. Breanna wants to be friends with Josh, but he is unsure. Later on Josh runs into Ginger who comes up with a plan for him to get Breanna, and for her to keep Arnaz. Josh then decides to agree with the plan and becomes Breanna's friend. He ta

Stuck on You

Nicole comes back and announces that Jayden has gotten a job in Africa and she's gonna be living with him for a short while. Flex fears if she's gonna take Breanna with her but she says that he's got nothing to fear. Besides that Flex says that he's happy that she is having a great relationship with Jayden. Nicole asks Flex the same question and he says that he plans to propose to Natalie. Nicole decides then to help him pick out a ring. Meanwhile Josh and Arnaz pressures Breanna to choose between them while the whole school places bets (thanks to Spirit) on who she will choose. Shortly afterwards she gets tonsilitis. Flex and Nicole go to the jewelry shop and pick out the perfect ring for Natalie to have and it accidently gets stuck on Nicole's finger while admiring it. During that time she Flex and Duane remember Nicole's pregnancy and that that was the main reason they got married. Natalie shortly comes over and she finds out that Nicole is going to Africa and gives her a going away

Heart to Heart

When her apartment gets infested with mice Natalie decides to move in with Flex. Flex allows her to stay for a while but has second thoughts when Duane reminds him that he has had trouble in the past with commitment in relationships (Examples: Tonya (Mi Casa Es Mi Casa & Misery), Nicole (Thanksgiving It To Me, Baby)). Meanwhile at McKinley High Ginger discovers the locket that Arnaz gave Breanna at Christmas (Everybody loves Whom), and breaks up with him. Ginger then tells Josh but he doesen't belive her. Then he goes to Breanna and Arnaz himself and connects the two half heart lockets that forms a whole. Josh doesen't break up with Breanna, but instead forces her to choose between him and Arnaz. Meanwhile Flex is still having trouble adjusting to Natalie living with him, so much trouble that he has an anxiety attack. After Natalie brings him to the hospital she discovers the truth. The doctor advises them to work out their problems. When Flex and Natalie return home they try to do jus

I Know What You Did Last Thursday

Breanna begins to see Flex, Natalie, and herself becoming one, big happy family—until she catches Natalie on a date with another man.

Where Everybody Knows Your Name

While his father's away, Flex assumes control of the barbershop, but his tenure turns rocky when a hair salon opens nearby. Meanwhile, Breanna loses tracks of Spirit and her other friends after she begins hanging out exclusively with Josh.

Take This Job and Love It

Breanna takes a job at a burger joint, but her ideas to improve the working environment don't sit well with her boss. Elsewhere, Flex lets Walt cut his hair while Malik is out of town, then goes to great lengths to hide the fact. Meanwhile Duane and Candy go on a date.

The Test

Natalie informs Flex that he has to be tested for HIV before she considered having sex with him. Flex takes the test but is scared that he might have HIV after waiting a long time for his results. Meanwhile Spirit feels left out because Breanna and Arnaz have dates and she doesen't, but when she suddenly finds a date for the Saddie Hawkins dance Breanna and co. start to think she's crazy.
Worst Episodes of One on One
Manic Monday

During Halloween, Flex and Breanna are put under a mysterious spell causing them to inexplicably switch bodies and forcing them to see each other's point of view, so Breanna (as Flex) must pull off an interview with Olympic Gold Medal swimmer Gary Hall Jr. while Flex (as Breanna) must deliver a convincing performance in her drama class.

Keeping It

Asanti, the most popular cheerleader in Breanna's cheerleading squad shares good news with the other cheerleaders about her losing her virginity with her boyfriend Rodney. The entire squad is happy for her, but when the cheerleading squad discovers that Breanna and Spirit are still virgins their popularity is threatened. Giving into peer pressure Breanna and Spirit decide to lose their virginity quick. Meanwhile after a burglar almost rob's Duane's apartment he and Flex decide to patrol the building to catch the crook. Also Arnaz's mom, Cheryl is worried about Arnaz and his raging hormones so Flex decides to talk to Arnaz about the birds and the bees. The next night Breanna decides to have sex with Arnaz to lose her virginity and remain popular but she changes her mind when Arnaz reveals he's not a virgin! After a long talk with Flex she realizes that she made the right choice and decides to wait until she's all grown up to have sex.

Bright Lights, Big City (2)

When Holly finds out that Flex is not in love with her, she decides to get even by sabotaging their chances of getting syndicated, but after they make fools out of each other at the broadcast awards dinner, her plan backfires as they are offered a deal to go national. Meanwhile, when Flex chooses to attend the awards dinner instead of Breanna's play, she decides to follow her dreams and run away with Arnaz to New York. Meanwhile Candy moves in with Duayne, who is now trying to hide the fact that Big Sal's has closed down & he is now out of a job.

It's a Mad, Mad, Mad Hip Hop World

Breanna, Arnaz, and Spirit plan to drive all the way to West Virginia to a Hip-Hop Palooza. Breanna tries to get Flex's permission to go there all by herself, but instead Flex decides to tag along and make it a memorable family memory for her. On the road Flex annoys them with road trip games and the kids quickly get bored. The car runs out of gas and Flex decides to go look for a gas station out alone while the kids are asleep. When Breanna, Spirit, and Arnaz wake up and discover Flex gone they think that he abondanded them. They are stranded on the road until Angie Stone pulls up with her limo and decides to give them a lift. Meanwhile at a restaurant Flex tries to contact the kids but fails. Eventually Breanna and Flex are reunited. Unfortunately the Hip-Hop Palooza gets canceled because of a heavy downpour but Breanna thanks Flex anyways for giving her a good family memory to reflect on. Also Duane and Candy try to go a whole entire weekend without sex to find out what they have in

Dirty Laundry

Breanna and Flex decide to see the new attractive family therapist who has moved into their building.

Save The First Dance

After Flex hurts Danielle's feelings by teasing her for being fat in high school, he tries to make it up to her by recreating the prom she never got to attend. Meanwhile, after agreeing to let Spirit design her prom dress, Breanna is furious when she shows up to the prom in the dream dress she wanted to wear.

Jailbait

When Breanna finds out that her friends are going to a club for ages (14-18) and figures her father won't mind, she decides to follow them to the club. Meanwhile, Duane is trying to avoid a customer he cheated. When Flex comes home from work and finds his parents there and learns that his daughter Breanna was at a club without any permission, he shows her what it's like to be an adult. Which isn't easy. Meanwhile, Duane ends up at Flex's house with the customer he cheated.

Misery

Tonya turns on the lights and a shocked Flex wakes up. She tells him that she thought he was a burgular. After that they turn off the lights and make love all weekend. By Monday Flex can't find his keys because Tonya has hidden them. She wants to have more sex from Flex but he has to go to work, so he spots his keys and runs the minute she's not looking. When he's finished at his job and gets home from work the whole house has romantic items in it. Breanna says that it's from Tonya and she has declared off her engagement from her fiance. Flex goes to Tonya immediately and tries to reason with her but she won't listen. When he leaves she throws his picture at a wall. Flex then tries to woe another woman but the waiters along with serenaders keep doing things that remind Flex of Tonya then the main waiter says that these were all compliments of his wife Tonya. That puts a dent in Flex's evening and he suddenly remembers why he didn't commit to Tonya, because she's litterally crazy about

Unemployment Up, Pride Down

Nicole struggles to get a new job in Baltimore. Meanwhile when Flex comes back to his Newscaster job he finds out that he's been bumped down to a weatherman. Breanna tells Arnaz and her firends that she's not moving.

Everybody Loves Whom?

Flex is excited to be spending Christmas with his current girlfriend Natalie, but quickly becomes jealous when his ex-wife Nicole comes over with her new boyfriend. Meanwhile Breanna exchanges kisses and gifts from both Josh and Arnaz.

2 Young, 2 Curious

Flex feeling old, meets a young girl at a club who is unbeknownst to him a classmate of Breanna's.

It's a Miserable Life

Nicole comes home announcing that she is pregnant and plans to marry her boyfriend, Jayden, shattering Breanna's hope that her parents will remarry.

Spy Games Reloaded

Flex lets Breanna stay at home alone, for 2 reasons. 1- It's her last chance and 2- To look after Duayne who is recovering from his surgery. Arnaz spills cherry cola on Flex's new expensive chair, then Spirit's stain removal burns a hole in the cushion, so the 3 teens sell some of their stuff to make the money to buy a new chair. They reaise the money, but accidentally sell Flex's flat screen television. Duayne, who was given $10000 by his dad as thanks for the kidney, decides to give the kids the money for the TV, but as long as they look after him.

No More Wire Hangers

In order to escape his mother Cheryl's drinking, Arnaz hides out in Breanna's room, but after Arnaz turns to Flex for support, his mother physically abuses him, forcing Flex to convince Cheryl to get some help for her problem.

Rock The Vote

Breanna, excited to take part in the political process, ends leading a McKinley High protest against her cousin.

Contract High

Flex gets frustrated with his co-star's favored treatment and hires a powerful agent (David Faustino), hoping to get what he believes he deserves. Meanwhile, Spirit decides to quit designing after someone else rips off her creations.

Accidental Love (1)

An epiphany following a car accident sends Flex back into the arms of his old girlfriend, Tonya (Tamala Jones), much to the dismay of his therapist, Danielle, who suddenly realizes that she has feelings for him.

Glug, Glug

When her boyfriend cancels their date for the senior party because she won't have sex with him, a depressed Spirit gets drunk on way to the event and misses all of the festivities. Meanwhile, Danielle and Candy are convinced they are being stood up by their dates with Flex and Duane, but unbeknownst to them, the guys are being held up at gunpoint by a man (Chingy) down on his luck.

Cap And Frown

With graduation quickly approaching, Flex's ex-wife Nicole (Tichina Arnold) convinces him to meddle in Breanna's love life, hoping she will choose a college in California over staying in Baltimore with Arnaz. Later, Arnaz tells Breanna that she should go to California to follow her dreams, but she thinks it's his way of breaking up with her.

The Graduates

Flex feeling guilty for meddling in Breanna's love life, he admits to Breanna that he pursuaded Arnaz to let her go to California without him. Later, Breanna plans for college takes a suprising turn when she annouces to Flex that she is living in Baltimore with Arnaz.

He Got Game...Again

Spirit and Breanna practice before Arnaz shows up, then when he does Breanna gets nervous and messes up. She decides to tell Arnaz that she loves him another way by putting her feelings for him on a video tape. She does it but the problem is she has a chunk of spinach in her teeth while recording it. Meanwhile Breanna's mother Nicole has come back in town to host a celebrity basketball game and Flex decides to be in it. Breanna thinks he'll be okay but Nicole warns her that her father is more in love with basketball than herself. During practice he seems a little rusty but in the last quarter of the game the coach puts him in and he turns out to be a basketball superstar. After the game the coach decides to return him to the NBA. He accepts but Nicole warns him that he might not have time for Breanna anymore, but Flex says that he'll always make room for his daughter. Back at the house Breanna finds out that she had spinach in her teeth so she and Spirit go undercover to get the tape b

School Dazed

Flex and Breanna find themselves at loggerheads over where she should go to school. While Breanna is eager to attend a funky public school for the performing arts, Flex prefers that she enroll in a posh private academy. But once he hears her excruciatingly bad singing voice, he agrees to let her audition for the performing arts school.

Playing Possum

Breanna's crush on a handsome football player inspires her to do the unthinkable. Meanwhile, Duane pulls a fast one on Flex, who finds himself in a surprising new sideline. (UPN)

Fifteen Candles

It's Breanna's 15th birthday, and she's very excited. After recieveing such cool presents from her Grandma and Mom, Flex tries to top them all by inviting Lil' Zane to Breanna's birthday party. Everything starts to go wrong when Duane tells Breanna before Flex can actually invite him. In the end after all that stalking Flex is finally able to get him to perform at Breanna's birthday party.

Thanksgiving It to Me, Baby

Breanna's mother comes to town for Thanksgiving. Flex at first disagrees, but he soon falls in love with her again. They make love and the next day Breanna catches them thinking that her parent's are coming back together again. Later they attend Breanna's football game and after that they started arguing, so Breanna has some second thoughts about this parents together thing.

It's Raining Women

Flex is a ladies man and can't help but love to tangle with the opposite sex, but when he makes a bet with Stacy his boss to keep off of women for 3 days he has to learn to diminish his cravings. Also Arnaz plays one of Flex's old albums and Breanna scratches it and when Duane sees this they become his slaves so he'll keep his mouth shut until Flex finds out and tells them that Duane scratched it a long time ago so, Breanna, Arnaz, and Spirit then plan to get revenge.
One on One Episode Guide
When Flex Got Breanna

Baltimore sportscaster Mark ""Flex"" Washington finds his bachelor's paradise disrupted when his feisty 14-year-old daughter, Breanna, comes to live with him full-time. Flex is used to the carefree life of a young single man, complete with junk food, sports and women. Breanna is accustomed to no rules and all fun when she visits her dad for two weeks a year. But when the demands of her mother's new job make it necessary for Breanna to move in with her father for the foreseeable future, Flex must adjust to raising a teenager on a day-to-day basis. In the series premiere, Breanna's jealousy of Flex's date causes her to act out, straining their relationship.

Jailbait

When Breanna finds out that her friends are going to a club for ages (14-18) and figures her father won't mind, she decides to follow them to the club. Meanwhile, Duane is trying to avoid a customer he cheated. When Flex comes home from work and finds his parents there and learns that his daughter Breanna was at a club without any permission, he shows her what it's like to be an adult. Which isn't easy. Meanwhile, Duane ends up at Flex's house with the customer he cheated.

Radioactive Platonic

Flex gets his first taste of what it's like to be an overprotective father when, Tracy, Breanna's best friend from Atlanta, comes for a weekend visit and is revealed to be a 16-year-old boy. The situation becomes even more complicated when Breanna discovers that she may have more than friendly feelings for Tracy and seeks out dating advice from Flex's girlfriend, Tonya. Meanwhile, Duane makes a bird-brained attempt to get an autograph from the retiring Cal Ripken Jr.

School Dazed

Flex and Breanna find themselves at loggerheads over where she should go to school. While Breanna is eager to attend a funky public school for the performing arts, Flex prefers that she enroll in a posh private academy. But once he hears her excruciatingly bad singing voice, he agrees to let her audition for the performing arts school.

My Life as a Dog

Flex is dismayed when Breanna tries to recover from her recent heartbreak by taking on the persona of a ""player,"" flirting outrageously and toying with every boy around. But he is even more distressed to discover that she's emulating him.

Let's Wait Awhile

While Breanna is away on a school ski trip, Flex snoops into her room where he makes a shocking discovery. In alarm, he rushes to the ski resort to put a halt to her shenanigans and to have a long-overdue fatherly talk about the birds and the bees.

Playing Possum

Breanna's crush on a handsome football player inspires her to do the unthinkable. Meanwhile, Duane pulls a fast one on Flex, who finds himself in a surprising new sideline. (UPN)

Phantom Menace

Flex's competitive spirit is kicked into high gear when an old nemesis—a successful player on and off the court—moves into the neighborhood. His apprehension grows worse when the man throws a hot Hallowe'en party. Meanwhile, Breanna, Spirit and Arnaz's spying leads them to witness something they wish they hadn't seen.

Fifteen Candles

It's Breanna's 15th birthday, and she's very excited. After recieveing such cool presents from her Grandma and Mom, Flex tries to top them all by inviting Lil' Zane to Breanna's birthday party. Everything starts to go wrong when Duane tells Breanna before Flex can actually invite him. In the end after all that stalking Flex is finally able to get him to perform at Breanna's birthday party.

Mi Casa Es Mi Casa

MTV decides to shoot a documentary of Flex's home, but Tayna decides to decorate his home before they come. After the finishing touches Flex's manly bachelor pad turns into a woman's dreamhouse. He decides to change his apartment back to the way it was and change the date of the documentary. When Tayna finds out she gets deeply hurt and decides that their relationship is over.

Thanksgiving It to Me, Baby

Breanna's mother comes to town for Thanksgiving. Flex at first disagrees, but he soon falls in love with her again. They make love and the next day Breanna catches them thinking that her parent's are coming back together again. Later they attend Breanna's football game and after that they started arguing, so Breanna has some second thoughts about this parents together thing.

Santa Baby

Once again Breanna's mother has come over for the holidays. This time she feels sick. Later on Flex's whole family comes over for Christmas, and Breanna's grandma discovers that Nicole is pregnant. Breanna overhears and tells Flex. At first their all happy about it thinking that it's a miracle, but when she takes a pregnancy test she realizes that there's no baby, but Breanna says that there's still a miracle because her parents are together for Christmas.

Tame Me, I'm the Shrew

Breanna gets the leading part in a play called Shakespeare's ""The Taming Of The Shrew"". When the lines become old and whack Breanna decides to liven it up in a 2pac version, but when she lets her ego get the best of her the director decides that Spirit should have the role leaving Breanna as her understudy. Meanwhile Flex is having some competition trying to get the lead sports anchor position at his job. Also Duane has discovered that he is related to Dr. Martin Luther King Jr., so he decides to make a tunnel to dedicate him.

The Case of the Almost Broken Heart

After Flex's father eats unheatly and gets a heart attack Flex decides to take risk and live his life as the last day everyday. Meanwhile at Breanna's highschool the upcoming Ghetto-Fabulous dance arrives and Arnaz brings his country cousin for a visit. She wants to go to the dance but not until Breanna and Spirit give her a ghetto makeover.

Adventures in Double-Dating

Breanna goes on her first date with a boy named Keith and just as Duane and Flex remember their dating days he decides to tag along with Breanna on her date. They go to the movies and Flex annoys the couple even more. When he finally decides to go to se another movie he runs into the sexy mother of Breanna's boyfriend! The kids of the parents are not happy and Breannna and Keith put their heads together to think up a way for their parents to stop dating. Meanwhile Duane has to take his boss' wife out to dinner but she begins to fall madly in love with Duane and wants him. When Duane says no she starts to think she is unattractive to him until Nate Dogg shows up and woo's her.

Me and My Shadow

When a music contest comes up Flex and Duane decide to have a reunion with their highschool band ""Midnight Gold"", but during rehearsal Duane turns out to have an incredible singing voice and the band wants him as leader instead of Flex but will he remain in Flex shadow forever or will he finally stand up to Flex and make something out of himself? Meanwhile when Tiffany gets a broken ankle she tricks Breanna into being the coach of the cheerleaders for revenge, but in the end Breanna's efforts on the team helps them win a cheerleading trophee award which Tiffany decides to take credit for.

It's Raining Women

Flex is a ladies man and can't help but love to tangle with the opposite sex, but when he makes a bet with Stacy his boss to keep off of women for 3 days he has to learn to diminish his cravings. Also Arnaz plays one of Flex's old albums and Breanna scratches it and when Duane sees this they become his slaves so he'll keep his mouth shut until Flex finds out and tells them that Duane scratched it a long time ago so, Breanna, Arnaz, and Spirit then plan to get revenge.

The Way You Make Me Feel

Flex dates famous show host Michelle McCall. She'll date him and do anything for him but only if he keeps their relationship secret so her fans won't find out what she's been up to. They make love and the next day cameras and news reporters come flooding to Flex's door finding out about their relationship. Flex soon finds out that Duane is the one who squealed. Meanwhile Breanna's friend Natasha comes to town and she has a crush on Arnaz. When they meet they instantly fall in love but Natasha asks Breanna permission to date Arnaz. She allows her and they take their relationship to the next level but Breanna gets jealous along the way.

Love Means Never Having to Say I Know You

Flex thinks that he and his boss Stacy are hitting it off, but what he doesen't know is that his best friend Duane has been secretly dating her. It's hard for them to hide it from Flex but when they both have to go on a buisness trip together Duane takes it to the extreme. Meanwhile that Flex is out of town Breanna and Spirit throw a party. Arnaz brings Natasha over and Breanna once again gets jealous. She tries to stop them but when their about to have sex all Arnaz can think about is Breanna. Also a boy named Lewis tries to get with Breanna. At the trip Duane can't take it and tries to stop Stacy and Flex from having sex only to reveal his relationship to Flex.

Fatal Attractions

At McKinley highschool all the cool boys are called Pro's. They have a hottie list and if you're a girl and you get on it you're a hottie. Breanna gets on the list and starts to think that she's cool. Spirit didn't get on the list so she starts to dress sexy to impress Derrick, the leader of the McKinley Pro's. Meanwhile at a hangout Flex meets an old flame, his ex-girlfriend Tonya who is engaged to be married to her new guy. She tells Flex that she met him at and anger-support group when they broke up and now she and Flex decide to be friends, but this gets complicated when they start to have feelings for each other in his apartment. Back at the highschool Arnaz gets to be the new member of the McKinley Pro's and finds out from Derrick that they are also known as the Panty Possie who has sex with all the hotties. At the party Derrick plans to have sex with Spirit but Breanna and Arnaz stop it. Flex goes over to Tonya's apartment late at night and not knowing it's Flex but thinking it'

Misery

Tonya turns on the lights and a shocked Flex wakes up. She tells him that she thought he was a burgular. After that they turn off the lights and make love all weekend. By Monday Flex can't find his keys because Tonya has hidden them. She wants to have more sex from Flex but he has to go to work, so he spots his keys and runs the minute she's not looking. When he's finished at his job and gets home from work the whole house has romantic items in it. Breanna says that it's from Tonya and she has declared off her engagement from her fiance. Flex goes to Tonya immediately and tries to reason with her but she won't listen. When he leaves she throws his picture at a wall. Flex then tries to woe another woman but the waiters along with serenaders keep doing things that remind Flex of Tonya then the main waiter says that these were all compliments of his wife Tonya. That puts a dent in Flex's evening and he suddenly remembers why he didn't commit to Tonya, because she's litterally crazy about

He Got Game...Again

Spirit and Breanna practice before Arnaz shows up, then when he does Breanna gets nervous and messes up. She decides to tell Arnaz that she loves him another way by putting her feelings for him on a video tape. She does it but the problem is she has a chunk of spinach in her teeth while recording it. Meanwhile Breanna's mother Nicole has come back in town to host a celebrity basketball game and Flex decides to be in it. Breanna thinks he'll be okay but Nicole warns her that her father is more in love with basketball than herself. During practice he seems a little rusty but in the last quarter of the game the coach puts him in and he turns out to be a basketball superstar. After the game the coach decides to return him to the NBA. He accepts but Nicole warns him that he might not have time for Breanna anymore, but Flex says that he'll always make room for his daughter. Back at the house Breanna finds out that she had spinach in her teeth so she and Spirit go undercover to get the tape b
Shows for Fans of One on One