Dekalog Episode Rating Graph
Dec 1989 - Jul 1990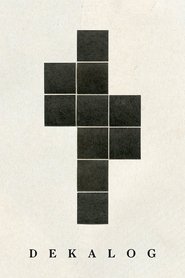 Browse episode ratings trends for Dekalog. Simply click on the interactive rating graph to explore the best and worst of Dekalog's 10 episodes.
The best rated episodes of Dekalog are:
Dekalog: One S1E1 rated 8.3
Dekalog: Ten S1E10 rated 8.2
Dekalog: Six S1E6 rated 8.2
The lowest rated episodes of Dekalog are:
Dekalog: Three S1E3 rated 7.4
Dekalog: Eight S1E8 rated 7.6
Dekalog: Two S1E2 rated 7.7
The first episode of Dekalog aired on December 10, 1989.
The last episode of Dekalog aired on July 06, 1990.
There are 10 episodes of Dekalog.
There is one season of Dekalog.
Best Episodes of Dekalog
Dekalog: One

"I am the Lord thy God; thou shalt have no other God but me." Ten-year-old Pawel and his father Krzysztof run their lives on their beloved home computer, while Pawel's aunt worries that his spiritual education is being neglected. But Pawel is too busy enjoying life, not least thanks to his father's Christmas present of a pair of ice skates, because the computer has calculated that the frozen lake is safe to skate across…

Dekalog: Ten

"Thou shalt not covet thy neighbour's goods." Especially not when it leads to the conclusion of this black comedy about two brothers who inherit their father's valuable stamp collection and end up paying rather more than they bargained for…

Dekalog: Six

"Thou shalt not commit adultery." A shorter, scaled-down version of "A Short Film About Love," with a less complex plot and a different ending—though the basic narrative about the relationship between a lonely 19-year-old boy and the thirty-something artist that he spies on every night is the same.
Worst Episodes of Dekalog
Dekalog: Three

"Remember the sabbath day, to keep it holy." Janusz is a taxi driver. It's Christmas Eve, and he honours the (Polish) traditions for this (holy) day: he gives presents to the members of his family and attends Midnight Mass. Later, Ewa, a woman who he had betrayed his wife with three years earlier, asks him to help her. Her husband is missing, and she asks him to help her search for him. Should Janusz stay home to keep the day holy? Or should he help Ewa, who says she needs his help, to keep the day holy? Is it his duty to help her? This episode seems to be about both…

Dekalog: Eight

"Thou shalt not bear false witness against thy neighbour." A Polish-American researcher visits Warsaw and attends a lecture about ethics. Afterwards, she approaches Zofia, the lecturer, and says that she is the little Jewish girl whom Zofia refused to shelter during World War II. But Zofia has a very good reason for her apparent cowardice…

Dekalog: Two

"Thou shalt not take the name of the Lord thy God in vain." An elderly doctor is approached by a woman with a complicated request. Her husband is gravely ill and may die, and she is pregnant by someone else. If her husband dies, she wants to keep the child, but not otherwise, and she wants the doctor to give him an honest verdict on his chances. But the doctor is disturbed by her request, because his answer will directly affect the life or death of another human being. Is he entitled to play God?
Dekalog Episode Guide
Dekalog: One

"I am the Lord thy God; thou shalt have no other God but me." Ten-year-old Pawel and his father Krzysztof run their lives on their beloved home computer, while Pawel's aunt worries that his spiritual education is being neglected. But Pawel is too busy enjoying life, not least thanks to his father's Christmas present of a pair of ice skates, because the computer has calculated that the frozen lake is safe to skate across…

Dekalog: Two

"Thou shalt not take the name of the Lord thy God in vain." An elderly doctor is approached by a woman with a complicated request. Her husband is gravely ill and may die, and she is pregnant by someone else. If her husband dies, she wants to keep the child, but not otherwise, and she wants the doctor to give him an honest verdict on his chances. But the doctor is disturbed by her request, because his answer will directly affect the life or death of another human being. Is he entitled to play God?

Dekalog: Three

"Remember the sabbath day, to keep it holy." Janusz is a taxi driver. It's Christmas Eve, and he honours the (Polish) traditions for this (holy) day: he gives presents to the members of his family and attends Midnight Mass. Later, Ewa, a woman who he had betrayed his wife with three years earlier, asks him to help her. Her husband is missing, and she asks him to help her search for him. Should Janusz stay home to keep the day holy? Or should he help Ewa, who says she needs his help, to keep the day holy? Is it his duty to help her? This episode seems to be about both…

Dekalog: Four

"Honour thy father and thy mother." Young Anka and her father have lived together since her mother's death, and have always been more like close friends than father and daughter. One day, Anka discovers a letter from her mother whose contents make her question her whole relationship with her father… if that's indeed who he is.

Dekalog: Five

"Thou shalt not kill." A shorter, slightly less graphic version of "A Short Film About Killing," but the plot is essentially the same: murder followed by execution, two killings, one illegal, one legal, both hideous.

Dekalog: Six

"Thou shalt not commit adultery." A shorter, scaled-down version of "A Short Film About Love," with a less complex plot and a different ending—though the basic narrative about the relationship between a lonely 19-year-old boy and the thirty-something artist that he spies on every night is the same.

Dekalog: Seven

"Thou shalt not steal." But in this case the "theft" is of a child by her real mother, who then finds herself emotionally unable to cope with the responsibility, while the stable and loving family that brought the child up are distraught.

Dekalog: Eight

"Thou shalt not bear false witness against thy neighbour." A Polish-American researcher visits Warsaw and attends a lecture about ethics. Afterwards, she approaches Zofia, the lecturer, and says that she is the little Jewish girl whom Zofia refused to shelter during World War II. But Zofia has a very good reason for her apparent cowardice…

Dekalog: Nine

"Thou shalt not covet thy neighbour's wife." Roman, after discovering his impotence, urges his wife Hanka to take a lover. She reluctantly complies, and Roman, despite his earlier words, becomes obsessively jealous. Spying on her, he learns of her affair, and vows to kill himself—not knowing that Hanka was in fact breaking off the relationship…

Dekalog: Ten

"Thou shalt not covet thy neighbour's goods." Especially not when it leads to the conclusion of this black comedy about two brothers who inherit their father's valuable stamp collection and end up paying rather more than they bargained for…
Shows for Fans of Dekalog