Studio One Episode Rating Graph
Nov 1948 - Sep 1958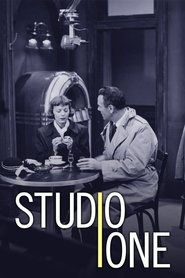 An American radio–television anthology series, created in 1947 by Canadian director Fletcher Markle, who came to CBS from the CBC.
Best Episodes of Studio One
Not enough show information to display best episodes.
Worst Episodes of Studio One
Not enough show information to display worst episodes.
Studio One Episode Guide
The Storm

During a stormy night, a woman alone in a country house discovers a dead body in her basement and is terrorized by an intruder.

Let Me Do the Talking

A young agent in the publishing business wheels and deals his way up the ladder, stepping on a few too many toes along the way.

The Medium

Madame Flora conducts bogus seances to bilk grieving parents, but during one seance she feels hands around her neck and panics.

Not So Long Ago

An elderly woman remembers back to a time in her youth when she was pursued by two gentlemen.

The Outward Room

A story about psychological breakdown and recovery

Blind Alley

A psychopathic killer escapes from prison and comes under the care of a noted psychiatrist.

Holiday

The happy-go-lucky Johnny Case, a self-made man with the dream of making just enough money to retire on and then traveling around the world, proposes to the lovely Julia in Lake Placid but later discovers she's the daughter of a wealthy industrialist.

Julius Caesar

A modern dress adaptation of the classic play

Berkeley Square

When a young American inherits a house in London, he travels back in time to the Revolutionary War and encounters his ancestors.

Redemption

Victor Karenin is devastated when his fiancée Lisa leaves him for Fedya but is happily surprised when Fedya falls for a young reckless gypsy girl.

Moment of Truth

Five refugees vie for a seat on a flight to escape a Communist occupied Britain.

Julius Caesar

A modern dress adaptation of the classic play about Roman politics

The Glass Key

When his boss, a corrupt politician, is accused of murder, a man hunts the real killer, avoiding amorous advances from his boss' fiancee and attacks from gangsters along the way.

Shadow and Substance

A true believer brings others, through the uncorrupted purity and simplicity of her own faith, back to first principles.

Flowers from a Stranger

A psychiatrist's wife battles her own deteriorating emotional state when she receives a box of flowers from a stranger.

The Dybbuk

A haunting tale about ill-fated love, possession, and exorcism in a small Jewish town in Eastern Europe. The restless spirit of a dead man enters the body of the woman he was pledged to marry.

Boy Meets Girl

A pair of screenwriters are ordered to concoct a comeback screenplay for a cowboy star whose star is on the wane.

Smoke

"Smoke" is the story of European community roots and changes, reflected both in Russian politics and in the lives of two individuals who find philosophies diverging.

June Moon

A naive Schenectady shipping clerk comes to Manhattan with dreams of becoming a lyricist, befriends a one-hit wonder composer, and meets the girl of his dreams.

The Shadowy Third

A handsome doctor becomes the object of affection of several of his female patients, young and old alike.
Shows for Fans of Studio One