Mega Builders Episode Rating Graph
Sep 2005 - present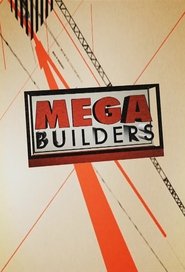 Browse episode ratings trends for Mega Builders. Simply click on the interactive rating graph to explore the best and worst of Mega Builders's 41 episodes.
The best rated episodes of Mega Builders are:
The Fast Track S5E7 rated 9.0
London Olympic Aquatics Centre S5E5 rated 9.0
Moving Mountains S2E1 rated 9.0
Extreme Elevation S2E7 rated 8.7
Sinking Wings S2E4 rated 8.7
Madrids Big Dig S2E3 rated 8.7
Bangkok Bridge S2E5 rated 8.3
Ice Hotel Bigger Colder S6E6 rated 8.0
Tunneling Through History S6E4 rated 8.0
Race to the Games S6E3 rated 8.0
The lowest rated episodes of Mega Builders are:
Hard Rock Park S4E1 rated 6.0
Venice Code Red S4E7 rated 6.0
Floating Bridge S4E3 rated 6.3
Glitz City S4E4 rated 6.3
Blockbuster Bridge S4E5 rated 6.3
The Big Rig S4E6 rated 6.3
The Big Lift S3E2 rated 6.8
Raising the Roof S3E1 rated 7.0
World's Biggest Wave Machine S3E3 rated 7.0
King of Container Ships S4E2 rated 7.0
The first episode of Mega Builders aired on September 18, 2005.
The last episode of Mega Builders aired on March 29, 2012.
There are 41 episodes of Mega Builders.
There are 6 seasons of Mega Builders.
Best Episodes of Mega Builders
The Fast Track

The construction of Johannesburg's new rail system presents a difficult set of problems, most particularly dangerous sinkholes across its route.

London Olympic Aquatics Centre

The London 2012 Aquatic Centre is an engineering marvel shaped like a giant metallic wave, designed by world famous architect Zaha Hadid

Moving Mountains

A rescue tunnel is needed to free one of the world's largest machines stuck in the world's longest tunnel in the Swiss Alps.

Extreme Elevation

As the awesome mega-project goes under the hammer, a look at how the Burj Dubai in the United Arab Emirates is set to become the tallest building on Earth.

Sinking Wings

For 15 years, Canadian diving enthusiasts have been trying to turn the coastal waters off southern British Columbia into the wreck-diving capital.

Madrids Big Dig

Under a sweltering sun in the heart of Madrid, Spanish construction workers are working non-stop on the largest highway project in the world.

Bangkok Bridge

A look at the complex construction of the new 13km double span bridge in Bangkok, Thailand.

Ice Hotel Bigger Colder

Inside a famous Swedish hotel which is constructed from 10,000 tonnes of ice and 30,000 tonnes of snow, and boasts a frozen bar and cinema screen.

Tunneling Through History

Mega Builders return to Istanbul to update the Marmaray rapid-transit project, which continues to have delays.

Race to the Games

Crews race against the clock to finish an important venue and signature landmark for the 2012 London Olympics.
Worst Episodes of Mega Builders
Hard Rock Park

The Hard Rock Café is financing a $400m rock and roll theme park in South Carolina, the first in the world. What began as a whim soon turns into a very expensive reality.

Venice Code Red

A plan to install 78 massive gates across the three inlets into Venice's lagoon may be the city's only saviour. See the mammoth project take shape.

Floating Bridge

Can engineers make 6,000-ton concrete pontoons float? That's the only way to construct this astonishing bridge in Canada, but can they pull it off?

Glitz City

MGM builds a 31-hectare mini city in Las Vegas, the largest privately-finances project in North America.

Blockbuster Bridge

Seoul needs a direct link to its island airport. This involves building one of the most ambitious bridges in the world, spanning almost 13km of water.

The Big Rig

In Norway, engineers aren't satisfied with building the world's largest oil rig; so they're constructing two. Watch this incredible engineering feat unfold.

The Big Lift

Discover the amazing story behind the construction of Hong Kong's Stonecutters Bridge, one of the world's largest cable-stayed bridge.

Raising the Roof

With the spectator capacity of 60,000, the new Rio stadium is smaller than some of Brazil's mega stadiums, but its design is unique, clever and state of the art.

World's Biggest Wave Machine

Focusing on the world's largest water park, built in Tenerife, with the tallest artificial wave and biggest artificial beach.

King of Container Ships

The world's biggest cargo ship, being built in Denmark, has only 45 days to be completed. Will the crew make it in time?
Mega Builders Episode Guide
No episode information found for this season.
Shows for Fans of Mega Builders