Coach Episode Rating Graph
Feb 1989 - May 1997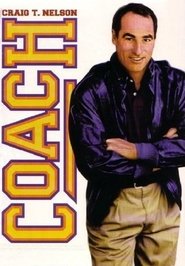 Browse episode ratings trends for Coach. Simply click on the interactive rating graph to explore the best and worst of Coach's 200 episodes.
The best rated episodes of Coach are:
Christmas of the Van Damned S6E12 rated 8.8
If a Coach Falls in the Woods (2) S2E4 rated 8.4
The Investment S2E8 rated 8.3
The Day I Met Frank Gifford S7E20 rated 8.2
Leaving Orlando (2) S9E22 rated 8.1
The Luck Stops Here S6E4 rated 8.1
Don't Get Mad, Get Cooley S4E3 rated 8.1
2 BRs, MTN VW S3E18 rated 8.1
Johnsonwreckers S7E19 rated 8.0
Out of Control S7E11 rated 8.0
The lowest rated episodes of Coach are:
A Player to Be Named Later S8E24 rated 5.6
The Popcorn Bowl S7E12 rated 5.7
Head Like a Wheel S6E25 rated 5.8
The Kicker S7E16 rated 6.2
Luther and Ruthanne Take the Big 12 Steps S7E13 rated 6.4
Kelly's New Guy (2) S7E22 rated 6.5
Why So Happy, Hayden? S5E22 rated 6.6
Belly of the Beast S6E2 rated 6.6
Jailbirds S7E7 rated 6.7
Working Girl S7E10 rated 6.7
The first episode of Coach aired on February 28, 1989.
The last episode of Coach aired on May 14, 1997.
There are 200 episodes of Coach.
There are 9 seasons of Coach.
Best Episodes of Coach
Christmas of the Van Damned

Luther makes a nuisance of himself after tracing his family tree and learning of a large group of Van Dams living in the area.

If a Coach Falls in the Woods (2)

Hayden runs away to protest Kelly's wedding to Stuart.

The Investment

After Hayden convinces Luther to invest in the Touchdown Club, an opening night mishap threatens their partnership and their friendship when Luther is forced to call Hayden after a robbery.

The Day I Met Frank Gifford

Luther feels left out when Hayden and Christine are invited to New York for a dinner honoring Frank Gifford.

Leaving Orlando (2)

Hayden, Luther and Dauber return to Minnesota State, where they reminisce about their college-coaching years and see some familiar faces. Later, at the lake with Christine and Tim, Hayden shares his vision of the family's future -- an idea she quickly embraces.

The Luck Stops Here

Luther and Hayden have vastly different views on the reasons for the team's success.

Don't Get Mad, Get Cooley

Convinced that Hayden deliberately sold him a broken-down truck, Luther reports Hayden to a TV consumer reporter.

2 BRs, MTN VW

Whiny, well-meaning Stuart nearly drives Hayden to murder on a ski trip with Christine and Kelly.

Johnsonwreckers

Hayden tries to befriend former Dallas Cowboys coach Jimmy Johnson -- but his efforts go to the dogs when Johnson's Super Bowl ring is eaten by Luther's dog.

Out of Control

An opposing player is badly hurt after Hayden encourages rough play.

The Pioneer Bowl

On the day of the Pioneer Bowl, an accident puts Luther in the hospital with a concussion -- but the team wins the National Championship anyway.

A Real Guy's Guy

Hayden pressures Kelly to date his star player, whom she finds very attractive -- until he tells her he is gay.

Diamonds Are a Dentist's Best Friend

Cash-poor Hayden buys Christine's engagement ring from a cut-rate jeweler/dentist.

Hurley-Burleigh

On his first trip to Las Vegas, athletic director Howard wants to sow some wild oats.

I've Got a Secret

When Hayden secretly recruits a top quarterback, Christine blabs to a sportscaster.

If Keith Jackson Calls, I'll Be at My Therapist's

Game pressure gives Hayden a facial tic before a national telecast.

I'm Sorry I Told You My Wife Was Dead

Hayden consoles a wealthy alumnus' widow to secure a substantial donation.

Sunshine on My Shoulder Makes Me Happy: A Show About Bird Ransom

Hayden loses Luther's prized bird while the assistant coach vacations.

Leaving Orlando (3)

Hayden, Luther and Dauber return to Minnesota State, where they reminisce about their college-coaching years and see some familiar faces. Later, at the lake with Christine and Tim, Hayden shares his vision of the family's future—an idea she quickly embraces.

To Ski or Not to Ski

When Doris invites the whole gang to spend Valentine's Day weekend at a ski resort she's thinking about buying, Hayden helps Christine conquer her fear of the slopes. Meanwhile, Dauber runs into his ex-fiancée Judy, which stirs some unresolved feelings. The gang heads off to a ski resort, where Hayden and Christine go their separate ways after an argument and Dauber spends his time trying to hide from Judy after spotting her in a grocery store.

Did Someone Call Me Snorer?

Hayden refuses to go quietly when Christine insists that he head off his snoring problem with a trip to a sleep therapy clinic.

Poodle Springs

Hayden impresses Judy's parents when he saves their pet poodle.

Homewreckers

Hayden seeks Luther's companionship while Christine works on the weekend, and while she is away nearly destroys her apartment.

Whose Team Is It, Anyway?

Although Hayden needs a victory in his last game for a winning season, he may be forced to bench his star player for skipping practice.

Sleepless in Orlando

When Christine and baby Timothy both become ill, an exhausted Hayden has too much to do while preparing for an important game.

Retrospective (1)

This is an unusual greatest moments episode. The format is an interview with Hayden about his life and work at Minnesota State. In the first of this two part series Mary Hart interviews Hayden about the beginnings of his relationship with Christine. Another unusual part of this episode is its absence of a laugh track, leaving the jokes to push themselves.

Leonard Kraleman: All-American

Hayden tries to discourage a scrawny, unpopular student who wants to try out for the football team, and Christine schools him in the art of gaining popularity.

The Marion Kind (1)

Christine persuades Luther to have lunch with the reconciling best friend who stole his girl 37 years ago.

The Day That Moses Came to Town

Hayden gets jealous when the university president woos a basketball coach from Boston with promises of grandiose perks.

Rizzendough Rendezvous

Hayden's enthusiasm for fund-raising threatens Luther's romance with wealthy widow Mrs. Rizzendough.

Hayden and Luther's Excellent Adventure

Hayden and Luther get stranded out of town the night Hayden is to escort Christine to an awards banquet in her honor.

Save the Wave

Hayden rallies support for the team after Doris decides to move the Breakers to Los Angeles.

Born Luther

Luther complains to Hayden about the lack of recognition for his contribution to the team's success -- then must face the media when the team loses.

Is This Your First Time on the Riverboat, Miss Watkins?

Hayden reluctantly allows archrival Watkins to sit in on his poker night.

Define Romance

Hayden feels threatened when Christine dates another.

Dauber's Got a Girl

Hayden feuds with the girls' basketball coach, Dauber's new flame.

A Jerk at the Opera

When Hayden refuses to accompany Christine to the opera, she asks her old flame, and a predictably jealous Hayden follows them in disguise.

The Rosebrocks of Wisconsin

When Hayden objects to Kelly spending all her time in Wisconsin with her new family, Kelly forces her father to meet her in-laws.

Dauber's Blow-Out

Anti-fun Riley Pringle of the Conduct Committee joins Hayden in supervising Dauber's season-ending party.

Isn't It Romantic?

Hayden's plans for an evening of dinner and dancing go awry when Christine resists leaving their baby at home.

Requiem for a Groundskeeper

Hayden receives an oddball inheritance from an acquaintance.

I'm in the Mood for Luther

Christine fixes Luther up with a friend.

I'm in Love with a Boy Named Stuart

Hayden detests Kelly's new boyfriend.

Cabin Fever

Christine wants all her belongings out of Hayden's house, and Luther might move in next door.

Haven't I Slept with You Somewhere Before?

Hayden believes the new president of Minnesota State is a woman with whom he once had a fling.

In the Money

When Luther and Doris plan to get married, Howard plans a huge televised half-time wedding for them during the Breakers vs. Niners game. Unfortunately, Luther's new obsession with Doris' money causes some problems.

Last Tango in Orlando

When Doris brings in a gorgeous Brazilian soccer player to play kicker for the Breakers, Hayden is skeptical of his talent, while Luther becomes suspicious of his intentions towards Doris.

Just Short of the Goal

When Hayden passes on the chance to write a memoir of his failures with the Breakers, Luther makes a play for writing it himself -- without Hayden's involvement -- then discovers the topic is living with losing.

Oh, a Pro Job (1)

Hayden and Christine go on a Caribbean cruise to get away from it all, but can't seem to steer clear of a wealthy eccentric, who makes a surprising offer.

The Commercial (2)

Hayden tries to restrain his jealousy over Christine's on-air romance with her new co-star in the coffee commercial.

Hayden Fox for Universal Jocks

When Hayden discovers Christine's salary dwarfs his own, he decides to make extra cash as a spokesperson for an athletic supporter company.

The Loss Weekend

A losing streak makes Hayden unpleasant company for Christine.

The Babywreckers

Hayden is rattled when he and Christine agree to watch an infant for the weekend.

The Playbook

The playbook falls into enemy hands on the eve of Hayden's biggest game.

When Hayden Met Christine

Dateless for a charity ball, Hayden flashes back four years to when he first met Christine, at the same affair.

The Iceman Goeth

Even at a victory party, and with Elaine trying to seduce him, Hayden remains depressed over his breakup with Christine.

Magnificent Abscession

When Hayden has to miss a game because of a bad tooth, Luther must coach via phone instructions from him.

Somebody's Baby

Adoption complications develop when Julie's father returns.

Oh, a Pro Job (2)

Hayden is tempted by an offer to coach a professional team, but fears that its eccentric owner would make all the big decisions herself.

Goodbye, Mr. Putts

In this episode Judy and three of the other woman's coaches challenge Hayden, Dauber, Howard and Luther to a game of golf with the winner getting the best athletic parking spots. The only problem for the guys is that Luther is a terrible player, after some argument Hayden finally relents to give Luther a shot against the woman. The men are poised to win on a put by Hayden, but he misses.
Worst Episodes of Coach
A Player to Be Named Later

Hayden fears he'll look like a dummy if he fumbles the Breakers' first-choice pick in the NFL draft. Cameos include Dallas Cowboys owner Jerry Jones and receiver Keyshawn Johnson.

The Popcorn Bowl

Just before a big bowl game, a rumor breaks out that Hayden may be taking a job in the pros.

Head Like a Wheel

On his 49th birthday, Hayden wants to drive a race car.

The Kicker

A letter from a European prospect inspires Hayden to go on an international recruiting trip -- to a country that's under martial law.

Luther and Ruthanne Take the Big 12 Steps

Luther and Ruthanne try to help each other shed bad habits.

Kelly's New Guy (2)

Kelly and Dauber decide to keep their relationship a secret from Hayden, but fate throws a monkey wrench into their plans.

Why So Happy, Hayden?

Hayden attempts to recruit Tyler Roberts, the country's top high-school football player from Note Dame.

Belly of the Beast

Hayden stands up in court for Luther's defendant dog Quincy, who bit the MSU bandleader; Christine dozes during Hayden's advances.

Jailbirds

Against Hayden's advice, Christine attends a bachelorette party thrown by Ruthanne and gets into trouble.

Working Girl

Carter gives Bill Jennings an audition tape of one of his beautiful broadcasting students. Carter intends to replace Christine with a young female host to "freshen up the show." Carter's plan backfires as Jennings decides to replace him instead of Christine. In the midst of Hayden's celebration on Carter's firing, Carter shows up to beg Christine to help him get his job back. Christine agrees and the next morning talks with the Jennings to help Carter. In the midst of the meeting Carter bursts into the meeting and with Christine's aid he gets his job back.

Turtle World

Hayden regrets sponsoring Luther's harebrained investment in ""Turtle World"" when he learns that the animals featured in the attraction are dying in captivity.

Nice Guys Get Cut

Hayden loses his appetite when Christine invites soon-to-be-fired player Matt Luba over for dinner.

She's Having Our Baby (1)

Hayden and Christine decide to try adoption but learn that their ages may complicate the process; a new secretary puts Luther and Dawber under her spell.

Bye Bye Burleigh (2)

While Hayden waffles over helping Howard search for a new job, the coaches see a window of opportunity for scoring their first win of the season.

Something Old, Something New

An old girlfriend's visit rekindles Dauber's feelings and jeopardizes his relationship with Judy.

Her Boyfriend's Back

The father of the unborn baby whom Hayden and Christine plan to adopt comes back into Julie's life.

Fantasy Camp

Hayden kicks himself for agreeing to coach at a football "fantasy camp," but Luther and Dauber can't wait to have their team go up against his in the final game.

The Patriot Bowl

Hayden's team plays in the Patriot Bowl under horrendous conditions.

About Face

Hayden tries to convince Christine that she does not need a face-lift to improve her chances in a job search.

It's a Swamp Thing

When Hayden, Luther, Dauber and Howard decide to celebrate "Man Week" in the Florida Everglades, Doris, Christine and Shirley decide to take a vacation of their own. Meanwhile, having allowed Luther to plan their trip, the men wind up in swamp mud with an alligator.

Can We Go Home Now?

The stress of a long-distance relationship troubles Hayden; Luther and Dauber refinish Hayden's game-room floor. Finally the Hayden-Christine problem is resolved when she loses her network job and returns to Minnesota.

Buzzy Money

Hayden is thrilled when Kelly receives a large check from her ex-husband, until he learns her plans for the money.

Dirty Tricks

Judy threatens to quit coaching at Minnesota State when Hayden plays one last practical joke on her during an important ceremony.

Baby on Board?

Hayden is rattled as he tries to nurse his new team to victory, even as Christine announces she wants to have a baby.

Uneasy Riders

Hayden and Dauber buy motorcycles.

My Cup Runneth Over

Hayden begins wearing a special device to increase his sperm count. As a Valentine's gift he goes on Christine's TV show, where his special device leaks on camera.

Retrospective (2)

In this second of the two-part interview with Mary Hart, the show explores Hayden's relationships with the other significant people in his life (i.e. Luther, Dauber, Howard, and his daughter). This two-part series is essentially a greatest moments episode from the first six seasons.

Graceless Under Fire

Hayden's image consultant Susan Miller gets underfoot when he coaches the team.

Judy's Turn

In this Dauber centered episode, Judy returns from Romania after a trip with the woman's basketball team. Dauber is exited to see her, as it's the longest time they've ever been apart (one month). When Judy arrives, she tells Dauber that she had an affair with a Romanian man named Andre. Judy doesn't feels she can spend her life with Dauber, she breaks their two-year engagement.

My Fair Agent

Hayden blames Christine for his sexist attitude toward an attractive co-worker.

Kelly's New Guy (1)

When Hayden's daughter Kelly brings home new boyfriend Peter, Hayden is appalled to learn that Peter is the same age as Hayden.

She's Having Our Baby (2)

A pregnant women considers the Foxes as prospective adoptive parents for her baby; Luther and Dauber try to win over the rest of the Breakers' coaching staff.

Bo Knows

The Breakers' prospect for winning games seem bleak until Hayden's star quarterback from Minnesota State shows an interest in joining the team.

Patching Things Up

Christine needs to cheer up Hayden after a doctor connects his diminished sex drive to "male menopause."

Dauber's Vehicle

Dauber turns a deaf ear to Hayden's advice while choosing a new car, and winds up with a model that he can't afford.

Somewhere Out There

In this very special episode which analogizes nine years of relationships between friends and family, Dauber believes he is contacted by aliens, and he considers leaving the Breakers, Orlando and Earth.

A Boy and His Doll

Howard and Shirley give Timothy a doll, but Luther feels the boy should have more masculine influences.

The Body Gardener

When Hayden's former gardener Kenny is fired by the Breakers, the guilt-ridden coach writes him a glowing job recommendation. But Hayden comes to regret that generosity when his words earn Kenny a job as his personal bodyguard.

A Fox By Any Other Name

Hayden recalls how Tim got his name as a result of the coach's mishap with a hospital clerk, which led to a baby-naming contest sponsored by an antagonistic sportswriter.

Last of the Red-Hot Luthers

After a one-night stand with Hayden's 60-year-old secretary, Luther is too ashamed to face her the next morning.

Love Me Tender

Luther reveals his true opinion of Christine following a close brush with death.

Father of the Year

Hayden hires Kelly's roommate to act as his daughter when Kelly refuses to attend his Father of the Year banquet.

Luthario

Luther begins questioning the relationship when his romance with Lorraine heats up.

Running on Empty

Christine gingerly suggests that she and Hayden visit a fertility clinic.

My Best Friend's Girl

Hayden and Christine have lukewarm reactions to Luther's outrageously uninhibited date.

Parents' Weekend

Christine is seized by an uncontrollable urge to get a look at Hayden's ex-wife, who's come up for Parents' Weekend.

One for the Road

Hayden and Christine's third attempt to get married includes plans for a wedding in the woods in a church that's due for demolition.

The Stand-In

Fed up with trying to increase his fertility, Hayden looks into getting a sperm donor -- quarterback Troy Aikman.

Van Damn vs. Fox

When Luther burns himself at Hayden's barbecue, he skewers his host with a multimillion-dollar lawsuit for negligence.

Baby Coaches

Hayden's insecurity gets the better of him when an obnoxious mother boasts that her baby girl -- who's just a few days older than Tim -- can already walk and talk. So the coach tries to bring Tim up to speed.

To Air Is Human

Hayden wins his first football game of the year and proposes to Christine on his new live television show.

Shirley Burleigh, Girlie Friday

Howard's wife Shirley comes to work in the athletic department as his temporary secretary and drives him crazy; Luther and Dauber fight to keep their favorite cereal alive.

The Commercial (1)

Hayden is set to star in a coffee commercial with Christine, but his part is recast; Luther decides to write a screenplay.

Burden of the Burleighs

Hayden and Christine are driven crazy when Howard and Shirley decide to become their best friends.

Coach for a Day (2)

Luther is embarrassed to confess his new job: managing a miniature golf course.

Above and Beyond the Call of Hayden

Luther spends more time with Ruthanne and less with Hayden.

There's Got to Be a Mourning After (1)

Luther muzzles his true feelings about the death of his beloved dog, Quincy, until Doris offers him some advice.

Bye Bye Burleigh (1)

Hayden fumes when the Burleighs come for a surprise visit and then extend their stay.

The Tight End

While Hayden's priority is the Breakers' first game of the season, Doris is concerned with re-signing a handsome washout (Wahlheim) so he can model a line of swimwear endorsed by the team -- and television commentators focus on the team's new sex symbol during a game.

Viva Las Ratings

Luther plans to "invest" his life savings at an Elvis memorabilia auction in Las Vegas, but he gets into a heated bidding war with The Drew Carey Show's Mimi. In the end, Luther and Mimi go from bitter rivals to dance partners in a wild, Elvis-inspired dream sequence set to music.
Coach Episode Guide
Kelly and the Professor

Kelly tells Hayden she had a date with a faculty member, and he wants to know who.

Pilot

Kelly's return to Minnesota for college awakens Hayden's paternal instincts, disrupting his relationship with Christine

Kelly, Meet Christine

Christine demands Hayden be truthful with Kelly about their relationship.

I'm in Love with a Boy Named Stuart

Hayden detests Kelly's new boyfriend.

The Loss Weekend

A losing streak makes Hayden unpleasant company for Christine.

Gambling for Meat

Hayden suspends Luther for 30 days for gambling when he bets against the team and wins a steak at the Touchdown Club; but Luther think he has been fired, and takes another job.

19 Candles

Hayden plans a quiet birthday celebration for Kelly, who invites Stuart.

Parents' Weekend

Christine is seized by an uncontrollable urge to get a look at Hayden's ex-wife, who's come up for Parents' Weekend.

I'm Sorry I Told You My Wife Was Dead

Hayden consoles a wealthy alumnus' widow to secure a substantial donation.

Define Romance

Hayden feels threatened when Christine dates another.

Whose Team Is It, Anyway?

Although Hayden needs a victory in his last game for a winning season, he may be forced to bench his star player for skipping practice.

Hoot, Hoot Hike

The poetry of football is turned into ballet by Kelly's dance instructor, who envisions a pas de deux with technical advisor Hayden.

Dauber's Blow-Out

Anti-fun Riley Pringle of the Conduct Committee joins Hayden in supervising Dauber's season-ending party.
Shows for Fans of Coach